Main Content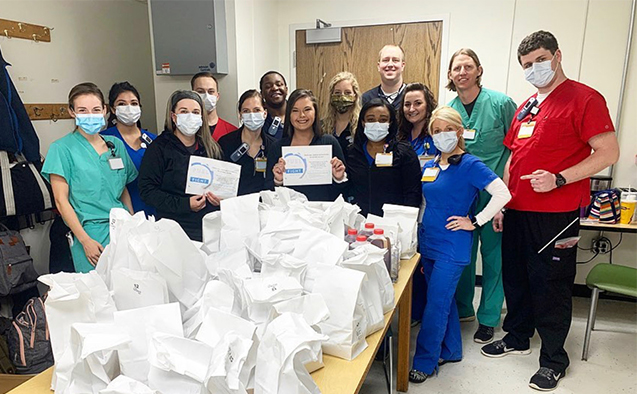 As the COVID-19 pandemic worsened in the United States, Wake Forest University graduate student Sydney Poretsky started looking for ways to help out. She was aware of friends who had organized a Fuel the Fight effort to provide meals for healthcare workers in Washington, D.C. and contacted them.
The first thing she should do, they said, was start a GoFundMe account to raise money for the meals. Secondly, she should contact local restaurants to ask whether they wanted to partner with her. Poretsky started Fuel the Fight Piedmont Triad, with intentions of raising money through a GoFundMe account to purchase meals from local restaurants and provide them to area healthcare workers.
Unbeknownst to Poretsky, as she was trying to get her initiative off and running, Evan and Jay Cavenaugh of Winston-Salem and their adult children, Jay IV and Kate, were starting Fuel the Fight Winston-Salem. Poretsky learned about them from fellow graduate student Anna Marie Carr-Reinhard, associate director of the University's Office of Family Engagement and a Cavenaugh family friend.
"Both of these efforts were launched at the same time but unaware of the other," said Evan Cavenaugh. "Anna Marie realized we were doing more or less the same thing and connected Sydney with Kate."
Poretsky and the Cavenaughs joined forces under the Fuel the Fight Winston-Salem name, which had established a $30,000 fundraising goal. Poretsky donated the nearly $1,200 she'd collected, secured media coverage and joined the Cavenaughs in finding local restaurants that wanted to participate.
As of May 1, Fuel the Fight Winston-Salem has raised $30,598 and provided nearly 2,400 meals to health care workers at Wake Forest Baptist Health, Novant Health Forsyth Medical Center and Novant Health Medical Park Hospital.
"The number one thing we're learning from this project is how incredible the Winston-Salem community is." Sydney Poretsky, WFU graduate student
"In just three days, we hit $15,000 and the money kept coming in," said Poretsky, who is a first-year communication graduate student from Potomac, Maryland. "We've met our goal, but people are still donating money and we will use it to support the local restaurants and healthcare workers."
Here's how it works: Representatives from Wake Forest Baptist Health or Novant Health contact the Cavenaughs with their breakfast, lunch or dinner meal needs for the week, which are then prepared by local restaurants that have partnered with Fuel the Fight.
Poretsky and Evan Cavenaugh said the restaurants package individual meals based on need. For example, previously they've delivered as few as 20 meals for lunch, but on May 1 they have a scheduled lunch delivery of 175 meals. Poretsky said sometimes multiple deliveries go to each hospital.
The Cavenaughs handle all meal deliveries. "We try to call restaurants about three days in advance to establish a pick-up time," said Jay IV. "When we're pulling into the hospital, we call our point of contact and let them know we've arrived. We're delivering in a truck with a covered bed, so we seldom touch the packaged food or get out."
Kate said hospitals sometimes request 11 a.m. lunch deliveries, which is earlier than many restaurants open, "but the restaurants have been very willing and excited to open early to prepare the meals, of which we've been appreciative."
It's hard to measure just how appreciative the healthcare workers are of the Cavenaughs and Poretsky.
"We cannot thank them enough for thinking of all of our healthcare workers," said Cindy Caines, director of constituency engagement and events at Wake Forest Baptist Health. "They have done an incredible job."
"They've fed people for the last three to four weeks and they're still going to be feeding people for the next one or two weeks. That just helps all of our healthcare workers in this time of uncertainty." Cindy Caines
Katherine Caster, manager of community engagement with Novant Health, described the community support behind Fuel the Fight Winston-Salem as incredible.
"Frequently our front-line team members go unthanked," Caster said. "They show up every day and take care of patients, and right now they're the heroes of this story in our community. The effect of the meals for the team members has been amazing. They're in good spirits and are always sending me emails of how grateful they are to Fuel the Fight Winston-Salem for recognizing them."
The Cavenaugh siblings said participating restaurants have also expressed gratitude for Fuel the Fight Winston-Salem, which spends about $10 per meal on average. Some of the participating restaurants were suggested to them by donors.
"We maintain a list of the restaurants and look at their menu and decide what we think is the best meal, or we get a recommendation from the restaurant owner," Jay IV said. "All of the meals are labeled, and we get some vegetarian meals with each order."
Added Kate, "Through this effort we've learned of restaurants we didn't even know of, like Prime Tyme Soul Food Café, and in some cases, we've gotten takeout from them the same night we made deliveries."
Poretsky said Fuel the Fight Winston-Salem has satisfied her appetite for being of service to others during the pandemic. "I felt like I needed to do something, plus it's a great way to occupy some of my time," she said. "Knowing I'm making a difference makes me feel better."
To interview Poretsky, please contact media@nullwfu.edu.
Categories: Pro Humanitate, Student, Top Stories
Subscribe
Sign up for weekly news highlights.
Subscribe