FEATURED NEWS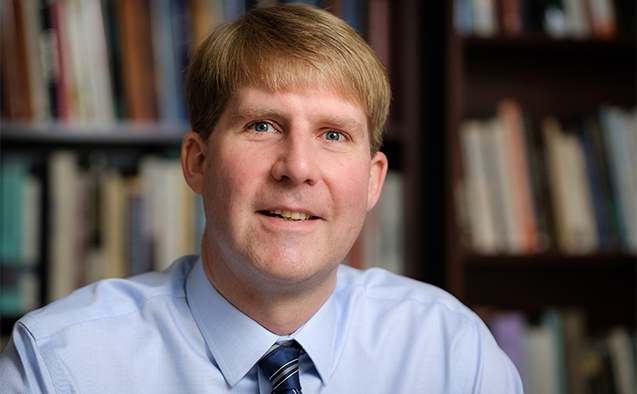 The constitutional amendments that could be on the NC ballot in November
WFMY
June 27, 2018
In November, North Carolina voters will have the chance to vote on several constitutional amendments. Professor John Dinan of Wake Forest University says: "Some of the amendments would add to the rights that North Carolina citizens currently enjoy. Others would seek to resolve disputes between the legislature and the governor over who has ultimate authority. And then at least one of these amendments would take a current policy, low income taxes, and would seek to lock that in and prevent future legislators from changing that."
NATIONAL & INTERNATIONAL
What a bunch of bull: The art and science of BS
Psychology Today
June 30, 2018
A recent study at Wake Forest University looked into the antecedents of BS. Psychology Professor John Petrocelli and team ran a series of experiments that examined the idea of a person having i) too little, ii) adequate, or iii) too much topic knowledge, and the extent to which they bullshitted.
How long wings help huge moths evade bat attacks
National Geographic
July 5, 2018
Scientists have determined that the longer a moth's hind wings and tails are, the better chances the insects have of surviving a bat attack. Aaron Corcoran, a biologist who studies bat echolocation at Wake Forest, commented on the research: "What surprises me most is that there appear to be many different ways to trick a bat's echolocation system, and that a variety of moths appear to have converged on these strategies independently."
See Also: Science
REGIONAL & TRADE
NC governor doesn't have much power - and could get weaker
The Charlotte Observer
June 29, 2018
By most measures, North Carolina already has one of America's weakest governors. Now experts say a new ballot measure would take away even more power. John Dinan, a political scientist at Wake Forest, said North Carolina's governor, who shares executive power with an independently elected Council of State, is one of the nation's five weakest chief executives.
"Military Through The Ages" this weekend at NC Transportation Museum
WBTV-TV (Charlotte)
June 28, 2018
History comes to life at the N.C. Transportation Museum during Salute the Troops: Military Through the Ages, June 30. A moving tribute comes from Wake Forest University's "Imagination Project." This interactive exhibit follows the tales of African American Vietnam Veterans from rural eastern North Carolina before, during, and after the war.
See Also: WECT (Wilmington, N.C.), WAVE (Louisville, Ky.), WDAM- TV (Hattiesburg, Miss.), WCSC-TV (Charleston, S.C.)
What the right internship can do for your future
College Confidential
June 28, 2018
"An internship is a great way to put a career 'on the list' or to 'take it off the list,'" said Patrick Sullivan, interim director of Wake Forest University's Office of Personal and Career Development. Finding out what you don't like is just as important as determining what you do like, and can help you get onto the right path.
Dose-response demonstrated for weight loss in knee OA
Pharmacy News
July 5, 2018
Obese people with knee osteoarthritis are likely to gain significantly more benefits if they manage to lose up to 20% of their body weight, a study suggests. "Our previous work has shown that when combined with mild to moderate exercise, a 5% weight loss over 18 months reduces pain by 25% and improves function and mobility compared to a control group," said lead study author and Wake Forest professor Stephen Messier.
Should the penny stay in circulation - Top 3 pros and cons
ProCon.org
July 2, 2018
While countries such as Australia, Canada, and New Zealand have phased out their one-cent pieces, Harris Poll found that 55% of Americans are in favor of keeping the penny and 29% want to abolish it. Robert M. Whaples, Professor of Economics at Wake Forest, says rounding transactions to the nearest nickel instead of using pennies wouldn't harm consumers or stores.
Seven questions with Naima Coster, breakout novelist
Fordham News
June 27, 2018
"Halsey Street," the novel Naima Coster began writing as a grad student at Fordham, was published in January to rave reviews. Kirkus called it 'a quiet gut-punch of a debut,' while the San Francisco Chronicle praised its 'sharp and sophisticated moral sense.' Now Coster is working on a follow-up while mentoring students of her own as a visiting professor at Wake Forest.
Christian B. Miller and 'The Character Gap'
Panpsycast
June 24, 2018
Wake Forest philosophy professor Christian B. Miller discusses his book, "The Character Gap," for the Panpsycast Philosophy Podcast. Miller brings together contemporary psychology and moral philosophy.
LOCAL
Trump's now-ended policy of breaking up immigrant families, not new, advocate says
News & Record
June 24, 2018
Margaret Taylor, an expert on immigration at Wake Forest University School of Law, said because immigrants had a legal right to seek asylum, they were rarely prosecuted if they came into the country illegally. But now, everything is chaotic, Taylor said. The executive order doesn't really solve anything, and it appears the federal government has no clear way of reuniting parents with their children.
Former BCBSNC chief to join Triad university as executive in residence
Triad Business Journal
July 6, 2018
The former top executive of Blue Cross Blue Shield of North Carolina will become Wake Forest University's executive in residence Aug. 1. Retired BCBSNC president and CEO Brad Wilson will work with the School of Business and the School of Law. Wilson is a 1978 graduate of the law school and has served on its board of visitors.
See Also: Winston-Salem Journal
WFU hosts 56 students for summer institute
Winston-Salem Journal
July 6, 2018
A group of 56 students representing 11 countries and seven U.S. states are participating in an intensive four-week exchange program at Wake Forest University. Participants ages 16 to 18 explore how to face the challenges of the 21st century together.
Toys R Us in Winston-Salem scheduled for July 12 auction
Winston-Salem Journal
June 29, 2018
"Toys R Us' bankruptcy is a reminder that what we are going through right now in retail is not an evolution, but a real revolution," said Roger Beahm, executive director of the Center for Retail Innovation at Wake Forest University School of Business.
Dave & Buster's opening this spring at Hanes Mall in Winston-Salem, owner confirms
News & Record
June 28, 2018
The owner and operator of Hanes Mall confirmed Thursday that Dave & Buster's will open a 31,576-square-foot site on the lower level, near Sears and the carousel. "Because Dave & Buster's is positioned around multiple features, it provides a unique destination option for consumers that might not normally be planning a trip to the mall," said Roger Beahm, the executive director of the Center for Retail Innovation at the Wake Forest University School of Business.
Z. Smith Reynolds foundation refocuses on improving conditions in NC, Winston-Salem
Winston-Salem Journal
June 26, 2018
Officials with the Z. Smith Reynolds Foundation spent two years listening to North Carolinians to determine how to best improve socioeconomic conditions, both statewide and locally. The foundation said it plans to ramp up collaborative efforts with Wake Forest University for the local community.
Agewise: Planning for the future
Winston-Salem Journal
June 25, 2018
The Wake Forest University's School of Law offers an Elder Law Clinic which provides free legal services to eligible seniors in Forsyth and surrounding counties.