FEATURED NEWS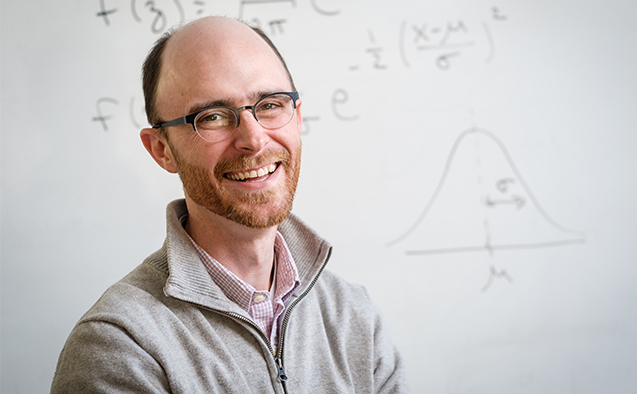 Insurance premiums to become costly because of climate change
Digital Journal
May 8, 2019
According to a new insurance industry survey, actuaries ranked climate change as the top risk for 2019. This could result in an actuary suggesting the use of better planning when building in flood-prone areas or building more resilient infrastructure designed to withstand anticipated sea level rise, according to Robert Erhardt, associate professor of statistics at Wake Forest. Premium adjustments are already being put into place in regions around the world facing increased extreme storm systems, brought on by climate change.
NATIONAL & INTERNATIONAL
Miss USA works on behalf of prisoners
CNN
May 5, 2019
Receiving three degrees from two universities, Cheslie Kryst is a 28-year-old attorney with a mission to help reform America's justice system. Hailing from North Carolina, Kryst practices civil litigation for a law firm and has a passion for helping prisoners who may have been sentenced unjustly get reduced punishments – free of charge. Kryst, who is licensed to practice in two states, earned both her law degree and MBA from Wake Forest University.
Jonathan L. Walton named Dean of Wake Forest University School of Divinity
The Chronicle of Higher Education
May 9, 2019
Wake Forest has appointed Jonathan L. Walton as Dean of the School of Divinity, effective July 1. Walton is currently at Harvard, where he serves as the Plummer Professor of Christian Morals and Pusey Minister in the University's Memorial Church. He is also Professor of Religion and Society at the Harvard Divinity School. "Wake Forest University's motto, Pro Humanitate (For Humanity), captures my commitment to theological education. Research and teaching are not simply 'academic exercises' for me. The pursuit of knowledge is a sacred task insofar as we are called to better the lives of others, particularly the most vulnerable. I am excited to serve a Divinity School with such a clear intellectual vision, concrete vocational mission, and demonstrated commitment to diversity."
See Also: The Chronicle
10 med schools that often admit liberal arts majors
Yahoo! Finance
May 8, 2019
One common misconception about becoming a doctor is the idea that you must major in science during college to qualify for medical school. However, experts say that as long as aspiring physicians fulfill all of the medical school admissions requirements at every school where they apply, their college major does not matter. Nevertheless, premed students with liberal arts majors may worry about whether they will fit in at their dream schools given that the majority of students at top med schools earned their bachelor's degrees in a hard science discipline such as biology or physics. Wake Forest is included in this list of 10 institutions in the U.S. News Best Medical Schools rankings where humanities and social sciences majors were best represented among incoming students in fall 2018.
The 18 questions to ask in an informational interview
Ladders
May 9, 2019
Informational interviews can be a beneficial way to build contacts in your industry, uncover hidden job markets and learn more about the hiring process. Director of career education and training at Wake Forest, Heidi Robinson, contributed to a list of questions for candidates to ask at the conclusion of an informational interview. According to Robinson, an upcoming graduate should get ready to have multiple informational interviews per week if they're serious about landing a job.
One-of-a-kind pitching lab helps Wake Forest find its niche
Baseball America
May 9, 2019
Wake Forest now has a one-of-a-kind college pitching lab for injury prevention and performance enhancement as part of the $12 million Hurd Player Development Center at Couch Ballpark. As part of the lab development, WFU now has a team doctor who works at injury prevention and the epidemiology of throwing-related injuries, a director of the pitching lab who facilitates and operates the collection of pitching evaluations, a strength and conditioning coordinator to manage mobility exercises, and a pitching coach who takes input from all of those sources and puts it to practice.
Enviro, profs back $3M hog stench victory in 4th circ.
Law360
May 6, 2019
The Fourth Circuit heard from an environmental group and law professors Friday that a North Carolina pork producer cannot dodge punitive damages that are part of a $3.25 million judgment over hog farm odors just because the company complied with a "weak" regulatory scheme. Wake Forest University School of Law professor Steven M. Virgil represented the law professors and spoke on their behalf, standing with environment group, Waterkeeper Alliance, in their support of the suit brought by North Carolina residents.
How to find and land an entry level job after college
Ladders
May 7, 2019
"I think of that entry-level job as a springboard," said Heidi Robinson, director of career education and training at Wake Forest. While there are exceptions, an entry-level job is usually not someone's dream job, but a starting point to work one's way to their ideal position. Robinson thinks of an entry-level job as an extension of one's education; it's an opportunity to learn, get paid and understand how to make an impact for an employer.
REGIONAL & TRADE
The dangers of illegal gold mining in South America
Journal of Diplomacy
May 10, 2019
Wake Forest's Center for Amazonian Scientific Innovation (CINCIA) and the Monitoring of the Andean Amazon Project (MAAP) conducted thorough research in the Peruvian Amazon which was released in 2018. The study shows that gold mining deforestation destroyed an estimated 22,930 acres of Peru's Amazon in 2018, decimating the equivalent of more than 34,000 American football fields in over two years. In the period between 2009 and 2017, mining deforestation increased by 240%, despite a crackdown by the Peruvian National Police conducted during the same period.
Life after death: Americans are embracing new ways to leave their remains
Marin Independent Journal (Marin, Calif.)
May 6, 2019
Wake Forest University School of Law professor Tanya Marsh wrote about evolving thoughts and preferences about funeral arrangements for the Marin Independent Journal. "…I've discovered that Americans are becoming more willing to have a conversation about their own mortality and what comes next and embrace new funeral and burial practices. Baby boomers are insisting upon more control over their funeral and disposition so that their choices after death match their values in life. And businesses are following suit, offering new ways to memorialize and dispose of the dead."
Why employee mentoring is not an HR tool
Associations Now
May 8, 2019
Some organizations view mentoring as a cure-all for their ills. Don't fall into this trap, said Allison McWilliams, assistant vice president of mentoring and alumni personal and career development. "They use mentoring where they mean to use coaching," she said. "You've got performance issues. That needs coaching, not mentoring." Mentoring is a powerful tool – but every piece of it should be voluntary. "We all need people to help us be successful," said McWilliams. "Mentoring, at its core, is how we learn. We need those people who can show us the way, connect us to opportunities."
State of small businesses
AV Network
May 5, 2019
National Small Business Week brings the successes of small businesses to light. However, it's also important to learn about the areas in which small businesses struggle – including with high credit card processing fees. "Shop around and use your leverage," said Daniel Cohen, executive director of the Center for Entrepreneurship at Wake Forest. "You have nothing to lose. Also, experiment with accepting other forms of payment such as Venmo, PayPal, etc. My advice is to generate multiple ways that customers can pay you. These costs ultimately get passed down to customers anyway."
LOCAL
Political expert weighs in on U.S. Senator candidate's chances of beating Republican incumbent
WXII
May 9, 2019
Garland Tucker, a businessman and author from Raleigh is running for U.S. Senate against Senator Thom Tillis in 2020. Wake Forest political science professor John Dinan says Tucker likely won't present a huge challenge for Senator Tillis. "It's not someone who has a huge name recognition or would seem to be a huge threat politically to actually kind of knock out Thom Tillis."
Interview with Wake Forest athletics director John Currie
WFMY
May 6, 2019
Wake Forest said goodbye to longtime athletic director, Ron Wellman, and officially welcomed WFU alum John Currie, who stepped in as the new athletic director last week. Currie gave interviews to several local news stations about his excitement to return to the university and his mission and optimism for the future of the program. "We're going to continue to build what we believe can be a model intercollegiate athletics program," said Currie. "When people ask 'who does it the best and who does it the most efficiently and with the highest level of integrity and performance,' Wake Forest should be the answer."
See Also: WXII, 247 Sports, The Times-News (Burlington)
Class of 2019: List of college commencements in the Triad
WFMY
May 10, 2019
Wake Forest's commencement ceremony will be held on Monday, May 20 at 9 a.m. on Hearn Plaza. The commencement speaker will be Frederick J. Ryan Jr., publisher, and chief executive officer of The Washington Post.
See Also: Triad City Beat