FEATURED NEWS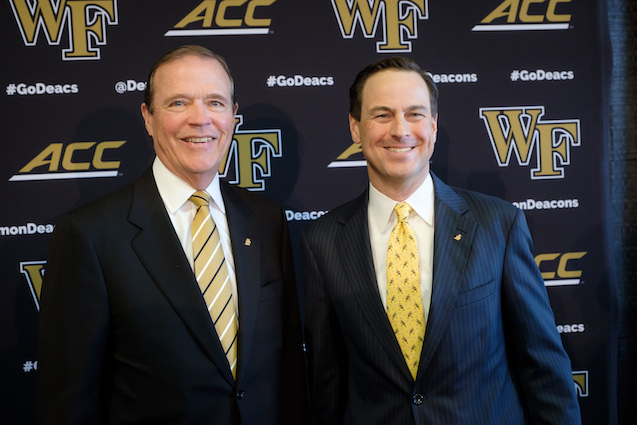 Currie steps in as Wake Forest AD with Wellman's retirement
ESPN
March 3, 2019
After nearly 27 years leading the Wake Forest University athletic department, Ron Wellman will retire as athletic director on May 1. Wake Forest President Nathan P. Hatch has selected John Currie to succeed Wellman as the University's sixth athletic director.
Wellman: "It has been an absolute privilege to spend 27 years at Wake Forest University. This University has provided myself and my family an outstanding opportunity to develop relationships with so many phenomenal coaches and student-athletes as well as faculty, staff and community members. I have truly enjoyed my time here and I look forward to watching the program continue to grow in the coming years."
Currie: "The many great accomplishments achieved by Wake Forest over the last 185 years has happened because of our collective spirit, energy, creativity and initiative channeled together – students, faculty, administration, alumni, parents, the Winston-Salem community and beyond. I look forward to reacquainting myself with old friends and collaborating with new ones to better understand our challenges and opportunities."
See Also:
Winston-Salem Journal, WXII , CBS Sports, News & Record, WFMY, WVLT (Knoxville)

NATIONAL & INTERNATIONAL
Primitive Old World monkey from 22 million years ago discovered in Kenyan badlands
Newsweek
March 11, 2019
Researchers – including Ellen Miller, anthropology professor and paleoanthropologist at Wake Forest University – have discovered 22-million-year-old teeth from ancient Old World monkeys in the badlands of northwest Kenya. "Geneticists tell us that the Old World monkey and ape lineages split from each other about 30 million years ago, but we have never really known anything about the origin of monkeys, because, until now, the fossil record for almost the first 12 million years of their evolution consisted of only two teeth…so [this discovery] is helping to answer one of the big unsolved mysteries in primate evolution."
See Also: Fox News, ZME Science
Mentally tiring work linked to type 2 diabetes in women: Study
Good Morning America
March 15, 2019
Catherine Harnois, professor of sociology at Wake Forest University, highlighted some workplace issues that are specific to women, which can intensify their levels of mental strain at work. "In addition to working in jobs that have low autonomy and may have lower status, prestige or earnings, women are more likely to experience sexual harassment and gender discrimination at work, and are more likely than men to be saddled with familial responsibilities [such as childcare and eldercare] when they get home," she said. "All of these factors and more can take a toll on health."
Africa is attracting ever more interest from powers elsewhere
The Economist
March 7, 2019
Lina Benabdallah, professor of politics and international affairs at Wake Forest University, says that China has several aims for its interest and investment in African nations. China wants to be seen as a power with intercontinental reach and it wants to protect trade.
What happens when Mueller files his report — and why Trump critics won't like it
Canadian Broadcasting Corporation
March 8, 2019
Anticipation is high that Robert Mueller could deliver his findings to the Justice Department within weeks. "If Barr is very forthcoming with a lot of information, and if it's damning to the president, I would think the surrogates out there attacking Mueller would then attack Barr," said Katy Harriger, Wake Forest University professor and expert on special counsel investigations. "On the other hand, if he's too circumspect, all the people convinced the president should be impeached at any moment are not going to be happy."
Did I mention invention: clothing fabric that can charge your phone
The CW Invention TV
March 15, 2019
Sometimes you don't always have a charger handy when your phone is running out of juice. But what if you could charge electronics with your clothing? Scientists at Wake Forest University, including physicist David Carroll, have developed new technology that could do just that.
Some 'cheaper' health plans have surprising costs
NPR
March 7, 2019
New insurance options, like the North Carolina Blue Cross Blue Shield "My Choice" plan, give patients more freedom to choose their providers but may open them up to greater financial risks and hefty balance bills from providers. "It's a bold move," says Mark Hall, director of the health law and policy program at Wake Forest. Still, he says, it's "not an optimal way" because patients generally don't want to negotiate with their doctor on prices. "But it's an innovative way to put matters into the hands of patients as consumers."
See Also: 90.1 WABE (Atlanta), California Healthline
As John Currie takes over Wake Forest, his work at K-State is freshly validated
The Kansas City Star
March 9, 2019
John Currie, new Wake Forest University athletic director with a history at Kansas State and University of Tennessee, spoke with reporters about the challenges of working in university athletics and the lessons he's learned through his years of experience. "Balance and perspective is probably the biggest thing" to keep in mind while overseeing athletics. That and seeking to base decisions on the integrity of the university and welfare of student-athletes, he added, gives him conviction that has helped him contend with the heat he's taken. "No one likes to be criticized, but maybe over time you build up some scar tissues," he said. "Because, ultimately, if you're so wounded by noise that you can't do your job, then you're not a professional."
Why you shouldn't "do what you love"
Psychology Today
March 11, 2019
In her career advice blog for Psychology Today, Allison McWilliams (assistant vice president of mentoring and alumni personal and career development at Wake Forest), explains how pursing purpose and meaning is paralyzing young adults. McWilliams says, "rather than 'do what you love,' I'd like to argue, instead, that you 'do what you're good at,' or that you 'do what you're interested in, right now,' or that you 'do what you like.' Life is a journey of becoming, of getting closer and closer to that thing you might eventually call 'the dream,'"
EU sued to stop burning trees for energy; it's not carbon neutral: plaintiffs
Mongabay
March 6, 2019
Justin Catanoso, professor of journalism at Wake Forest University, explains a lawsuit brought against the European Union over its shift to burn wood pellets and chips for energy in place of coal. Plaintiffs from five European nations and the U.S. say that bioenergy – or burning wood for energy – is classified as carbon neutral by the Kyoto Protocol, but bioenergy is only carbon neutral across a timeline of many decades. Catanoso reports that "activists see the EU's bioenergy policies as reckless and endangering the climate."
Name game: Rebranding BB&T-SunTrust fraught with risk
American Banker
March 4, 2019
Roger Beahm, professor of marketing at the Wake Forest University School of Business addressed the BB&T-Suntrust rebranding. "Anytime you give your customers an excuse to rethink their loyalty, that creates an issue. As marketers, we don't like to do that," Beahm said.
Trump signed Bibles. Heresy? Many religious leaders say no
The Christian Broadcasting Network
March 9, 2019
Though many were upset that President Donald Trump autographed Bibles recently at an Alabama church, other religious leaders say that it is important to keep the context in mind. Founding dean and professor of divinity emeritus at the Wake Forest University School of Divinity Bill Leonard said that signing Bibles is an old tradition, especially in southern churches. Leonard notes that the president signed the Bibles at a church at the request of survivors of a natural disasters, not at a political rally. "In this setting, where tragedy has occurred and where he comes for this brief visit, we need to have some grace about that for these folks."
See Also: Winston-Salem Journal, The Blaze
REGIONAL & TRADE
Boeing pauses delivery of 737 MAX 8 aircraft
Supply Chain Dive
March 15, 2019
"Implications for supply chains and for Boeing, in particular, I think, are huge," said Haresh Gurnani, the executive director of the Center for Retail Innovation at Wake Forest University. Airlines can seek compensation from Boeing when a fleet of aircraft is grounded, which could end up costing the company billions of dollars in payments to the airlines, Gurnani said.
Could Blue Cross NC's combination with Cambia be the start of more consolidation
News & Observer
March 16, 2019
Health insurers Cambia, headquartered in Portland, and Blue Cross and Blue Shield of North Carolina, headquartered in Durham, announced that they will be merging. The affiliation is unusual, but experts wonder if this may set the stage for more insurance mergers in the future. "While it is not clear what is going to come of it, it doesn't appear to have cost much to try it," said Mark Hall, a Wake Forest University law professor and director of the university's Health Law and Policy Program.
Religion and polarized politics: An interview with Melissa Rogers and Peter Wehner
Religion and Politics
March 12, 2019
Wake Forest University School of Divinity visiting professor Melissa Rogers reflected on the intersection of religion and politics. Rogers said that an increasingly polarized society "has had an effect on both our political scene generally and our religious communities, and it's a struggle to try to ensure—both within the government and within politics and in the religious sphere—that we actually preserve and protect places where people of different views can form relationships and cooperate. That's a big challenge for us right now within the political and religious sphere."
Race considered to be key factor in selection of Rosfeld trial jurors
90.5 WESA (Pittsburgh)
March 11, 2019
Jury selection starts Tuesday in the homicide trial of Michael Rosfeld, the white police officer who fatally shot black unarmed teen Antwon Rose last summer in East Pittsburgh. The state Supreme Court has granted Rosfeld's petition to gather a jury from outside of Allegheny County where the shooting occurred. The trial will be held in Dauphin County, which has racial demographics similar to Allegheny County. And the racial makeup of a jury is important, according to Wake Forest law professor Ron Wright. Wright's research shows the race and gender of jurors tend to predict whether a defendant will be found guilty.
Report: California saw huge increase in gun ownership over last decade despite strict gun laws
Washington Free Beacon
March 9, 2019
David Yamane, a professor of sociology at Wake Forest University who studies gun culture, commented on new data released by the California Department of Justice that shows gun-ownership nearly doubling over the last 10 years. "The bottom line is that part of the increase is no doubt real and part of it is 'artifactual' but there is no way of determining how much of it falls in which category," Yamane said.
Elevated pollutants in rivers suspected in many parts of NC
90.7 WFAE (Charlotte)
March 3, 2019
The PFAST program, organized and funded through the North Carolina Policy Collaboratory at UNC Chapel Hill, is made up of researchers from six UNC system universities along with Duke University and Wake Forest University. The testing network starts initial testing in the Piedmont this spring and eventually spreads statewide, taking multiple samples at 191 public drinking water intakes and 149 municipal drinking water systems using groundwater.
The leaked 2020 U.S. News law school rankings are here
Above the Law
March 6, 2019
The Wake Forest University School of Law has been ranked among the top law schools in the country for 2020.
Shingrix shortages only the latest vaccine supply issue in US: Public health watch
Contagion Live
March 6, 2019
Frederick Chen, associate professor in economics at Wake Forest, discussed the economic reasons why the Singrix shingles vaccine is in short supply – including higher demand due to higher efficiency of the vaccine, greater number of doses needed and increased insurance coverage. "Shingrix is made by one company, so right now pharmacies and clinics are totally at the mercy of the company in terms of how many doses of the vaccines they carry or can provide," said Chen.
Tech that can "detect emotion" could keep you from getting a job
Futurism.com
March 3, 2019
Results from a study conducted by Wake Forest University researchers is informing the conversation about the risks of facial recognition and emotion detection software. The study found that emotion detection AI demonstrated racial biases and assigned negative emotions to photos of black faces at a higher degree than it did to white faces.
LOCAL
Incoming Wake Forest AD John Currie getting busy and getting to know as many people as possible as transition takes shape
Winston-Salem Journal
March 14, 2019
John Currie had a busy day when he was introduced as Wake Forest's incoming athletics director. The morning after Currie's introduction, he was at Wake Forest's spring football practice. He addressed the Deacons before they completed stretching, the alum's message including, "This is my school, your school, our school." That seems like a snapshot of what Currie will be doing until he officially takes over for retiring AD Ron Wellman on May 1. "I'm working really hard to get to know different folks. That's really already started, in terms of individual meetings," Currie said. "For instance, in the next couple of weeks — within the department — I'll endeavor to have met individually with every one of our coaches in a one-on-one fashion."
Berger's latest Medicaid expansion opposition targets 'Carolina Cares' bill
Winston-Salem Journal
March 11, 2019
Mark Hall, law and public-health professor at Wake Forest University, is an expert in legislative issues. In April, he released a study titled "Do States Regret Expanding Medicaid?" Hall said requiring hospitals to help pay for North Carolina's 10 percent of new administrative costs "is not likely to increase costs to patients because hospitals will also see reduced uncompensated care. The two effects — tax and reduced uncompensated care — should be a wash."
WFU to raise money for cancer research
Winston-Salem Journal
March 15, 2019
Wake N' Shake, a student organized 12-hour dance marathon to raise money for cancer research, will take place from noon to midnight on March 23 in the Sutton Center at Wake Forest University. Wake N' Shake began in 2006 to raise money for the Brian Piccolo Cancer Research Fund. Students organize, publicize and lead the event each year. Last year, more than 1,400 students participated in Wake N' Shake, helping to raise more than $391,000.
WFU dance ensemble to perform
Winston-Salem Journal
March 15, 2019
Gamelan Giri Murti (Gamelan of the Enchanted Forest), Wake Forest's Balinese percussion and dance ensemble, will hold a spring concert featuring guest director I Made Lasmawan and dancer Ni Ketut Marni on Wednesday, March 20 in Brendle Recital Hall.
Destiny's Child singer to speak at Wake Forest
Winston-Salem Journal
March 12, 2019
Michelle Williams, a member of Destiny's Child and advocate for women's health and empowerment, will talk about her experience with mental illness at Wait Chapel on March 21 as part of Wake Forest's Mental Health Week.
Business milestones
Winston-Salem Journal
March 3, 2019
Wake Forest University School of Law came in first place in the Fourth Circuit Duberstein Regional Moot Court Competition in Washington D.C.
Over 65? Researchers say high-protein diet may be a good way to lose weight
WXII
March 7, 2019
Wake Forest University researcher Kristen Beavers' study revealed that a low-calorie, high protein diet is the safest way for older adults to lose weight and body fat while maintaining muscle mass and bone density.
The Syllabus: Your campus speakers for March
News & Record
March 4, 2019
Diya Abdo, founder of the Every Campus a Refuge program, participated in a panel discussion in the WFU Pugh Auditorium on Wednesday, March 6 alongside Wake Forest professors Michaelle Browers and Alessandra Von Burg. The panelists discussed programs and initiatives to help support local refuge families.
Smart, sexy show a larky look at Shakespeare
Winston-Salem Journal
March 9, 2019
Wake Forest University theatre professor Sharon Andrews, directs the Little Theatre of Winston-Salem in "Shakespeare in Love," a modern Shakespearean play about Shakespeare, which opened Friday, March 8 at Hanesbrands Theatre.
Up to 390 Family Dollar stores could close. It isn't yet clear whether Triad stores will go away
Winston-Salem Journal
March 6, 2019
Dollar Tree Inc., which bought Family Dollar in 2015, announced that it will close up to 390 Family Dollar stores this year and it will continue to transition other Family Dollar store to the Dollar Tree model. "While it's easy to bundle these newly announced Family Dollar closings into the rash of store closings, this announcement seems consistent with the need to create more synergy between the Family Dollar banner and Dollar Tree," said Roger Beahm, executive director of the Center for Retail Innovation at the Wake Forest University School of Business. "
Jackson excels in ambitious symphony program
Winston-Salem Journal
March 4, 2019
One of the contenders hoping to become the next director of the Winston-Salem Symphony led the ensemble on Sunday, March 3 in a series of complex musical pieces, including Dvorák's "Symphony No. 8 in G Major." Kathryn Levy, Wake Forest professor of practice for flute, performed the fourth movement's famous flute solo. A special correspondent for the Winston-Salem Journal said the performance, "honored what [WFU professor of music] David Levy's program typically astute program notes called 'a fine example of Ligeti's folk style' that finds its inspiration in 'childhood memories of the Carpathian Mountains, alphorn and peasant tunes.'"
Equal pay for women? State lawmakers file ERA bills today
Winston-Salem Journal
March 5, 2019
John Dinan, a political science professor at Wake Forest, expects efforts to continue in N.C. and other states to ratify the ERA. He qualifies that expectation, however, by adding, "the point I would stress is that there is significant uncertainty about whether states passage of ERA ratification measures in 2019 has any legal significance in terms of actually helping to get the ERA ratified and added to the U.S. Constitution given that Congress set a ratification deadline of 1982."
See Also: News & Record
Senate bill would put firm limit on length of legislative sessions
Winston-Salem Journal
March 3, 2019
Senators from the N.C. General Assembly have proposed a bill that would put limits on the length of future legislative sessions. "These session-limits range widely in their length, with some state constitutions allowing the legislature to sit for very limited amounts of time, as in Virginia," Wake Forest political science professor John Dinan said. "Which means that the Virginia General Assembly adjourned for the year (last week), while the North Carolina general assembly is slated to be in session for another four months at least."
Musical highway
Winston-Salem Journal
March 2, 2019
The WFU Secrest Artists Series will host musicians from the Grammy Award-winning Silk Road Ensemble for a performance in Wait Chapel on March 28.
After strengthening of LGBTQ ban, church speaks out on policy
Winston-Salem Journal
March 2, 2019
The United Methodist Church may not be as united as its name suggests, following a divisive 53 to 47 percent vote this week that reinforced the church's policy that homosexuality is "incompatible with Christian teaching." Wake Forest School of Divinity professor Tom Frank said the global government structure of the church poses a unique problem in that the customs and laws of other countries come into play. "Other Protestant denominations do not have shared governments across nations and cultures. It makes it very complicated. Many of the delegates come from nations where there is almost no tradition of democracy and where homosexuality is actually a crime."