FEATURED NEWS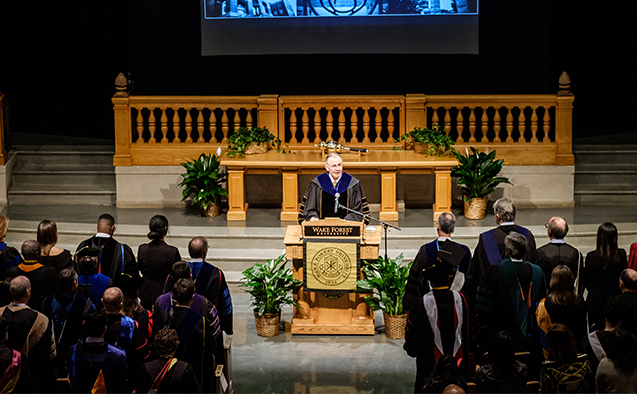 Wake Forest University apologizes for its past role in slavery
Winston-Salem Journal
Feb. 20, 2020
Wake Forest President Nathan Hatch apologized for the school's historical connection with slavery in a speech Thursday during the university's Founders' Day Convocation at Wait Chapel on campus. The apology is part of what Hatch described as an ongoing effort to come to grips with how the university participated in and profited from slavery. In his keynote Founder's Day speech, Jonathan Walton, the dean of Wake Forest's School of Divinity, told the audience the history of the university "is both beautiful and terrible," but people in the present can't escape its effects.
See Also: Spectrum News, 91.5 WUNC, News & Record
NATIONAL & INTERNATIONAL
Coronavirus: Are African countries ready
BBC
Feb. 15, 2020
Africa and China are more connected than ever. Lina Benabdallah studies China-Africa relations at Wake Forest. "Diplomatic relations between China and African partners have seen a boom in relations with many exchanges including economic exchanges, cultural exchanges, diplomatic relations and more recently also security and military relations," said Benabdallah. China has become Africa's top trading partner over the last decade, and direct flights now bring workers back and forth between the country and African continent. This opens a possible pathway for the coronavirus to come to Africa.
2020 rivals aim to slow Bloomberg's surge as he faces his first debate in Vegas
Sinclair Broadcast Group
Feb. 18, 2020
Allan Louden, former director of the debate program at Wake Forest and editor of "Navigating Opportunity: Policy Debate in the 21st Century," weighed in on what viewers can expect from the Feb. 19 Democratic debate. In three months as a candidate, Bloomberg has spent nearly a half-billion dollars of his own money running ads and hiring staff across the country, vaulting into the top tier of candidates without even participating in a primary or debate. Elizabeth Warren's supporters have complained that she has been marginalized and discounted by the media despite outperforming Biden in both of the first two contests. She could potentially channel that outrage in the debate to some effect. "She has the option of being indignant for being ignored."
What does justice look like for president's friends and foes
The Christian Science Monitor
Feb. 12, 2020
The U.S. Department of Justice reduced its sentencing recommendation for Roger Stone, after President Donald Trump tweeted his dismay at the previous recommendation. "The underlying principles of punishment are you want to deter people," says Kami Chavis, a professor at Wake Forest School of Law and a former U.S. attorney. "We do want to deter people from lying to members of Congress." The fact that the four prosecutors involved have since left the case, she adds, suggests they were "uncomfortable with this high level of intervention that seems politically influenced."
Virginia's 'amazing moment': The view from ground zero of U.S. gun debate
The Christian Science Monitor
Feb. 14, 2020
As complaints of government overreach still echo from the 22,000-strong show of largely armed force in Richmond late last month, newly elected Democrats are moving forward with a ban on new sales of the assault-style rifles. Few gun owners question the right, but many ask about the "pragmatic aspect of open carry," says Wake Forest sociologist David Yamane, founder of the Gun Culture 2.0 blog. "There are many people in the gun community who really dislike open carry as a method of normalizing firearms."
REGIONAL & TRADE
A new congressional district brings a fresh fight to the once heavily-gerrymandered triad
91.5 WUNC
Feb. 20, 2020
One of the most concrete outcomes of the new version of the 6th District is likely to be its effect on the partisan balance in Congress. John Dinan, a political science professor at Wake Forest, also said it could help someone rise to new prominence in the local political pecking order. The open seat representing the Triad has drawn five Democratic candidates. Dinan said that's pretty typical. "Whenever you get a newly-drawn district of the kind here, you bring out some contestants. Some who have been in there before, but some new ones."
Microsoft wants to go carbon negative. What does that mean
89.9 KCRW (Santa Monica)
Feb. 19, 2020
Microsoft's plan to go carbon negative is a big deal, said Wake Forest professor and climate journalist Justin Catanoso. "We have not bent the warming curve," he said. "Unless we go carbon negative, we're not going to get there. That's what Microsoft is promising to do, which means they're going to come up with ways to pull more carbon from the atmosphere in the next ten to forty years than they actually produce." In addition to buying more green energy and switching to electric vehicles, Catanoso said Microsoft will be, "investing millions to protect standing forests, and they're going to be investing millions to plant new trees."
5 NC schools among best value colleges: Princeton Review
Patch
Feb. 18, 2020
Wake Forest appears on Princeton Review's 2020 list of best value colleges released this month. The schools on the list reflect 7 percent of colleges across the country and offer the best return on investment for students, according to the research. Princeton Review chose schools based on a 2018-19 survey of administrators at 656 colleges. Survey topics covered academics, cost, financial aid, career services, graduation rates, student debt and alumni support.
Leave room for Jesus in the September issue: Religion in Vogue
91.5 WUNC
Feb. 18, 2020
Lynn Neal, a professor of religion at Wake Forest, joined host Frank Stasio on the program "The State of Things." Neal studied issues of Vogue magazine from the early 20th century to today to understand how religious iconography has shaped fashion throughout the ages. Clothing is not necessarily a transparent look at someone's identity, Neal says, but a performative piece of their personality.
See Also: 88.1 Blue Ridge Public Radio
Wake Forest University Center for Entrepreneurship Pitch Over Pizza
WRAL TechWire
Feb. 17, 2020
Wake Forest's Center for Entrepreneurship is hosting a pitch event where students can share their ideas, meet with entrepreneurial coaches and mentors, and network with faculty and staff. The event will take place on February 26 at 5:30 p.m. in Wake Forest's Reynolda Hall Green Room.
The 50 most inspired college campuses: Unique designs to enlighten minds
Great Value Colleges
Feb. 16, 2020
Wake Forest appeared on Great Value College's list of inspired college campuses. The university describes its campus as being "a big canvas" for students to express their passions. It offers a comfortable and challenging environment for all students. The publication noted that it is a very modern campus, with over half of the college's dorm rooms having been built from scratch or fully renovated in recent years. Wake Forest has augmented its campus with technology, stating that there is an app for almost everything a student encounters.
Suicidal patients often excluded from antidepressant trials
Medscape
Feb. 21, 2020
"Clinicians should be deeply concerned about this reality and support the importance of research that yields truly generalizable knowledge," said lead investigator Ana Iltis, director of the Center for Bioethics, Health and Society and professor of philosophy at Wake Forest. "Clinicians who treat depressed patients with suicidal ideation or a prior suicide attempt should ideally favor antidepressant approaches that have documented efficacy for suicidal ideation and behavior."
Ten outstanding journalists to be inducted into Kentucky Journalism Hall of Fame on March 31
Northern Kentucky Tribune
Feb. 10, 2020
Maria Henson will be one of ten honorees inducted into the Kentucky Journalism Hall of Fame on March 31. Henson is the associate vice president at Wake Forest and a former newspaper editor and editorial writer whose work at the Lexington Herald-Leader and Sacramento Bee resulted in Pulitzer Prizes.
Study finds 'significant' crowding in hedge funds
Risk.net
Feb. 10, 2020
A new study from Greg Brown and Christian Lundblad of the University of North Carolina, Chapel Hill and Philip Howard of Wake Forest suggests hedge funds are more exposed to crowding than previously thought. Their research links herd investing to bigger drawdowns in stressed markets.
Fort Jackson symposium shapes next Army leaders
The Times and Democrat (Orangeburg, SC)
Feb. 12, 2020
The annual Reserve Officers' Training Corps Leader Professional Development Symposium was recently held at Fort Jackson in South Carolina. In the audience, Wake Forest ROTC cadet Miles Middleton shared that he appreciated the chance to listen and learn from senior Army officers. "I think it's a great opportunity, as a cadet, to be able to hear from the officers and to be able to gain knowledge or ideas about their careers in the Army."
How to protect yourself from the China Covid-19 virus
Archy W
Feb. 14, 2020
Pat Lord, a teaching professor in the department of biology at Wake Forest, said that this particular outbreak probably came from a virus that originated in bats and another animal and then transformed to infect humans. "Bats seem to be a reservoir of many viruses, such as rabies, Ebola or Marburg virus." Lord said that the evolution of bats has made them carriers of these diseases without really getting sick. Humans are partly responsible for the outbreaks, as development invades bats' natural habitats. "The health of the environment, the health of animals and the health of humans are related. We have to think about the big picture, we have to protect everything."
LOCAL
WSSU, WFU mark sit-in anniversary
Winston-Salem Journal
Feb. 14, 2020
Wake Forest and Winston-Salem State University marked the 60th anniversary of Winston-Salem sit-ins with a community event. On Feb. 23, 1960, a group of students from WSSU were joined by students from Wake Forest to protest segregated lunch counters in Winston-Salem. The historic sit-ins led to a desegregation agreement among local merchants in the city later that spring. A community commemoration vigil was held Feb. 23 at 3 p.m. in downtown Winston-Salem to mark the 60th anniversary of the sit-in.
See Also: News & Record
WSSU, WFU celebrate Black History Month
Winston-Salem Journal
Feb. 14, 2020
Wake Forest and Winston-Salem State University staged several events as part of its celebration of Black History Month. The documentary "I'm Not my Brother's Keeper: Leadership and Civil Rights in Winston-Salem," produced by Wake Forest professors Mary Dalton and Susan Faust, will be shown at 6:30 p.m. Wednesday, Feb. 19 in Wake Forest's Pugh Auditorium.
See Also: News & Record
Open mic will mark sit-in anniversary
Winston-Salem Journal
Feb. 19, 2020
Wake Forest and Winston-Salem State universities partnered on a week-long commemoration of the 60th anniversary of the Winston-Salem sit-ins, which brought the Civil Rights Movement to the city.Students from both universities and from within the city were involved in the event.
Warning about social media posts
WGHP
Feb. 18, 2020
Experts say sometimes accounts use feel good social media posts to suck you in and build trust. "If we like the story, if it hits a chord in us, we will believe it," said Ananda Mitra, Wake Forest communications professor. "This is driven by money, sometimes driven by ideology."
See Also: WFMY
Dorm integration
WGHP
Feb. 14, 2020
In 1969, students Beth Norbey Hopkins and Deborah Graves McFarlane, became the first African-American women to live on the campus of Wake Forest, integrating women's residence halls. The Wake Forest President's Commission on Race, Equity and Community was announced in 2019. It is tasked with analyzing the campus community's past and making changes to ensure a better future for underrepresented students. "Folks don't want to look to the past. They only want to look at the present but the past is more important. It's how we ended up getting here," said Jose Villalba, vice president for diversity and inclusion. That's why WFU honored these women and provided time for students and faculty to hear about their experiences. "How grateful we are for students who blazed those trails."
Innovation Quarter name change reflects putting community projects to forefront of future development
Winston-Salem Journal
Feb. 15, 2020
A symbolic passing of an economic-development baton took place last week. Wake Forest announced that it has removed its name from the Innovation Quarter it helped found about 25 years ago in downtown Winston-Salem. The change is designed to demonstrate that the Innovation Quarter has evolved beyond the public perception that it contains just Wake Forest Baptist Medical Center research and related entities.
Thinking about an MBA? Here's how universities are changing to meet your needs
Triad Business Journal
Feb. 14, 2020
Kevin C. Bender, Wake Forest's MBA executive director, said all its business school's offerings are face-to-face. "That's how our students learn best; they want to be here for that reason." Wake's MBA classes are taught on campus in Winston-Salem but are also available on a satellite campus in uptown Charlotte. Classes are also offered in Charlotte on the weekends. Faculty are shuttled from Winston-Salem to Charlotte. Bender said classes are held in Charlotte because "it's such a large financial center with big populations of young working professionals."
Ripped off and pasted on: Exhibition at Wake Forest highlights Robert Motherwell's forays in collage
Winston-Salem Journal
Feb. 8, 2020
It's hard to overstate Robert Motherwell's impact on American art in the 20th century. Motherwell is known primarily as a painter, among the youngest of the abstract expressionists. But like several contemporaries and a few of his modernist predecessors, he also employed collage in much of his work. An exhibition at Wake Forest's Hanes Art Gallery highlights the latter aspect of his art. Titled, "Motherwell: product. placement," it emphasizes his frequent use of product packaging and other printed papers.
Wake Forest University students launch new friendships at Moji
WXII
Feb. 14, 2020
Athletes at Wake Forest got to spend some time with mojistas, the baristas at Moji Coffee and More. The employees at the coffee shop have intellectual and developmental disabilities. The student-athletes and mojistas traded shirts so they can represent each other in the community. "Wake Forest Athletics really wanted to be a part of Moji and everything that started within this community because as student-athletes we have a certain platform in the Winston-Salem community and also Wake Forest," said Alexis Franco, a senior on the women's tennis team and president of the Student-Athlete Advisory Committee.
Local economics professor from Hong Kong discusses COVID-19, coronavirus
WXII
Feb. 11, 2020
Wake Forest economics professor Tommy Leung says the price of some items could increase in our area if the coronavirus (now called COVID-19) continues to spread in China. Leung, who is from Hong Kong, says if the virus continues to spread for at least two more months, the prices of some electronics, including smartphones, as well as clothing and furniture items could increase. He says China produces 50% of the world's smartphones, so that is one item in particular that could see a price increase due to the virus.
Happy Hills will have its first Black History Expo
Winston-Salem Journal
Feb. 12, 2020
Happy Hills, a historic black neighborhood south of downtown Winston-Salem, will have its first Black History Expo, on Feb. 15 from 3 to 7 p.m. at the Sims Community Center. Hazel Mack, the director of outreach for the Wake Forest School of Law, will be the keynote speaker.
FedEx Ground will debut 'last-mile' delivery service for Triad in March
Winston-Salem Journal
Feb. 13, 2020
Roger Beahm, executive director of the Center for Retail Innovation at Wake Forest School of Business, said that "whether the product is apparel, household goods, business products or supplies, or even groceries, 'how' and 'when' a shopper's order is delivered, as well as how much that delivery costs, has become a key part of the decision to buy." Beahm said there will continue to be increasing competition to own that last mile between the seller and the buyer. "The Triad has become an important market for Amazon, to learn what works and doesn't work in the home and business delivery areas. It's part of Amazon's value to its shoppers."
Graduate programs pivot to address cybersecurity, analytics, health management, retail
Triad Business Journal
Feb. 14, 2020
With the digitalization of everything in today's economy, Triad universities are addressing business needs and providing opportunities for students with master's degrees in computer science and information technology, including programs in the growth field of cybersecurity. Wake Forest and UNCG have focused programs that address current business needs for data analytics expertise. The Master of Science in Business Analytics degree at WFU is offered online for working professionals. The program emphasizes leveraging data to find solutions to business problems and influence their organizations.
U.S. Appeals Court ruling blocking Medicaid work requirements has implications for N.C.
Winston-Salem Journal
Feb. 14, 2020
"It is always possible that if an appeal were taken to the U.S. Supreme Court that a different final judgment would be offered about the legitimacy of work requirements," said John Dinan, a political science professor at Wake Forest. "Still, the main effect of this D.C. Circuit Court decision is to make it difficult for states to proceed with adopting or enforcing Medicaid work requirements."
Name of new downtown bar stirs social media
Winston-Salem Journal
Feb. 14, 2020
La Ch.ngada is the name of a new bar set to open in Winston-Salem on West Fourth Street. The bar's name, which refers to "La Chingada," has generated some discussion on social media, as the word has many meanings – some of them explicit. Claudia Valdez, a native of Sonora, Mexico and a teaching professor of Spanish at Wake Forest, said that though expressions containing "chingada" can have negative connotations, the typical reaction from a Mexican or Spanish-speaking person will not be negative. "My husband and I are both linguists, and when he told me about it, we both thought how interesting and smart a title. My attitude was totally positive."