FEATURED NEWS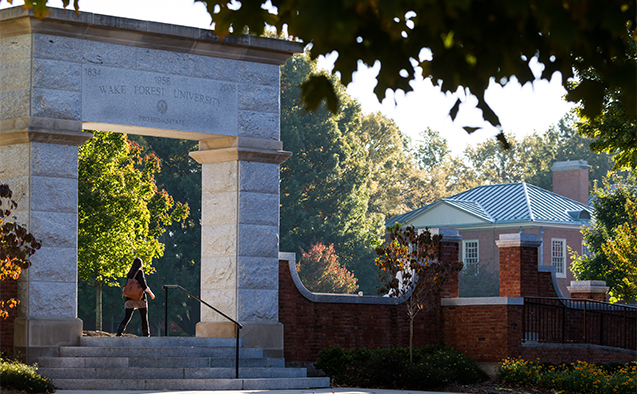 Admission deans share tips for college applications
Forbes
July 30, 2019
To avoid being overwhelmed by college applications or submitting shoddy work, plan ahead. "What we see repeated most often is a failure to take one's time on the application," said Arron Marlowe-Rogers, associate dean of undergraduate admissions at Wake Forest. "The Common Application and all of the supplements for individual colleges are in no way meant to be completed in one sitting."
NATIONAL & INTERNATIONAL
Shooting attacks renew debate over domestic terrorism in U.S.
Voice of America
Aug. 6, 2019
Domestic terrorism "has become increasingly more of a threat with the resurgence of white supremacists groups, as well as some acts from left-wing extremists, though these account for much fewer incidents," said Randall Rogan, a terrorism expert and professor of communications at Wake Forest. To tackle domestic terrorism more effectively, experts say the U.S. needs to expand on the work being done by law enforcement agencies to combat right-wing terrorism. There should be "increased cooperation and collaboration among all law enforcement and Department of Homeland Security and other agencies."
Mentoring: The secret to building resilience
Psychology Today
July 29, 2019
"Managers, mentors, colleagues, and even friends can use the strategies of effective mentoring as a tool to build resilience in others," says Allison McWilliams, assistant vice president of mentoring and alumni personal and career development at Wake Forest. "Perhaps most importantly, recognize that facing adversity is a universal experience that comes in different forms, depending on the person. If you need someone, find someone. And if someone needs you, be that someone."
'A gendered trap': When mothers allege child abuse by fathers, the mothers often lose custody, study shows
The Washington Post
July 29, 2019
A new study reported that in custody litigation, when mothers reported abuse, the mothers lost custody 28 percent of the time. But when fathers alleged abuse, the fathers lost custody only 12 percent of the time. "Even when the abuse is credited, women are losing," Jane Aiken, dean of the School of Law at Wake Forest, said. "This is about not trusting women. I think it's very powerful. Women are expected to behave as mothers. But then when they come in and say 'I'm trying to protect my child,' then they're not believed, You're just in a trap, and it's a gendered trap."
What are the US's intentions in Africa
BBC
Aug. 1, 2019
The appointment of American ambassadors to African capitals has moved ahead at a glacial pace over the past two years, with some high-profile posts remaining unfilled since President Trump ordered that politically appointed ambassadors around the world step aside following his inauguration in 2017. Analysts say, in contrast, China has sent senior foreign officials to African countries. "In South Africa, China has a highly-ranked diplomat – that shows it really matters to Beijing," says Lina Benabdallah, an expert in China-Africa relations at Wake Forest.
This toddler-size parrot was a prehistoric oddity
National Geographic
Aug. 6, 2019
"More than 16 million years ago in what is now New Zealand, a giant bird died and sank to the bottom of a lake. Preserved in layers of sand and gray-blue clay, the bones of this behemoth have since been unearthed, revealing what is now the largest parrot known to science," writes Wake Forest doctoral candidate Jenny Howard. "Of the 350 parrot species alive today, the heaviest is the kakapo, a flightless bird also native to New Zealand. But the extinct parrot, dubbed Heracles inexpectatus, crushes the kakapo's record: Described from two fossilized leg bones, the bird would have weighed 15 pounds and stood roughly three feet tall."
Joint parenting: Saving the children
India Legal
Aug. 1, 2019
Linda Nielsen, professor of adolescent and educational psychology at Wake Forest, who reviewed 54 studies on shared parenting, said that children in shared-parenting families fared better than children in sole physical custody families. The United Nations Convention on the Rights of the Child, 1989, and the European Union Charter of Fundamental Rights, 2011, mandate that children should be allowed to maintain meaningful relationships with both parents. In India, the apex court seems to be moving in the same direction.
Why the United States wants to restore its influence in Africa
Naija News
Aug. 2, 2019
Lina Benabdallah, a specialist in China-Africa relations at Wake Forest, said trade between the United States and African countries has declined because of increased interest not only from China but also from other countries such as Russia and Turkey. "I think it's because the competition from all other countries has increased compared to the last decade." China's economic growth has recently shown signs of a slowdown that may well affect Africa's trade and investment levels in the future.
REGIONAL & TRADE
Many mass shooters share a common bond: Male grievance culture
KUNC
Aug. 9, 2019
Kami Chavis, a hate crimes expert and director of the Criminal Justice Program at Wake Forest University School of Law, says the El Paso and Dayton shootings bear hallmarks similar to many recent mass shootings. "We're seeing the confluence of violence, easy access to guns and the political rhetoric that does not condemn and often supports violence against minorities."
Concealed-carry gun permits in NC, Mecklenburg County have tripled since 2010
The Charlotte Observer
July 31, 2019
"It's not just the population increase," said Wake Forest sociology professor David Yamane – who researches gun culture and policy – referring to the roughly 1 million new North Carolinians this decade. "The interest in concealed carry is increasing too." While other factors also play roles, Yamane said high-profile, catastrophic shootings like those last weekend in El Paso, Texas, and Dayton, Ohio, help drive up that interest.
Utah's Medicaid model could solve NC impasse
News & Observer
July 28, 2019
Mark Hall, professor of law and public health at Wake Forest, wrote an opinion piece for the News & Observer about what North Carolina legislators can learn from Utah's Medicaid model. Utah is pursuing "partial expansion" of Medicaid to cover as many people as possible while continuing to receive assistance in doing so from the federal government.
Women engineering the future
WFMZ-TV (PA & NJ)
July 30, 2019
For Olga Pierrakos, founding chair and professor of the Department of Engineering at Wake Forest, there are no boundaries when it comes to women in engineering, and she's determined to increase the representation of women in the field. "Right now we can say we have 42 percent women." That's compared to only five percent female college STEM students nationwide. Pierrakos is aimed at changing the culture of engineering in universities and beyond.
Can Americans sue political figures to make their tax returns public
WUSA (Washington, D.C.)
July 31, 2019
A WUSA viewer asked, "Would the American people be able to sue political figures to see their tax returns?" John Dinan, professor of politics and international affairs at Wake Forest, says no. Dinan says political figures, like senators, representatives, cabinet members and supreme court justices cannot be sued for failing to disclose their tax returns because they are not required to make their tax return public.
The magic of mentoring
Associations Now
Aug. 1, 2019
As associations seek ways to help members navigate their careers and respective industries, many are turning to mentoring programs to respond to an increasingly critical need. But while the demand for mentoring is common across associations, there's no standard template for a successful program. "It is always important for organizations looking to implement one of these programs to start from the place of, what goals are we trying to meet?" says Allison McWilliams, assistant vice president of mentoring and alumni personal and career development at Wake Forest.
Ep 128: The character gap with Dr. Christian Miller
The Classical Ideas Podcast
Aug. 1, 2019
Wake Forest professor of philosophy Christian Miller appeared on "The Classical Ideas Podcast." Miller spoke about his book The Character Gap and his research on contemporary ethics and philosophy of religion.
LOCAL
When will lawmakers vote to override Cooper's veto of state budget
Winston-Salem Journal
July 29, 2019
The pressure to resolve the 2019-20 state budget dispute appears to still weigh more on Democratic Gov. Roy Cooper than Republican legislative leaders, according to several analysts. "The governor faces a choice at this point," said John Dinan, political science professor at Wake Forest. "If a key priority is to allow the governor not to show weakness, then the governor's best option may be to free up a few Democratic house members to approve the veto override and pass the budget as it stands, complete with some beneficial projects for these legislators' districts."
NC Dems to GOP: You don't have the votes to override governor's veto of state budget
Winston-Salem Journal
Aug. 8, 2019
The most likely way of settling the ongoing N.C. budget dispute is for Democratic Gov. Roy Cooper to agree to forgo Medicaid expansion in exchange for higher teacher pay raises, school construction funding and halting the next corporate tax-rate cut, said John Dinan, a political science professor at Wake Forest.
Wake Forest University announces commission on diversity and equity, explores legacy of slavery
88.5 WFDD
Aug. 2, 2019
Wake Forest President Nathan O. Hatch announced efforts to address concerns involving race and inequity. There will also be a focus on history, including the University's relationship to slavery. The President's Commission on Race, Equity and Community wants to draw awareness to issues brought up by students, faculty and staff. The University considers this a continuation of work that's already been in motion. They've also announced the Committee on Slavery, Race and Memory. It initially started three years ago when the school joined a multi-institutional group looking at the legacy of slavery and universities.
See Also: WUNC
Stalled medicaid expansion and state budget veto hold legislators in Raleigh
Winston-Salem Journal
Aug. 5, 2019
"The prospects of the Senate passing Medicaid expansion, in any form, as part of the budget are dim to non-existent, and there are virtually no meaningful compromises that would satisfy the Senate and the governor," said John Dinan, a political science professor at Wake Forest. If Cooper can gain meaningful concessions from GOP legislative leaders to advance his other priorities, "then the governor's best option is to take Medicaid expansion off the table at this point and negotiate a deal" on those issues.
Blue Cross reduces average ACA premium rates second consecutive year
Winston-Salem Journal
July 31, 2019
Blue Cross said the premium reductions were made possible primarily by its transition to value-based provider reimbursement and progress on reducing internal operating expenses. The newer approach — called "value-based" contracting — typically offers providers incentives for better patient outcomes through emphasizing preventive and maintenance care, which tends to be less costly than treating patients after they have become sick. Mark Hall, a law and public health professor at Wake Forest, said the rate reductions "indicate that the ACA's reforms to the private insurance are now working better following the disruptions caused by regulatory changes in 2017."
N.C. House Democrats try to push gun-control bills out of committee and on to floor via petitions
Winston-Salem Journal
Aug. 6, 2019
A group of Democratic legislators in the N.C. House in Raleigh is attempting to push two gun-control bills directly to the floor, hoping to ride momentum from an unexpected assist by President Donald Trump, who said he supports states adding "red flag" gun laws. Momentum for red-flag laws is clearly building in blue and purple states, said John Dinan, a political science professor at Wake Forest. "A fair number of states passed such laws this year, and with more states expected to pass such laws … in coming years."