FEATURED NEWS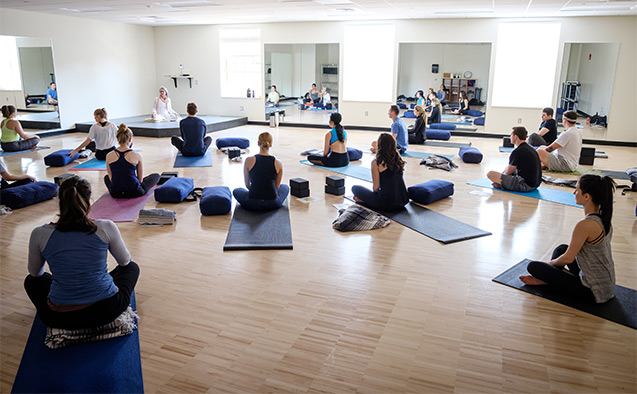 Colleges teach students how to think. Should they also teach them how to thrive
The Chronicle of Higher Education
Nov. 4, 2018
Wake Forest continues to be a leader among colleges and universities focused on wellbeing, and the University's efforts to help students thrive were featured in this Chronicle of Higher Education story. The story notes Wake Forest has created an Office of Wellbeing Office of Wellbeing to serve everyone on campus, developed a wellbeing-focused freshman course and offered individual wellness coaching sessions. Wake Forest University has created an Office of Wellbeing to serve everyone on campus, developed a wellbeing-focused freshman course and offered individual wellness coaching sessions. Wake Forest has also begun a research initiative, led by director Nicole W. Brocato, to create an assessment that measures student wellbeing and program outcomes. Wellbeing is a complex and multifaceted concept, so Wake Forest is implementing a suite of interconnected efforts to help students. "Maybe," Brocato said, "no one single program is helping someone to suddenly have meaning in life."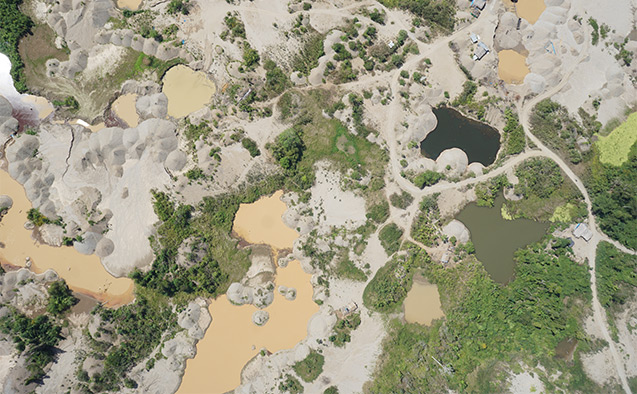 Novel research method reveals small-scale gold mining's impact on Peruvian Amazon
Mongabay
Nov. 9, 2018
Small-scale gold mining has destroyed more than 170,000 acres of primary rainforest in the Peruvian Amazon in the past five years, according to a new analysis by scientists at Wake Forest University's Center for Amazonian Scientific Innovation (CINCIA). Scientists based in Peru's Madre de Dios region at Wake Forest's Center for Amazonian Scientific Innovation (CINCIA) say they've developed a new method for detecting artisanal-scale mining that is 20-25 percent more accurate than the tools used in the past. "All the scenery should look like broccoli. It looks like desert," Miles Silman, associate director of science for CINCIA and director of Wake Forest's Center for Energy, Environment, and Sustainability (CEES).
See Also: Earth.com
NATIONAL & INTERNATIONAL
After Sessions: How Trump move may shift dynamics of Mueller probe
The Christian Science Monitor
Nov. 8, 2018
The day after the midterm elections, President Trump forced then U.S. Attorney General, Jeff Sessions, to resign and appointed Matthew Whitaker to serve as acting Attorney General. "I doubt he will recuse himself," says Kami Chavis, director of the Criminal Justice Program at Wake Forest School of Law. "But it would also be unusual for a person [in an acting capacity] to make a big, seismic change," she says. "Typically, when you have someone in an acting or interim role, the idea is that they will act in a professional manner and keep things going."
The EPA completely axed its climate change websites. But why are NASA's still live?
Mashable
Nov. 8, 2018
NASA is a research agency, emphasized Stan Meiburg, director of graduate studies in sustainability at Wake Forest and former Acting Deputy Administrator for the EPA. It largely exists to perform science. Conversely, he noted that the EPA — which is responsible for protecting human health and the environment — is primarily a regulatory agency, writing and enforcing environmental rules. "It's sad but straightforward" Meiburg said of the EPA's deleted websites.
The 50 most beautiful colleges in America
Architectural Digest
Nov. 5, 2018
Wake Forest was featured in Architectural Digest's list of most beautiful college campuses in America. The entry highlighted WFU's Wait Chapel.
Exhibitions: Andy Warhol and Pop art
Showcase
Nov. 8, 2018
Wake Forest art professor and historian John Curley spoke to TRT World's Showcase about Pop Art, which flourished from the mid-1950s through the late '60s. "It's really interesting how in America many people see pop art as celebrating a mass culture and consumerism, but when those same images go in a different context it can become critical of American policies and ideas," Curley said.
REGIONAL & TRADE
Gun violence in America: Gun Culture 2.0
In Sickness and In Health (Podcast)
Nov. 8, 2018
David Yamane, professor of sociology and an expert on Gun Culture 2.0, was a guest on the "In Sickness and In Health" podcast. Unlike many sociologists who primarily study violent gun incidents, Yamane considers the ways that most law-abiding, nonviolent gun owners relate to guns and gun ownership. "There are a variety of subcultures within American gun culture; those would include people who are hunters, people who are sort of recreational target or sport shooters and people who are collectors," Yamane said.
LOCAL
Report: Sears to close Hanes Mall store
Winston-Salem Journal
Nov. 9, 2018
Sears has begun to close low-performing stores across the country after filing for bankruptcy in mid-October. These closures will include the Sears store at Hanes Mall, which has been an anchor tenant since the mall opened in 1975. "While not really surprising, it is quite disappointing," said Roger Beahm, executive director of the Center for Retail Innovation at Wake Forest University School of Business. Beahm said that with Sears no longer owning the property, "shutting the store at Hanes Mall is another way to further reduce cost and focus only on their most profitable properties."
Commitment 2018
WXII
Nov. 6, 2018
Politics professor and election expert John Dinan spoke with WXII on election night. When asked about his reaction to the early poll results, Dinan said, "At the national level it's projected that Democrats are going to take over the House of Representatives…that's probably the dominant story of the evening." Dinan said.
Age 21 initiative for tobacco products shifts from unfathomable to likely with manufacturers' support
Winston-Salem Journal
Nov. 3, 2018
The two top U.S. tobacco manufacturers, Altria Group Inc. and Reynolds American Inc., have signaled that they would support an FDA recommendation to Congress to raise the minimum purchasing age of tobacco from age 18 to 21. This shift in manufacturer support may mark a serious change for the future of tobacco and its sales, but John Dinan, a political science professor at Wake Forest, said Congress does not have the power to simply raise the tobacco-buying age to 21. "It would have to come up with a workaround of the sort it used in 1984 in inducing states to raise the drinking age to 21. States were given a choice of raising the drinking age, but then told that they would lose a portion of their federal highway grants if they didn't take this step," said Dinan.
Amendments' defeat a victory against overreach, ex-governor says
Winston-Salem Journal
Nov. 7, 2018
Former N.C. Gov. Jim Martin called the defeat of two controversial state constitutional amendments a victory against overreach by the General Assembly. The amendments would have altered how judicial vacancies are filled by the governor and the composition of the elections board. John Dinan, a political science professor at Wake Forest, said "it is not surprising that voter support for the six amendments broke down as it did — approving four dealing with rights and policies, and then soundly rejecting the two amendments with separation of powers implications."
Voter-shaming mail shows up in time for Election Day. That's because it works, says GOP director
Winston-Salem Journal
Nov. 6, 2018
Political scientists have found that individuals "can be influenced by friends, family and neighbors in deciding whether to turn out to vote," said John Dinan, a political science professor at Wake Forest and an expert on North Carolina elections. "So that is the logic underlying vote-shaming mailers that have been sent in some prior North Carolina elections and in other elections around the country in an effort to boost turnout."
See Also: Statesville Record & Landmark
Complexity of constitutional amendments may determine fate
Winston-Salem Journal
Nov. 4, 2018
The complexity of language in each of the six proposed amendments to the North Carolina constitution this year – and the broad range of topics covered – made voting outcomes difficult to predict. "Probably the best way to provide perspective on North Carolina voters' decisions this year is to consider how similar amendments have fared in other states in recent years," said John Dinan, a political science professor at Wake Forest and a national expert on election issues.
Soup can-can
Winston-Salem Journal
Nov. 3, 2018
Wake Forest associate professor of art history, John J. Curley, will serve as one of five discussion leaders for the Southeastern Center for Contemporary Art's "Art Salad," a series of conversations about contemporary art.
Reynolda screens 'Grapes of Wrath'
Winston-Salem Journal
Nov. 3, 2018
David Lubin, Wake Forest professor of American visual art and film history, led a discussion of "The Grapes of Wrath" (1940), screened last week at the Reynolda House Museum of American Art. The film was the last of a three-part series running in conjunction with the exhibition, "Dorothea Lange's America."
Danish string quartet at Brendle Recital
Winston-Salem Journal
Nov. 3, 2018
The internationally recognized Danish String Quartet will perform in Brendle Recital Hall on Nov. 9 as part of Wake Forest's Secrest Artists Series.