FEATURED NEWS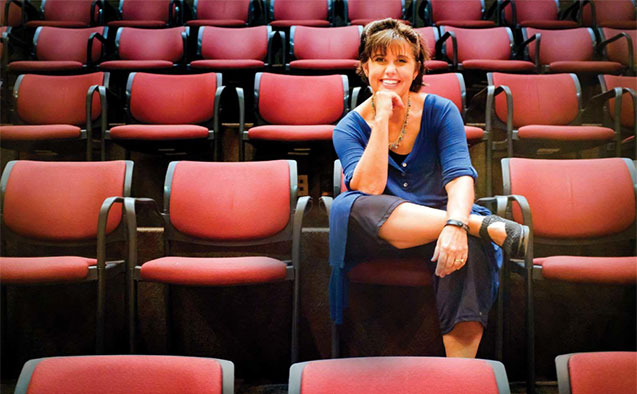 Brook Davis: Winner of 'Building the Dream' award brings theater to the community
Winston-Salem Journal
Oct. 7, 2019
"I come from theater. Part of what theater does is tell stories to a community — stories about relationships," said Brook Davis, an associate professor of performance at Wake Forest. "We talk a lot about the importance of having an audience in the room, so it's natural to move out into the community. Try things out. Have them hear what you have to say and listen to their responses." Davis recently earned the 2019 Martin Luther King Jr. "Building the Dream" award. The award is given annually to either a teacher or administrator and a student from both Wake Forest and Winston-Salem State University who "exemplify King's qualities and promote diversity within the community."
NATIONAL & INTERNATIONAL
Managing while Millennial
Psychology Today
Oct. 8, 2019
Allison McWilliams, assistant vice president of mentoring and alumni personal career development at Wake Forest, shares tips with Millennials to utilize so-called generational traits as assets to build a management skillset.
Ciaran Carson, versatile Belfast poet, is dead at 70
The New York Times
Oct. 9, 2019
Ciaran Carson, whose poetry and prose captured the pungency, tensions and rich heritage of Northern Ireland, died Oct. 6. He was 70. Carson, who has been long-published by the Wake Forest University Press, the premier publisher of Irish poetry in North America, was perhaps best known as a poet. "I can't say why the forms in which I write have changed so radically over the years," he told the Wake Forest University Press in 2010, "but it seems we should adopt new methods for new situations. The situation demands the form."
REGIONAL & TRADE
Blue Cross NC promises more transparency after arrest and conviction of former CEO
News & Observer
Oct. 11, 2019
"In the public corporation sphere, where there are shareholders, where there is the SEC [Securities and Exchange Commission], the best practice is whenever there is a hint of a scandal to control the story immediately and become as transparent as possible and to be forthcoming and make sure you're telling the story and not having other people speculate about the story," said Alan Palmiter, a law professor at Wake Forest. "It sounds like Blue Cross Blue Shield may not have gotten that advice."
Generation Z poised to enter your sales ranks
Advertising Specialty Institute
Oct. 7, 2019
Born between 1995 and 2012, Gen Z comprises 30% of the world's population, making them the largest generation, according to Bloomberg. The oldest of this group are 23 and 24, recent college graduates looking to embark on their careers. Yes, they're tech-savvy, creatively minded and naturally inquisitive. "People say it's a negative that we're so tech-savvy, but it's actually a positive," said Lily Schneider, a senior at Wake Forest, who spent this past summer as an intern at Top 40 distributor Axis Promotions in New York City. "We're comfortable with both video conferencing and face-to-face conversations, for example. The digital skills make us more independent and resourceful. We have a willingness to learn and a natural curiosity."
Masciarelli awarded Gilman International study abroad scholarship
The Mountaineer
Oct. 7, 2019
Sophia Masciarelli, a sophomore at Wake Forest, has completed a study abroad in Peru after receiving the prestigious, nationally competitive Benjamin A. Gilman International Scholarship to Study Abroad. During a four week period, students and faculty visited five of Peru's 10 UNESCO World Heritage Sites to see nature at its wildest. Students visited the Centro de Innovación Científica Amazónico (CINCIA) which is the leading research institution for environmental research and the development of technological innovation for biological conservation and environmental restoration in the Peruvian Amazon region. CINCIA partners with and is led by experts from Wake Forest. "To see firsthand the pioneering work being done by CINCIA as well as by others profoundly reshaped my vision for where I fit into the global conversation around biological conservation and environmental restoration," Masciarelli said.
53rd season of the Salisbury Symphony offers variety
Salisbury Post
Oct. 6, 2019
If variety is the spice of life, then the 53rd season of the Salisbury Symphony serves up loads of variety for its patrons. "I've always been a fan of variety," notes Maestro David Hagy, teaching professor and orchestra director at Wake Forest. The symphony's family concert — featuring the Fifth Grade Honors Chorus — is called "Come Hear North Carolina," with a program of all North Carolina composers. The concert featured music by Hagy and Wake Forest professor, Dan Locklair.
LOCAL
Small business health insurance plans unlikely for 2020 rollout
Winston-Salem Journal
Oct. 7, 2019
As the 2020 employer health-insurance enrollment period nears, the Association Health Plans envisioned under Senate Bill 86 are stuck in limbo with most, if not all, of the plans likely not available for next year. John Dinan, a political science professor at Wake Forestand a national expert on state legislatures, said that the North Carolina law "appears to be crafted in a focused fashion, so that the association health plans covered by the law would be mostly unaffected by on-going federal litigation. Even so, groups offering association health plans will continue to look to the U.S. Department of Labor for guidance about these plans and about any possible effect of on-going federal litigation on these plans."
Around town: peter campus video ergo sum at SECCA
Winston-Salem Journal
Oct. 7, 2019
The exhibit, "peter campus video ergo sum" will open at SECCA on Tuesday, Oct. 15 and run through Dec. 29. A pioneer of video art, peter campus creates engaging installations that provide unique interactive experiences, leading the viewer on a journey of self-discovery and awareness. Related exhibitions are on display at the Hanes Gallery at Wake Forest and Reynolda House Museum of American Art.
Wake Forest working to help people address obesity
WGHP
Oct. 7, 2019
"We know, on average, if you have an adult who has some type of functional disability – it could be caused by obesity – and if we get them to lose some weight that on average they are going to improve, but there's a big spread about that average," said health and exercise professor Kristen Beavers. "One-fourth of the participants who lost weight didn't see an improvement or maybe even made them worse. So that was kind of the impetus of this project." "This project" for Beavers and her team is taking a look at data to see who doesn't see improvement in functions and why.
Author and philosopher Anthony Appiah to speak at Wake Forest
YES! Weekly
Oct. 7, 2019
Anthony Appiah, an internationally renowned philosopher and novelist, will speak at Wake Forest through the Eudaimonia Institute's third Noesis Lecture Series. Appiah's lecture is sponsored in conjunction with the President's Office as part of the University's Voices of Our Time series. The event will be held on Thursday, Oct. 17, at 5 p.m. in Wait Chapel.
See Also: Winston-Salem Journal
Residential developer, Whitaker Park group plan announcement about former R.J. Reynolds buildings Thursday
Winston-Salem Journal
Oct. 9, 2019
The Whitaker Park Development Authority Inc. will discuss major economic plans for former R.J. Reynolds Tobacco Co. Buildings 2-1 and 2-2 at 951 Reynolds Blvd., across from Woodland cemetery. In October 2017, the three-story leaf buildings were named to the National Register of Historic Places. The two former Reynolds buildings are close enough to Wake Forest to be attractive for students wanting to live off-campus. "We're currently in a 10% growth in undergraduate enrollment, or from about 4,800 to about 5,350," said Hof Milam, executive vice president at Wake Forest. Milam said the University and the Whitaker Park authority believe there is opportunity to convert some of the buildings into residential apartments that could serve individuals working at Whitaker Park or those who need moderate-priced housing.