FEATURED NEWS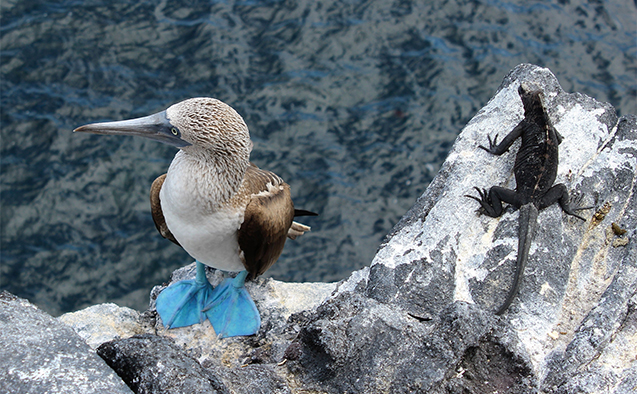 As seas warm, Galápagos Islands face a giant evolutionary test
The New York Times
Dec. 18, 2018
The Galápagos sit in the crosshairs of one of the world's most destructive weather patterns, El Niño, which causes rapid, extreme ocean heating across the Eastern Pacific tropics. David Anderson, a biologist at Wake Forest who studies the blue-footed booby seabird, said the ravages of El Niño were a surprise when he began working on the islands in the 1980s. "El Niños have a bulldozer effect and they are happening more and more. One hundred years from now, I would not be surprised if the blue-footed boobies were gone" if current trends continue."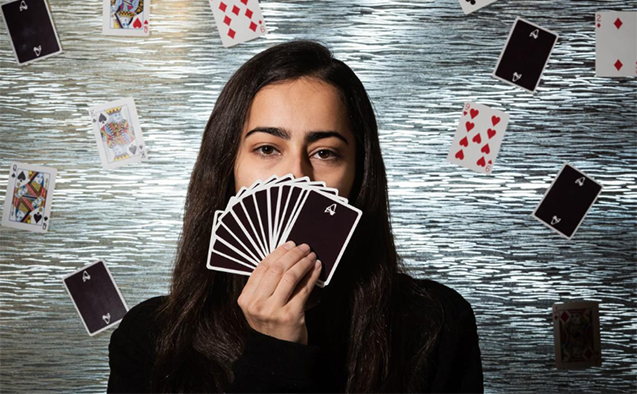 Spotting valuable ideas: Students make the best of entrepreneurship minor
Winston-Salem Journal
Dec. 15, 2018
The Wake Forest University Center for Entrepreneurship Center, which started in 2005, has the largest minor at Wake and recently expanded its offerings. Its core courses are The Entrepreneurial Experience, Identifying and Cultivating Valuable Ideas, Developing Validated Concepts and Scaling the Entrepreneurial Venture. "We teach courses that teach students how to spot more valuable ideas and how to take those ideas and turn them into validated concepts, and, in some cases, how to turn them into companies," said Dan Cohen, the John C. Whitaker Jr. Executive Director of the center. "We also complete the minor with a course on how to scale a venture to greater than $10 million in sales."
NATIONAL & INTERNATIONAL
Taking surprise medical bills to court
The New York Times
Dec. 18, 2018
In several recent cases, for example in New York and Colorado, courts have stepped in to mediate cases where a patient received a big balance bill from an out-of-network provider. Patients are beginning to challenge these bills on the basis of contract law with varying levels of success, in part due to the difficulty of determining fair prices. "It's not a well-settled area of the law," said Mark Hall, director of the Health Law and Policy Program at Wake Forest. "That's where courts struggle, creating health care prices," said Hall.
Interviewing while black: How race affects salary negotiations
CNN Business
Dec. 26, 2018
Derek Avery wrote a guest column for CNN business. Rightfully so. It is shameful that women made only 80.5 cents for every $1 earned by their male counterparts in 2017, according to data from the Institute for Women's Policy Research. The troubling number has closed significantly since the Equal Pay Act became law in 1963, but progress has slowed despite the continued scrutiny of the issue. Another disparity, equally disturbing and just as discriminatory, has not gotten the same kind of attention: the racial income gap. In 2016, the Pew Research Center released figures showing that college-educated black and Hispanic men earned 80% of the hourly wages earned by college-educated white men.
A government shutdown is looming, but you may hardly notice
McClatchy
Dec. 17, 2018
Several days before a Dec. 21 deadline, it seems likely that the federal government is headed towards a shutdown. Stan Meiburg, Director of Graduate Programs in Sustainability at Wake Forest and a former EPA acting deputy administrator under President Obama, has experienced several shutdowns while working for the federal government. "It's extraordinarily disruptive while it's happening, and then when you come back it takes a few weeks to dig out from everything," he said. "If life or property is at risk, we would mobilize people and figure out the finances later."
Why fish jump and how they do it
ABC News Australia
Jan. 2, 2019
A fish can contort its muscular body and use its fins in all kinds of imaginative ways to become airborne, said biomechanist Miriam Ashley-Ross of Wake Forest. "A fish can use its fins and muscular body in imaginative ways to spring out of the water. Salmon scaling a waterfall, for instance, generate thrust and "beat their tail back and forth as they ascend through the water column until they've left the water."
Emotion-reading tech fails the racial bias test
The Conversation
Jan. 3, 2019
Lauren Rhue, professor of Information Systems and Analytics at the Wake Forest University School of Business, wrote an article for The Conversation about emotion-reading technology and racial bias based on findings from her recent study.  "Although innovative, artificial intelligence can perpetrate and exacerbate existing power dynamics, leading to disparate impact across racial/ethnic groups, some societal accountability is necessary to ensure fairness to all groups."
REGIONAL & TRADE
Automatic weapons are legal, but it takes a lot to get one of the 630,000 in the U.S.
Boise State Public Radio
Dec. 21, 2018
Wake Forest professor of sociology and American gun culture expert David Yamane says machine gun collectors are not getting them primarily to shoot or for self-defense, but as collector's items. "[They] aren't getting them because they're high-tech military weapons. They're mostly getting them for historic purposes," he said. "So you'll find among people who collect machine guns a very passionate interest in military history or the history of firearms technology itself."
File of sex assault lawsuit against businessman must be unsealed
NC Lawyers Weekly
Jan. 3, 2019
The Fayetteville Observer and its legal representatives, including John Korzen – director of Appellate Advocacy Clinic at the Wake Forest University School of Law, challenged a superior court judge's decision to seal from the public a sexual assault case on minors brought against a prominent Fayetteville car dealership owner.
ACA ruling rankles supporters but doesn't change their plans
North Carolina Health News
Dec. 18, 2018
Mark Hall, health policy and law professor at Wake Forest, commented on a U.S. District Court Judge's ruling that the Affordable Care Act is unconstitutional due to the mandate for individuals to purchase insurance. Hall said he found it to be an "outlandish argument, the idea the entire structure should fall because of one tiny little bubble." Even without the individual mandate, Hall said he believes the rest of the law to be "perfectly valid."
Financial filings show that DFW companies are rolling in cash
Dallas Business Journal
Dec. 31, 2018
Many companies in the United States are taking a conservative position when it comes to holding on to cash in recent months. Ajay Patel, finance chair of the Wake Forest University School of Business, says that this is largely due to political uncertainty within the country and internationally. "Some companies are viewing the increased earnings they have seen under the tax reform law as a potentially temporary phenomenon, so they're holding off on making any major moves," Patel said.
25 best Bachelor's in finance degree programs for 2019
Bachelor's Degree Center
Dec. 18, 2018
Wake Forest's B.S. in Finance degree program is ranked among the top twenty-five in the country by the Bachelor's Degree Center. Wake Forest's program is recognized for its strong foundation in a wide variety of business, economics and financial topics as well as other factors including its graduation rate and graduate employment rate.
Separation anxiety: Can it affect adults?
Medical Daily
Dec. 19, 2018
Sometimes, separation anxiety, which is common in infants and toddlers, shows no signs of fading even as the children get older. "Significant life transitions such as moving away to college or having a child can trigger adult separation anxiety, particularly for those who have an underlying anxiety disorder," said Wake Forest counseling professor Allison Forti.
LOCAL
What to watch in 2019: Women and minorities diversify thinking, innovation in STEM
Triad Business Journal
Jan. 4, 2019
Diversity in STEM continues to be at the forefront of higher education and workforce hiring. There has been a continued push for greater diversity in STEM professions and higher education. In 2018, Olga Pierrakos entered her second year as founding chair of Wake Forest's Department of Engineering. To meet the demands of a diverse population, the people doing the work – designers, engineers, scientists – need to reflect the populations they serve, Pierrakos said."Diversity is linked to innovation."
CNN political commentator Angela Rye to speak in Winston-Salem. She plans to talk about finding common ground in divisive times
Winston-Salem Journal
Jan. 8, 2019
Marking their longest running collaboration, Wake Forest and Winston-Salem State University will partner to celebrate Dr. Martin Luther King Jr. and the legacy of his life and work. Angela Rye – CNN political commenter, attorney, political advocacy firm CEO and member of the boards of the Congressional Black Caucus Institute and the Congressional Black Caucus Political Action Committee – will deliver the keynote address, "On Common Ground: Embracing Our Voices."
'Hamilton' star Renée Elise Goldsberry to visit Wake Forest in event open to public
Winston-Salem Journal
Jan. 11, 2019
Tony and Grammy award-winning star Renée Elise Goldsberry will kick off the international conference, "The Arts of Leading: Perspectives from the Humanities and Liberal Arts" at Wake Forest on Feb. 1. Goldsberry starred in the musical, "Hamilton," and has performed roles in other beloved Broadway productions including "The Lion King," "Rent" and "The Color Purple."
Bill that would defund Planned Parenthood and other abortion providers introduced by Rep. Virginia Foxx
Winston-Salem Journal
Jan. 9, 2019
U.S. Rep. Virginia Foxx, R-5th of North Carolina introduced a bill which would defund entities that provide access to abortion, including Planned Parenthood. Wake Forest University political science professor John Dinan says it is unlikely that the bill would move to a floor vote. "There is little reason to expect that a bill to defund Planned Parenthood would be approved by the House of Representatives, now that the House is under Democratic control."
Jury Sunshine Project: Yes, jury selection is racist
88.5 WFDD
Dec. 31, 2018
The United States Constitution makes it clear that race cannot factor into the process of jury selection for criminal trials. But a new statewide study on juror removal shows that colorblind ideal is far from being realized in the Tar Heel State. The Jury Sunshine Project is led by Wake Forest Professor of Law Ron Wright. The winnowing of nonwhite jurors is not a quirk of just one state, but Wright says this broad-based research effort involving jury selection outcomes in felony trials in all 100 counties of North Carolina confirms its existence here for the very first time.
The Journal's year in photos 2018
Winston-Salem Journal
Jan. 5, 2019
The Winston-Salem Journal published a look back on 2018 through photos, including several Wake Forest images: Richard Burr's March 2018 visit to the campus library, snapshots of WFU's NCAA tennis victories, a moment of levity caught between basketball head coach Danny Manning and associate head coach Randolph Childress, as well as an iconic shot of students with colorful umbrellas braving a snow-fall on campus.
Ruling creates uncertainty about ACA
Spectrum News
Dec. 15, 2018
A U.S. district court judge in Texas ruled the law's mandate to buy insurance is unconstitutional. Mark Hall, Director of the Health and Law Policy Program at the Wake Forest University School of Law, said: "This ruling was a big surprise. Even legal experts who are not in favor of the Affordable Care Act thought that this challenge would not succeed, and most legal experts think the decision will be overturned on appeal."
North Carolina college graduate earnings
WGHP
Jan. 2, 2019
Wake Forest ranks second in the state for its graduates' earnings, behind Duke University and ahead of Davidson College, with an average annual salary of $64,000.
Wake Forest buys two Polo Road properties for $595,500
Winston-Salem Journal
Dec. 18, 2018
Wake Forest bought two adjacent properties at 1021 and 1031 Polo Road in Winston-Salem, less than a quarter mile away from the north campus entrance to the university.
See Also: WGHP