FEATURED NEWS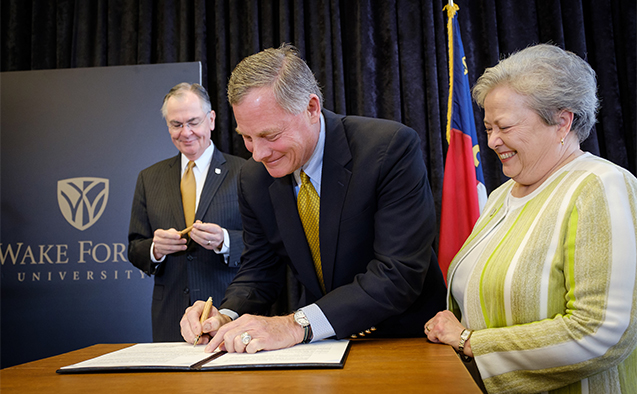 US Sen. Richard Burr's papers to be housed at Wake Forest
Associated Press
March 13, 2018
North Carolina Sen. Richard Burr will leave his official congressional papers, photos and other documents with his alma mater. The Senate Intelligence Committee chairman and Wake Forest University administrators announced Monday at a ceremony their agreement to house his documents at the Winston-Salem school, where he graduated in 1978.
The AP story ran on the national wire and was picked up in news outlets across North Carolina and around the country.
See also: The Slate, The Charlotte Observer, Miami Herald, Washington Times, News & Observer, SF Gate, Tri-City Herald Online, Herald Online, WBTV-TV Online, WRAL-TV Online, Sun Herald Online, Tribune Online, Forth-Worth Star Telegram Online, U.S. News & World Report
NATIONAL & INTERNATIONAL
On guns, companies are getting out ahead of the politicians
Associated Press
March 3, 2018
Walmart, Kroger, L.L. Bean and Dick's Sporting Goods announced they will no longer sell guns to anyone under 21. Dick's also banned the sale of assault-style rifles, a step Walmart took in 2015. Roger Beahm, a professor of marketing at Wake Forest University School of Business, said smaller retailers will probably capitalize on the situation by selling the weapons the major chains will no longer handle.
See Also: Boston Herald, Chicago Tribune, Washington Times, Pittsburgh Business Times
Walmart, Dick's Sporting Goods sued by 20-year-old over new gun restrictions
Newsweek
March 6, 2018
A 20-year-old man from Oregon has filed two lawsuits against Dick's Sporting Goods and Walmart for age discrimination after the two companies changed their gun policies to stop anyone under the age of 21 from purchasing a rifle. The new gun policy changes come from the aftermath of the school shooting at Marjory Douglas Stoneman High School in February. David Yamane, who teaches sociology at Wake Forest, said that Walmart's and other stores' new gun policies won't immediately cause change. "There isn't any kind of simple fix that will bring on consequences," Yamane said.
No end in sight for campus free speech battles
Inside Higher Ed
March 8, 2018
Conversations about how best to handle free expression at colleges and universities dominated the annual meeting of NASPA: Student Affairs Administrators in Higher Education conference. Controversial speakers can "flame out" or fade from view, said Penny Rue, a panelist and the vice president for campus life at Wake Forest University. Rue became the Board Chair of NASPA, the leading association for student affairs professionals this month.
Robert Whaples on Trump administration trade policies
C-SPAN
March 10, 2018
Robert Whaples, an economics professor at Wake Forest University, talked about the latest jobs numbers and the Trump administration's trade policies on the C-SPAN program "Washington Journal."
U.S. Israel relations & the Middle East
C-SPAN
March 5, 2018
Barry Trachtenberg, Presidential Chair of Jewish History at Wake Forest University, discussed "Challenging the Anti-Semitism Awareness Act: Pushing Back against Jewish Exceptionalist Politics."
Take these steps to become comfortable with change
Fast Company
March 16, 2018
"Even when you anticipate that the outcome of change will be positive, there is still a tendency to experience anxiety when you're asked to replace familiar practices with new ones," said Amy Wallis, professor of organizational behavior at Wake Forest University School of Business.
To protect the environment, Pope Francis should look to free markets
The Daily Caller
March 12, 2018
Robert M. Whaples, a professor of economics at Wake Forest University, a research fellow at the Independent Institute, Oakland, Calif., and editor of the new book, "Pope Francis and the Caring Society, co-authored an op-ed.
Here are 4 ways the West Virginia teachers' strike shows women's power in politics
The Washington Post
March 13, 2018
Michael Callaghan Pisapia, assistant professor of politics and international affairs at Wake Forest University and a recipient of the Carrie Chapman Catt award from Iowa State University for research on women and politics, wrote an analysis of the West Virginia teacher strike for the Monkey Cage blog.
REGIONAL & TRADE
Robert Mueller's pace measures up with best prosecutors 'in modern history'
WUNC 91.5
March 5, 2018
Wake Forest University professor Katy Harriger said measuring special counsel Robert Mueller's success will be a challenge. "For some people, success will only be if somehow the president gets impeached. And for other people, success is a complete exoneration."
Many Christians suffer from a lack of character
The Christian Post
March 12, 2018
A reviewer for the Christian Post wrote: Christian Miller, a philosophy professor at Wake Forest University, has written an excellent small book about the big idea of character. The Character Gap is an insightful and wonderful book. The book is based on some of his own scholarship on character, as well as the findings of a good deal of psychological research concerning it.
So, here's a robotic cat you can 3D print
The Next Web
March 5, 2018
Rongzhong Li, a part-time assistant professor of physics at Wake Forest University, has developed a robotic cat called OpenCat. His robot was featured on IEEE Spectrum's fantastic weekly roundup of robot videos. Since the project's inception in 2016, the robotic cat has gone thought sever iterations, each one more complex than the last. He currently has two working models. One smaller one, targeted at STEM education and one larger model with a Raspberry Pi for AI-enhanced perception.
Good Friday 2018: Listening to Jesus and MLK
Baptist News Global
March 15, 2018
Bill Leonard, a professor at Wake Forest School of Divinity, wrote a column about the Lenten preaching series hosted by the Wake Forest School of Divinity and the First Baptist Church on Highland Avenue.
Brain Awareness: Soccer Players May Offer Clues to Collective Movement
UConn Today
March 12, 2018
UConn psychologist James Dixon and Maurici López-Felip, a graduate student in his lab who formerly played on the Catalan National Team, are researching why humans move as they do in crowds, on the street, and especially on the soccer field. To do this, they've teamed up with UConn chemist Jim Rusling and Dilip Kondepudi, a physicist at Wake Forest University, as well as soccer gurus from FC Barcelona. They are studying the behavior of bird flocking and if flocking is a natural behavior in humans as well.
County considers suing drug companies
The Mountaineer
March 14, 2018
The Haywood County commissioners are considering suing opioid manufacturers and distributors to recover losses related to the opioid epidemic that is sweeping the country. Don Vaughan, who is a state and local government professor at Wake Forest, predicts the settlement will be even larger than the 1998 agreement with the four largest tobacco companies in the U.S.
Kansas poised to address violence, crime among our youth
The Ottawa Herald
March 5, 2018
The connection to mass shootings and crime among children in general is not a stretch. CNN publishes a list of the deadliest mass shootings in U.S. history and nearly a third were carried out by men under 30 years of age. A strong majority of those young men did not have a biological father present in their lives growing up. Linda Nielsen, a professor of adolescent and educational psychology at Wake Forest University, analyzed about 60 scientific studies spanning many decades, numerous countries and millions of children, mothers and fathers, culminated in a firm conclusion: shared parenting is best for children when parents divorce or separate.
LOCAL
Sen. Burr donates congressional papers to Wake Forest
WFMY
March 13, 2018
Wake Forest University and Sen. Richard Burr announce the university as the repository of his public papers, during an event in the Z. Smith Reynolds Library on Monday, March 12.
See Also: WXII, WGHP, 88.5 WFDD
Sen. Burr to donate papers to Wake Forest University
Winston-Salem Journal
March 13, 2018
Sen. Richard Burr hopes other people can learn from his experiences. It was that thought that caused him to donate his collection of documents from his time in Congress to his alma mater, Wake Forest University. "I am pleased to announce that I'm designating Wake Forest University as the repository for all my official records, documents, memorabilia associated with my entire congressional career," said Burr, who graduated from the university in 1978.  He hopes the collection will help future generations. "It's not just about housing papers," he said. "It's a greater educational opportunity for those who enroll and grow, for all who are passionate to lead."
Jesse Haddock, legendary golf coach at Wake Forest, dies at age 91
Winston-Salem Journal
March 14, 2018
Jesse Haddock, a legendary former golf coach at Wake Forest who won three national championships, has died at 91. Haddock was the architect of some of the best college teams in history.
Uncorked: Wine conferences, wine fun facts, wine in a can and more
News & Record
March 7, 2018
At last month's N.C. Winegrower's Association annual conference in Winston-Salem, the growth of the industry was evident. Ian Taplin, Wake Forest University professor of sociology, management and international studies, reprised his popular Global Perspective seminar at this year's conference — a kind of State of The Wine World report.
The Syllabus: The era of the perpetual capital campaign
News & Record
March 13, 2018
Wake Forest University beat its initial goal of $625 million so it extended its campaign (to 2020) and increased its target (to an even $1 billion). Wake Forest recently passed the $800 million mark.
Top 10 in March and April
Winston-Salem Journal
March 4, 2018
On March 22 the Secrest Artists Series will present "An Evening with Branford Marsalis" at 7:30 p.m. in Wait Chapel at Wake Forest University. Saxophone player extraordinaire Marsalis will present an evening of improvised music with his internationally recognized jazz quartet.