Main Content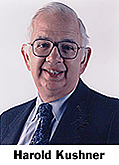 Rabbi Harold Kushner, best-selling author of "When Bad Things Happen To Good People," begins Wake Forest University's Year of Religion in American Life Thursday, Sept. 4, with an opening convocation address at 11 a.m. in Brendle Recital Hall.
Due to strong demand, no more public tickets are available. Those who already ordered tickets can pick them up in the Brendle lobby at least 45 minutes before convocation. Kushner also will sign copies of his latest book, "How Good Do We Have To Be?: A New Understanding of Forgiveness & Guilt," from 2 to 2:45 p.m. at the College Book Store in Taylor House (Note new location of book signing and end of public ticket availability).
Kushner's speech, "What's The Point of Being Religious?," is the first event of Wake Forest's yearlong focus on religion, which also includes lectures by such prominent voices in American religious life as Bill Moyers, the noted television producer and author of "Healing and the Mind," and Tony Campolo, a leading evangelical and spiritual advisor to President Clinton. A film series, symposium on the media and religion, a national conference on religion and higher education, and monthly visits by scholars from different faiths are also scheduled.
A complete list of programs, speakers and events is available at Wake Forest's Year of Religion Web site.
Those without Internet access can call (910) 759-4359 for more information.
Bill J. Leonard, dean of Wake Forest's new Divinity School and chair of the Year of Religion committee of students, faculty and staff, said that the year is designed to increase discussion of religious issues and improve understanding about the role of religion in shaping American life and institutions.
"From the time that the colonial Puritans threw the Baptists and the Quakers out of Massachusetts, issues of religious pluralism and freedom have been at the heart of American public life," Leonard said. "The debate still rages today, which is why this year is so important.
"We hope to highlight a variety of faith traditions and stimulate dialogue and debate that improves understanding about the role of religion in American life."
Jessica Kent, a senior religion major from Pensacola, Fla., is one of the students on the Year of Religion committee.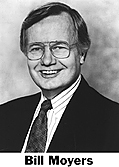 "I think the Year of Religion will be a year of exposure, but not advocating any particular approach or tradition – which I think is very hard for people to do," Kent said. "It will be a year to learn, I think. That might involve stepping out of our comfort zones at times, but the experiences I've had at college where I've gone out of my comfort zone are the ones where I've learned the most. We have to explore what other people believe to be the truth in order to really understand what we believe to be the truth."
Moyers, author of "Healing and the Mind," the best-selling book and award-winning documentary on public television, will speak at 8 p.m. Nov. 19 in Wait Chapel. Moyers is also the producer of "Genesis," "Amazing Grace," "Listening to America" and other television broadcasts. His lecture is open to the public.
Among the scholars who will visit the campus each month to lecture, teach classes and lead discussions are: Abbot Hyon Gak Sunim, Buddhist monk and author of "The Whole Language is a Single Flower," Sept. 17-19; The Rev. Francis Kline, abbot, Mepkin Abbey, S.C., Oct. 26-31; The Rev. Claudia Highbaugh, chaplain, Harvard Divinity School and expert on African-American spirituality, Nov. 3-6; Tony Campolo, professor of sociology, Eastern College, Jan. 22-23; and Janet McCloud, a Native American and expert on Native American religions, March 24-26. Times, dates and locations for the public events have not yet been determined and will be announced at a later date.
During the Year of Religion, Wake Forest University will also host a national conference of 13 Baptist-related schools to discuss how religion should be integrated and taught in college curriculum. Wake Forest received a $25,000 grant from the Lilly Endowment to host the conference, which will be attended by college presidents and other campus representatives.
The participating schools are: Wake Forest, Chowan College, Meredith College, Gardner-Webb University and Campbell University in North Carolina; Samford University in Alabama; Mercer University and Shorter College in Georgia; Carson-Newman College in Tennessee; Averett College and the University of Richmond in Virginia; and Furman University and Anderson College in South Carolina.
Following the conference, Margaret D. Zulick, Wake Forest assistant professor of communication, will moderate a program examining the role of religion and education at Wake Forest – an institution originally founded by the Baptist State Convention of North Carolina in 1834 to train ministers, but now autonomous in governance.
Seminars on religious topics also will be offered to Wake Forest freshmen during the year. Topics include "Jerusalem the Holy City: Encountering History, Signification & Ideology," "The Power of Myth in American Life," "Sacred Spaces," and "Racial Identity, Religion and Film in American Life."
Other Year of Religion celebrations include a gospel choir concert and the publication of the "Wake Forest University Book of Days" featuring daily writings on faith and other topics by Wake Forest students, faculty and staff.
The Year of Religion follows Wake Forest's first theme year, the 1996-97 Year of the Arts. The year featured opera legend Beverly Sills and actor James Earl Jones; a performance and symposium on Beethoven's Ninth Symphony; actor Alec Baldwin's performance in the play, "Love Letters"; and the premiere of "Since Dawn," a tone poem for narrator, chorus and orchestra based on Maya Angelou's inaugural poem, "On the Pulse of Morning."
Editor's Note: The Year of Religion logo and photos of Kushner, Moyers and other speakers are available for electronic transmission in .jpg format. To request images, contact Wayne Thompson at (910) 759-5237 or via e-mail at thompsow@nullwfu.edu.
Categories: Arts & Culture, Events, Speakers
Subscribe
Sign up for weekly news highlights.
Subscribe