Main Content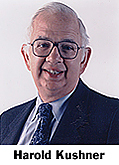 Only religion can provide the moral framework, sense of community, forgiveness and assurance Americans need to overcome fears of death and find meaning in their lives, Rabbi Harold Kushner said today in an address marking the official start of Wake Forest University's 1997-98 Year of Religion in American Life.
"Reverence is the encounter with a power much greater than yourself, so that by some magical process you don't feel diminished being in the presence of a greater power; you feel enhanced that this greater power would take notice of you," Kushner said in his Opening Convocation address, "What's the Point of Being Religious?"
"It is only when we affirm a power beyond our own who not only exists but stands for righteousness and demands righteousness of us, it's only then that we can say our deeds have cosmic meaning."
Kushner told more than 1,000 Wake Forest students, faculty and visitors in Brendle Recital Hall that only acknowledging God's sovereignty can overcome the "idolization of human achievement" and the loneliness, despair and fear of inadequacy produced by self-centered living.
"We can handle mortality," said Kushner, author of "When Bad Things Happen to Good People" and other bestsellers. "We cannot handle insignificance. People are not afraid of dying; they're afraid of never having lived."
Kushner's address is the first event in Wake Forest's yearlong focus on religion. In a press conference after the speech, he applauded the university for acknowledging religion is just as important as physics, economics or any other discipline and for devoting an entire academic year to explore and discuss religion's shaping influence on America.
Wake Forest's Year of Religion also will feature lectures by such prominent voices in American religious life as Bill Moyers, the veteran journalist, and Tony Campolo, a leading evangelical and spiritual advisor to President Bill Clinton. Also included in the year are: a film series; special classes; a symposium on religion and the media; a gospel choir festival; a national conference on religion and higher education; and monthly visits by scholars from different faiths.
The university is also publishing a Book of Days featuring daily writings on matters of faith by Wake Forest students, faculty and staff.
Seminars on religious topics also will be offered to Wake Forest freshmen during the year. Topics include "Jerusalem the Holy City: Encountering History, Signification & Ideology," "The Power of Myth in American Life," "Sacred Spaces," and "Racial Identity, Religion and Film in American Life."
The Year of Religion follows Wake Forest's first theme year, the 1996-97 Year of the Arts. The year featured opera legend Beverly Sills and actor James Earl Jones; a performance and symposium on Beethoven's Ninth Symphony; actor Alec Baldwin's performance in the play, "Love Letters"; and the premiere of "Since Dawn," a tone poem for narrator, chorus and orchestra based on Maya Angelou's inaugural poem, "On the Pulse of Morning."
Editor's Note: The Year of Religion logo and photos of Kushner, Moyers and other speakers are available for electronic transmission in .jpg format. Images can be downloaded from the Images section of the Year of Religion Web site.
Categories: Arts & Culture, Events, Media Advisory, Speakers
Subscribe
Sign up for weekly news highlights.
Subscribe