Main Content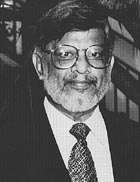 Arun Gandhi, whose grandfather Mahatma Gandhi helped India secure its nationhood through nonviolent resistance to oppression, will lecture on nonviolence Thursday, Oct. 16, at Wake Forest University for its 1997-98 Year of Religion in American Life.
Gandhi's speech, "The 21st Century is Coming, But Where Are We Going?" is at 8 p.m. in Brendle Recital Hall of the Scales Fine Arts Center. Sponsored by Wake Forest's Asian Student Interest Association (ASIA), the lecture is free and open to the public. A reception and book signing will immediately follow the program in the center's main lobby.
Born in Durban, South Africa, and discriminated against both by whites and blacks, Arun's childhood produced an obsession for revenge – anger that was only cooled after an 18-month stay with his grandfather. In 1946, Arun traveled to India with his parents to live with Mahatma Gandhi who taught him how to rechannel his hate and anger into love for others and himself.
Despite his grandfather's preoccupation with India's tumultuous transfer of power, Arun Gandhi said that Mahatma Gandhi set an hour aside each day to teach him the principles of nonviolence – forever changing the course of his life.
At 23, Arun returned to India to work as a reporter for the Times of India where he founded the Center for Social Unity to alleviate poverty and caste discrimination by teaching members of the "untouchable" class how to start their own dairies and other businesses.
In 1991, four years after traveling to the United States to compare prejudices with those in South Africa and India to find nonviolent ways to improve human relations, Arun founded The M.K. Gandhi Institute for Nonviolence at the Christian Brothers University in Memphis, Tenn. The Institute, founded with funds raised through the sale of Gandhi's original letters to Arun's parents, is dedicated to teaching the philosophy of nonviolence.
For the past five years, Arun has participated in the Renaissance Weekend deliberations with President Clinton and other eminent Rhode Scholars at Hilton Head, S.C.
The author of four books written in India between 1969 and 1983, Arun also contributed to the first "Encyclopedia of Nonviolence" and edited the anthology "World Without Violence – Can Gandhi's Vision Become Reality?" published in 1994.
He also is the editor of the book, "A Testament to Truth" — a collection of Gandhi's writings on nonviolence, women's issues, international relations, religion and human relations being released this fall by HarperCollins. Gandhi is currently working on a biography of his grandmother, Kastur, who died while in prison with her husband.
Editor's Note: Any requests for advance interviews should be directed to Westvale Talent at 1-800-285-9373.
Categories: Speakers