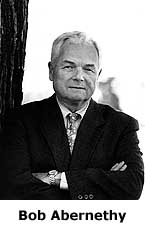 Bob Abernethy, former Moscow Bureau chief for NBC News, and Sharon Green, senior cultural affairs editor for National Public Radio, are among those who will lead a town hall-style discussion of media coverage of religion Feb. 7 at Wake Forest University.
Titled, "Faith in Focus? The Media and America's Search for its Soul," the event is co-sponsored by the Poynter Institute for Media Studies in St. Petersburg, Fla., and is part of Wake Forest's 1997-98 Year of Religion in American Life celebration.
The program begins at 7:30 p.m. in Room 111 of Carswell Hall and will feature an interactive town hall-style format drawing on video, print and broadcast excerpts of actual stories to stimulate discussion. Admission is free and open to the public. Call 910-758-5237 for more information.
Also on the "Faith in Focus" panel are award-winning religion editor and writer Cecile Holmes of the Houston Chronicle and Scott Libin, former news director at WGHP-TV in High Point and head of the Poynter Institute's broadcast media and ethics training.
"Faith in Focus" will follow a daylong series of training sessions and briefings of religion media by award-winning peers and academic experts on religion topics.
Abernethy was an Emmy Award-winning correspondent for NBC News for more than 40 years — a career that included directing the network's Moscow-based coverage from 1989 to 1994.
In Washington, he covered Congress, national political campaigns and conventions, religion, education and the space program for "NBC Nightly News" and other NBC news programs. As Washington correspondent for the "Today Show" from 1979-80, he interviewed all the nation's major newsmakers.
Abernethy left NBC to create and develop the new public television program, "Religion and Ethics NewsWeekly," which debuted Sept. 5. He is executive editor and on-camera host for the weekly news magazine produced at WNET-TV in New York City and distributed by the Public Broadcasting System to more than 80 public television stations nationwide.
Green joined National Public Radio News in 1987 and is the recipient of the Sigma Delta Chi Award from the Society of Professional Journalists and the duPont-Columbia Award. A former staffer in the Carter White House, Green toured internationally as a professional singer as part of "In Process" – an a cappella, African-American women's singing group based in Washington, D.C.
At NPR, Green established the Cultural Desk in 1993. As its editor, she oversees coverage of stories involving the arts, religion, media, history, cultural politics and race relations. In addition to serving as the network's religion editor, she oversees the work of staff editors and reporters and freelance journalists and independent producers heard on NPR's "All Things Considered," "Morning Edition" and "Weekend Edition."
Holmes, religion editor of the Houston Chronicle since 1989 and the current president of the Religion Newswriters Association, has been nominated six times for the Pulitzer Prize for religion reporting. The Chronicle's religion section was named the United States' best in 1994, receiving the Harold Schachern Memorial Award.
A former reporter at the News & Record in Greensboro, Holmes released her first book in 1988 — "Witnesses to the Horror" — about North Carolinians who survived the Holocaust. She is currently at work on her second book, exploring how common themes of spiritual searching bridge religious and ethnic differences among women.
Libin joined the Poynter Institute faculty in 1995 after nine years at WGHP-TV in High Point, where he rose through the ranks from reporter to vice president of news. As a Poynter Institute faculty associate, Libin specializes in broadcast leadership and management. He also teaches writing and ethical decision-making and is a consultant to news organizations throughout the United States. His career also includes stints on Capitol Hill as a Congressional press secretary to Rep. Gillis Long (D-Louisiana) and Rep. Les Aspin (D-Wisconsin), and as a national correspondent for American Broadcast News and American News Bureau — an independent television news bureau serving stations around the country.