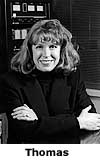 Valerie Hardison Thomas of Winston-Salem has been named the membership coordinator at WFDD, a National Public Radio affiliate station at Wake Forest University.
Thomas' responsibilities include membership recruiting and development, as well as planning annual fundraisers.
WFDD (88.5-FM) broadcasts classical music, NPR news, and other programming. The oldest NPR station in North Carolina, WFDD has 90,000 listeners in 32 counties.
Before joining WFDD, Thomas worked at International Sports Properties Inc. in Winston-Salem. At ISP, Thomas served as the creative services manager and director of client services. Her work experience also includes being a closing and legal review specialist for First Union Mortgage Corp. in Wilmington.
Thomas graduated from Wake Forest University in 1992 and continued her studies at the Cameron School of Business Administration at the University of North Carolina at Wilmington.