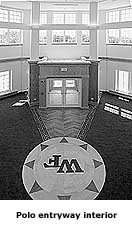 Wake Forest University took advantage of the summer break to open a new residence hall that offers townhouse-style living and a new computer technology center that brings many of the university's technology and computer operations under one roof.
Meanwhile, several other buildings were upgraded and work continued on the 80,000-square-foot, five-level classroom building for the Romance languages and psychology departments between Calloway and Carswell halls. The $16 million building will open in fall 1999.
The $10.6 million Polo Residence Hall opened on the northern edge of the campus this month and houses 194 upperclassmen in 37 four-bedroom units with living room, kitchen and bathrooms, 20 two-person studio apartments with kitchen, living room, double bedroom and bathroom, and six efficiency apartments for disabled students featuring a kitchenette, bathroom and living room. Polo also has a laundry with an adjoining lounge, study lounges on each floor and a rotunda with floor-to-ceiling windows.
The new $6 million Information Systems Building behind the Worrell Professional Center opened in May and is home to the university's Information Systems department, ROTC, Campus Ministry, and the International Center for Computer Enhanced Learning. In addition to centralizing many of Wake Forest's technology operations, the building features a food court with Chick-Fil-A, Starbuck's Coffee, Krispy Kreme donuts and other products and a Bookstore Annex to serve the nearby Babcock Graduate School of Business and Wake Forest School of Law.
Continuing a major upgrade of fire protection equipment in residence halls begun last summer when new sprinklers and upgraded fire alarms were installed in Luter Hall and Student Apartments, new sprinkler systems were installed in Babock, Bostwick, Johnson and Davis halls. The upgraded alarms, which automatically relay their locations to university dispatchers, were installed in Babcock, Bostwick, Poteat, Huffman and Johnson halls. The new alarms and sprinklers will be installed in the remainder of the campus' residential facilities in the summer of 1999 and 2000.
In addition to sprinklers and upgraded fire alarms, crews renovated Babcock Hall by adding all-new wiring, air-conditioning, doors, lighting in student rooms, floor coverings and ceilings and kitchen cabinetry and appliances. A new courtyard was also built between Babcock and Luter halls. Demolition began in the ROTC's former space in the Reynolds Gymnasium for the Student Health Service's new health center, expected to open in January with more than twice the space of its current location in Kitchin Hall.
A two-year upgrade of Wingate Hall and Wait Chapel was completed this month, too. The improvements created new offices for Wake Forest Baptist Church, multimedia classrooms for the religion department and Wake Forest's School of Divinity, and a new ceiling, air conditioning, sound system (with wireless headsets for the hearing impaired) and floor coverings in Wait Chapel. Crews also began preparing to build a new two-story rotunda addition to Wingate Hall. The $1.2 million addition will provide offices for the dean, faculty and administrative staff of the new divinity school in preparation for its fall 1999 opening.
As part of a plan to provide the Reynolda Campus with a virtually uninterruptible power supply, the university and Duke Power teamed to build a new substation for the campus at the intersection of University Parkway, Reynolds Boulevard and Cherry Street. The facility went online in June. Crews dug up and then repaved large portions of Wingate Road on campus this summer to install the duct that will carry the new underground power cables connecting the university's two on-campus substations and buildings to the new power system by the end of 1999. The move allows the university to save about 25 percent on annual electrical costs.
With new energy-conserving controls in the Information Systems Building, the university also began a campus-wide program to automate the electrical controls of buildings. The project, expected to produce even greater energy savings, is expected to be completed by 2000.