Main Content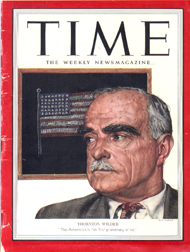 A. Tappan Wilder, nephew of Pulitzer Prize-winning playwright Thornton Wilder, will discuss his famous uncle at "Thornton Wilder's Legacy," a symposium Wake Forest University will host Sept. 25-26.
The symposium will begin with a lecture by A. Tappan Wilder at 3 p.m. Friday afternoon, Sept. 25, followed by the opening performance of "The Matchmaker," presented by the Wake Forest University Theater.
On Saturday, Sept. 26, speakers and session leaders include Winston-Salem biographer Penelope Niven; Robin Wilder, editor of Wilder's letters; Barbara Hogenson, whose agency represents Wilder's literary estate; and David Finkle, a critic and freelance journalist who writes about the arts.
The symposium was organized with Niven's help. Acclaimed for her biographies of Carl Sandburg and James Earl Jones, Niven has been commissioned to write a biography of Thornton Wilder. She spent the past year as Thornton Wilder Visiting Fellow at the Beinecke Library at Yale University and has received a 1998 National Endowment for the Humanities Fellowship to support her work on Wilder. Niven earned a master's degree in English from Wake Forest in 1962.
A. Tappan Wilder has served as Thornton Wilder's literary executor since 1995. He has been involved in a wide variety of public roles and administrative duties associated with the management of his uncle's intellectual properties and the celebration of the Thornton Wilder Centenary in 1997-98. He is also the editor of a two-volume collection of Thornton Wilder's "Short Plays." His wife, Robin, will present "Wilder in Letters, Wilder in Life" on Saturday morning at 9 a.m. Co-editor of "The Selected Letters of Thornton Wilder," she holds a doctorate in history from the University of Wisconsin.
Symposium participants will have the opportunity to hear Hogenson discuss the business of literary management at the 1:30 p.m. session on Saturday. A.Tappan Wilder will also discuss the challenges and complications of literary executorship during the session.
Thornton Wilder received his first Pulitzer Prize in 1927 for his novel, "The Bridge of San Luis Rey." He received his second in 1938 for the play, "Our Town," and won a third Pulitzer Prize for the play,"The Skin of Our Teeth," in 1942. Wilder died in 1975.
All symposium events will be held in Scales Fine Arts Center, Room 102.
"Thornton Wilder's Legacy" is co-sponsored by Wake Forest's theater and English departments. Registration is $15 for the symposium with an additional $10 charge for admission to "The Matchmaker." To make reservations, call 336-758-5295.
Categories: Arts & Culture, Events, Speakers
Subscribe
Sign up for weekly news highlights.
Subscribe