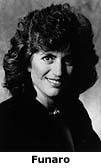 Harpsichordist Elaine Funaro will present "From Rags to Raga: Music Written for Women in the 20th Century" at Wake Forest University on Tuesday, Oct. 20.
Funaro's free, public performance will begin at 8 p.m. in the Scales Fine Arts Center's Brendle Recital Hall. Her program will include "Fandangle Indeed" by Stephen Yates and "The Breakers Pound," a dance suite for the harpsichord written by Dan Locklair, Wake Forest music professor and composer-in-residence. She will also play sonatas and other pieces.
Funaro has appeared throughout the United States and Europe as a soloist and chamber player. An avid promoter of women's music and of indigenous musical forms, Funaro's most recent release, "Into the Millennium," featured award-winning harpsichord compositions from four continents.
Funaro, a Durham resident, produced the "Music in the Museum" series at the Duke University Museum of Art for 12 years. Her recitals for the series included harpsichord music from Africa and Latin America. The Durham Arts Council awarded Funaro an Emerging Artist Grant for her "Music for Women" recital.
Funaro, who has degrees from Oberlin College and the New England Conservatory of Music, has also studied at the Conservatorio Cherubini in Florence, Italy, and the Sweelinck Conservatory in Amsterdam, Holland.
Funaro's performance is sponsored by the Wake Forest music department, women's studies program and the Year of Globalization and Diversity planning committee.
The Year of Globalization and Diversity is a yearlong series of events at Wake Forest focused on the world's development into a more global community. For more information, call 336-758-5788 or visit the year's Web site at www.wfu.edu/yogd.