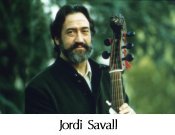 Hesperion XX, a vocal and instrumental ensemble specializing in Spanish music composed before 1800, will perform the second concert of the 1998-99 Secrest Artists Series at Wake Forest University on Sunday, Oct. 25.
The concert begins at 8 p.m. in Brendle Recital Hall.
Inspired by the musical heritage of "Hesperia," the ancient name for the Italian and Iberian peninsulas, Hesperion XX was founded by director Jordi Savall and a group of virtuoso musicians in 1974. The 19-member group of vocalists, percussionists, harpists and viola da gambists also performs Renaissance music from Italy, France and other European countries.
Hesperion XX has introduced many previously unknown works to audiences across Europe and America. The ensemble is frequently heard at major international festivals and on television and radio broadcasts and has more than two dozen recordings, including "The Garden of Hesperides: Music and Mythology from 17th Century Spain and Italy."
Born in 1941 in Barcelona, Savall is widely credited with rekindling interest in the viola da gamba, a family of stringed instruments popular through the 17th century. He gained international fame, particularly in France, as the musical director of the soundtrack for the 1992 Gerard Depardieu film "Tous Les Matins Du Monde."
Soprano Montserrat Figueras will be the featured soloist. A San Diego Union-Tribune reviewer described her as "striking both visually and vocally. The Barcelona native brought a distinctive style to old performance practices. She deftly responded to soaring scales, repeated-note embellishments and passionately poetic texts."
Figueras has performed throughout Europe and the United States, both as a soloist and with Hesperion XX, of which she is a founding member.
Admission is $17.50 for adults, $12.50 for seniors and non-Wake Forest students. Tickets are available through the university's box office at 336-758-5295 from 12:30 – 5:30 p.m. For information, call the Secrest Series office at 336-758-5757.