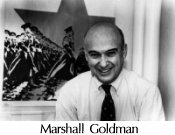 Russian expert Marshall Goldman will present "Stealing the State: What Did Russia Do to Deserve This?" at Wake Forest University on Thursday, Nov. 5.
Goldman's free and public discussion about the Russian economy will begin at 7:30 p.m. in the Annenberg Forum (Room 111) in Carswell Hall.
Goldman, an internationally recognized authority on Russian economics, politics and environmental policy, is the Kathryn Wasserman Davis Professor of Russian Economics at Wellesley College. He also serves as the Associate Director of the Russian Research Center at Harvard University.
Known for his analysis of Mikhail Gorbachev's career, Goldman has written numerous books on the leader and Russian economic issues. In his 1987 book, "Gorbachev's Challenge: Economic Reform in the Age of High Techonology," Goldman envisioned the monumental problems that would accompany Perestroika and have led to the country's current economic and political situation.
His other books include "The USSR in Crisis: The Failure of an Economic System," "What Went Wrong with Perestroika: The Rise and Fall of Mikhail Gorbachev," and "Lost Opportunity: Why Economic Reforms in Russian Have Not Worked."
Goldman, who has met with Gorbachev and former President George Bush, is a frequent visitor to the republics of the former Soviet Union and regularly meets with business leaders, diplomats and government officials in the United States and the former Soviet Union.
In 1977, Goldman served as a Fulbright-Hayes Lecturer at Moscow State University where he taught American economics to students and general audiences. During the 1980s, he was invited by the U.S. Ambassador to the former Soviet Union to deliver a series of lectures on behalf of the U.S. Government.
Goldman's appearance is sponsored by the Year of Globalization and Diversity planning committee, the Babcock Graduate School of Management, the Calloway School of Business and Accountancy, the Wake Forest School of Law, the Social Science Research Seminar and the departments of communication, economics, history and German and Russian.
For more information about the Goldman event or the year, call 336-758-5788 or visit www.wfu.edu/yogd/.