Main Content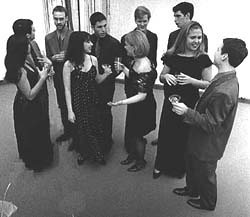 The Maltby and Shires contemporary musical revue, "Closer Than Ever," will open April 9 at Wake Forest University.
The Wake Forest University Theater will present performances April 9-10 and 14-18 in the MainStage Theater of Scales Fine Arts Center.
In "Closer Than Ever," directed by Assistant Professor of Theater Cynthia Gendrich, there is no story line and nothing spoken, but every song is a self-contained story. The revue offers a gallery of contemporary urban people struggling with everyday problems.
Most of the songs were written in the late 1980s and examine "thirty- and forty-somethings" reflecting on the choices they have made.
"Each song describes a character and tells a story, and does so with precision and psychology that better-known songwriters such as Andrew Lloyd Webber only occasionally touch," said a critic for USA Today.
In the song, "One of the Good Guys," performed by freshman Derek West, a husband describes the joys and frustrations of fidelity. In "Life Story," performed by sophomore Aileen Socrates, a woman ruefully examines her independence. In "If I Sing," presented by junior Bill Diggle, a man describes his relationship with his father. The revue begins and ends with songs including the entire cast.
"'Closer Than Ever' is challenging because it tells 23 short stories that make sense together, but one song or situation doesn't always lead directly into the next," says Gendrich. "Everyone's been in love or at least had love in their lives, so we can all connect to some of these songs," she adds.
David Shire's melodies range from cool jazz to contemporary folk-pop. Shire, who spends much of his time writing Hollywood music scores, also collaborated with lyricist Richard Maltby on the Broadway musical, "Baby," and the off-Broadway revue, "Starting Here, Starting Now." Maltby won the 1978 Tony Award for directing "Ain't Misbehavin'" and was one of the writers for "Miss Saigon."
According to Gendrich, the set is "like being inside an abstract expressionist painting."
Three students-a pianist and two basses-provide musical accompaniment. David Hagy, director of Wake Forest's orchestra, directs the musicians. Teresa Radomski, associate professor of music, coached the singers.
Performances are at 8 p.m. in the MainStage Theater in Scales Fine Arts Center. A 2 p.m. matinee performance is scheduled for Sunday, April 18. Tickets are $10, $5 for students. They may be purchased at the box office at 336-758-5295. The box office is open weekdays, noon-5:30 p.m.
Categories: Arts & Culture, Events
Subscribe
Sign up for weekly news highlights.
Subscribe