Main Content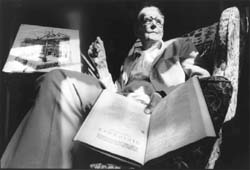 Ronald Watkins, a British Shakespearean scholar and advocate for historically accurate performances of Shakespeare's plays, has donated his personal library to Wake Forest University.
The university will hold a transatlantic ceremony to mark the donation at 3 p.m. Oct. 22. In the Z. Smith Reynolds Library at Wake Forest, a former student of Watkins' will speak and Wake Forest students will perform selected scenes from Shakespeare's plays. Simultaneously, Watkins and colleagues will gather in London, and, through an enhanced phone connection, take part in the celebration. Both groups will be able to hear each other.
"Watkins will be able to hear the tribute and hear the scenes," said Sharon Andrews, Wake Forest assistant professor of theater. "This is very appropriate because one of the things he feels most strongly about is the language of Shakespeare. Elizabethan audiences went to the Globe to hear a play."
Through his intense study of Shakespeare's work, the 95-year-old Watkins has held firm to the idea that Shakespeare's plays should be performed only as they were hundreds of years ago-in Elizabethan costumes, with daylight lighting and with boys playing the female characters.
Watkin's collection of more than 2,000 items includes rare books and first editions by renowned literary scholars as well as personal papers and copies of Shakepearean plays he has directed with detailed notations in the margins. Watkins also granted to Wake Forest the copyright to books, tapes and lectures he has written on Shakespeare.
In August 2000, the Wake Forest University Theater will stage a Watkins-inspired version of Shakespeare's "Hamlet." In conjunction with the production, the university will host a two-day symposium on Shakespeare with internationally-recognized lecturers.
Categories: University Announcement
Subscribe
Sign up for weekly news highlights.
Subscribe