Main Content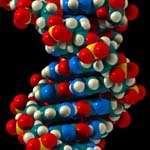 As genetic research comes closer to making it possible to select a child's eye color or I.Q., or find out if cancer is likely to kill a family member, medical and legal experts are wrestling with the implications for society.
On Nov. 6, scientists, physicians and legal scholars will gather at Wake Forest University for the public symposium, "Genetic Enhancement: Social Values and Personal Autonomy in the 21st Century," to present talks on gene therapy, trait selection, the fair use of genetic technology, and other thorny issues related to DNA research.
"If people begin to use genetic technologies not just to fight disease, but to enhance abilities, that raises questions of social equality," said Wake Forest Professor of Law Mark Hall, an organizer of the event. "Do those with greater resources have greater access? Do we create a superhuman master class? Should genetic enhancement be regulated or prohibited?"
The symposium will address some of those questions. Presentations will be made from 9 a.m. to 3 p.m. in Benson University Center's Pugh Auditorium. Registration for the symposium is free. Audience members are invited to attend individual lectures or the entire series. For information or to register, call the Wake Forest Law Review office at 336-758-5439.
Following is a list of presentations:
9:15 a.m. "Genetic Therapy and Trait Selection: What is Possible, Now and in the Future?" Dr. Harry Malech, deputy chief, Laboratory of Host Defenses, National Institute of Allergy and Infectious Diseases. Dr. Malech has focused his laboratory and clinical research work on developing gene therapy for chronic granulamatous disease.
9:45 a.m. "Genetic Enhancement in the 21st Century: Imagining the Future." Roberta Berry, visiting associate professor of public policy, Georgia Institute of Technology. Berry is the author of several articles and book chapters, including "Understanding the Regulation of Genetic Information in Insurance" and "Unraveling the Codes: The Dialectic between Knowledge of the Moral Person and Knowledge of the Genetic Person in Criminal Law."
11 a.m. "Genetic Enhancement and Human Equality." Michael Shapiro, Dorothy W. Nelson Professor of Law, University of Southern California. Shapiro is the author of a book on bioethics and the law, as well as several articles on legal issues and genetics.
11:20 a.m. "Safeguarding the Privacy and Use of Genetic Information: Current Legislative Solutions." Craig Higgins, chief, Policy Education and Outreach Branch, National Human Genome Research Institute.
1:30 p.m. "How Will We Regulate Genetic Enhancement?" Maxwell Mehlman, Arthur E. Petersilge Professor of Law, professor of biomedical ethics and director of the Law Medicine Center, Case Western Reserve University. Mehlman has been the co-investigator on several research projects for the National Center for Human Genome Research, including "Anticipating Enhancement: Ethical, Legal and Social Issues" and "Access to the Genome: Justice on the Frontiers of Science." He has written extensively about the law and the human genome. He is the co-author of the upcoming book, " Anticipating Enhancement: Ethics, Law and a Framework for Policy," and a soon to be published article titled, "The Human Genome Project and the Courts: Gene Therapy and Beyond."
1:50 p.m. "Herd Behavior in Designer Genes: Revisiting Choosing Our Children's Genes." Peter Huang, assistant professor of law, University of Pennsylvania School of Law.
2:30 p.m. "Genetics, Ethics, Oxymorons and Government." Jane Smith Patterson, senior advisor to the governor on science and technology, North Carolina Governor's Office.
All lectures will be followed by question-and-answer sessions.
The event is sponsored by the Wake Forest School of Medicine and the Wake Forest School of Law. The symposium is part of "Science and Technology: the Next Millennium," a yearlong celebration of scientific inquiry and the approaching millennium. Printed versions of some of the presentations are included in the current issue of the Wake Forest Law Review.
Categories: Research, School of Medicine, Speakers
Subscribe
Sign up for weekly news highlights.
Subscribe