Main Content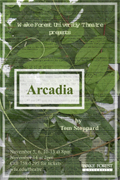 Tom Stoppard's 1993 award-winning play, "Arcadia," opens Nov. 5 at Wake Forest University.
The Wake Forest University Theater production continues Nov. 6 and Nov. 10-14 in the Scales Fine Arts Center's MainStage Theater.
Set in an English country house, the play shifts back and forth between 1809 and the 1990s and touches on subjects from landscape gardening to thermodynamics to chaos theory.
"The play has interest for the scientists as well as the romantically-inclined among us," says Director Donald Wolfe, who will retire in May after 31 years of teaching theater and directing plays at Wake Forest.
The 1809 story focuses on an extraordinarily gifted 13-year-old Thomasina Coverly (sophomore Amber Wiley) and her handsome tutor Septimus Hodge (freshman Cary Donaldson).
"'Arcadia' explores the premise that this precocious girl in England in the early 1800s was beginning to toy around with ideas of the laws of thermodynamics and mathematical theory," says Wolfe.
In the 20th century story, a university professor, Bernard Nightingale (freshman Jonathan Horvath) and author Hannah Jarvis (junior Natalie Cordone) are drawn to the elegant estate to conduct research.
Nightingale is trying to uncover a literary scandal involving the poet Lord Byron, while Jarvis continues her study of the so-called "Sidley Hermit," a figure found in drawings of the house's gardens.
Wolfe says he invited John Baxley, professor of mathematics at Wake Forest, to meet with the cast to explain some of the mathematical principles explored in the play.
The New Yorker described the play as "a kind of intellectual mystery story in which we become cosmic detectives."
In 1999, Stoppard won an Academy Award for best original screenplay for co-writing "Shakespeare in Love." He also received Oscar nominations for writing the scripts for "Brazil" and "Empire of the Sun." His most recent play, "The Invention of Love," opened in London in 1997.
All performances begin at 8 p.m. in the Scales Fine Arts Center's MainStage Theater, except a 2 p.m. matinee on Nov. 14. Tickets are $12 for adults, $8 for students, and may be purchased at the University Box Office or by calling 336-758-5295. The box office is open weekdays, from noon-5:30 p.m. Information is also available from the theater department Web site at www.wfu.edu/theatre.
Categories: Arts & Culture, Events
Subscribe
Sign up for weekly news highlights.
Subscribe