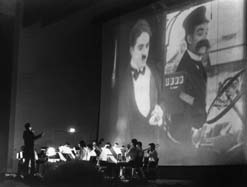 Like the theater orchestras that once played in vaudeville halls and grand hotels in the early 1900s, the Paragon Ragtime Orchestra will bring Charlie Chaplin movies and ragtime music to Wake Forest University Nov. 20.
The 12-piece ensemble will play from the original scores for "The Adventurer," "The Immigrant," and "The Rink" at 2 p.m. and 8 p.m. in Brendle Recital Hall while the films are shown on the big screen.
The Paragon Ragtime Orchestra Charlie Chaplin Film Festival is part of the Secrest Artist Series.
When the group debuted at Alice Tully Hall, they became the first professional ragtime ensemble to perform at Lincoln Center. The group has also performed at the Kennedy Center, the Smithsonian Institution, the 92nd Street Y and several international venues. The orchestra was selected as America's official ambassador of goodwill to the World's Fair in Seville, Spain.
"Four starsÖ.The music is incomparably sweet and stirring," said the Philadelphia Inquirer. "Rick Benjamin, who founded and conducts the PRO, is a musician of wit and sensibility."
Rick Benjamin, founder and director of the Paragon Orchestra, discovered in an abandoned warehouse the long-lost collection of orchestra scores from the Victor Talking Machine Company and was inspired to perform vintage American popular music. With fellow students at Juilliard, he formed the Paragon Ragtime Orchestra in 1988.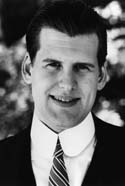 Benjamin has been recognized as a leader of the Ragtime revival. A member of the music faculty at Bucknell University, he is an authority on late 19th and early 20th century American music.
The 2 p.m. matinee performance will be a shortened version of the 8 p.m. program. The one-hour show is well suited for families.
Both performances will feature pre-concert lectures. At 1:10 p.m., Wake Forest Visiting Assistant Professor of Communication Mary Dalton will discuss Chaplin's movies in Scales Fine Arts Center, Room 208. At 7:10 p.m. Wake Forest Professor of English and Senior Vice President Edwin Wilson will discuss Chaplin.
General admission tickets for the concert are $18 for adults, $13 for senior citizens and non-Wake Forest students. They are available through the University Theater box office at 336-758-5295. The box office is open weekdays from noon-5:30 p.m.
Other Secrest Artists Series events this season include: guitarist Christopher Parkening; Mandinka Epic, an African Musical Theater group; and the vocal ensemble Anonymous 4. For information, call the Secrest office at 336-758-5757.