Main Content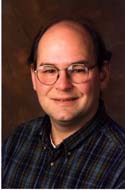 S. Bruce King, assistant professor of chemistry at Wake Forest University, has been awarded one of six 1999 Henry Dreyfus Teacher-Scholar Awards.
King is the only professor in North Carolina to receive one of the prestigious national awards in 1999.
The $60,000 awards, given by the Camille and Henry Dreyfus Foundation, recognize teaching, mentorship and accomplishments in research, primarily with undergraduates.
King's research focuses on discovering new compounds that release nitric oxide, a simple molecule involved in blood pressure control, nerve signalling and the immune response. This work has been specifically applied to the study of the chemical reactions of a drug used as a new treatment for sickle cell anemia.
The funds will primarily be used to provide salary support for undergraduate students to perform research in King's lab as well as to provide research equipment and supplies for these students.
King joined the Wake Forest chemistry faculty in 1995. He has served as research advisor to 14 undergraduates, seven of whom have been co-authors on his research manuscripts.
"Professor Bruce King is a rising star in the field of organic chemistry," said Bradley Jones, chair of Wake Forest's chemistry department, in his nomination letter.
King earned a bachelor's degree at West Virginia University, and a doctorate at Cornell. He also did post-doctoral research at the Scripps Research Institute.
Mark Welker, professor of chemistry at Wake Forest, was a 1992 recipient of the award.
The Camille and Henry Dreyfus Foundation Inc., was established in 1946 by chemist, inventor and businessman Camille Dreyfus as a memorial to his brother Henry, also a chemist and his partner in developing the first commercially successful system of cellulose acetate fiber production.
In creating the foundation, Camille Dreyfus directed that its purpose be "to advance the science of chemisty, chemical engineering and related sciences as a means of improving human relations and circumstances around the world."
Categories: Faculty, Media Advisory, University Announcement
Subscribe
Sign up for weekly news highlights.
Subscribe