Main Content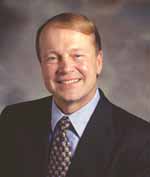 John Chambers, president and chief executive officer of Cisco Systems Inc., a worldwide leader in networking for the Internet, will deliver Wake Forest University's commencement address on May 15.
Chambers will also receive an honorary doctor of laws degree during the outdoor ceremony, which will begin at 9 a.m. on the campus' University Plaza.
Cisco is a top-maker of equipment for creating and accessing information networks. Cisco has helped shape the Internet economy and conducts much of its own business online.
Since being named to his current position in 1995, Chambers has overseen Cisco's growth from $1.2 billion in annual revenues to its current rate of $14 billion.
In 1999, Business Week magazine recognized Chambers as "Mr. Internet" and one of the top 25 executives worldwide for the second time in three years. Time Digital magazine listed Chambers among the top 10 most influential leaders shaping technology. In 1998, Forbes listed Cisco as the fourth most admired company in America.
Chambers joined Cisco in 1991 as senior vice president of worldwide sales and operations. Before joining Cisco, Chambers spent eight years at Wang Laboratories and six years with IBM. Chambers has an MBA degree in finance and management from Indiana University. He earned his undergraduate business degree and a law degree from West Virginia University. Chambers is also a member of President Clinton's Committee for Trade Policy.
Categories: Commencement, Media Advisory, University Announcement
Subscribe
Sign up for weekly news highlights.
Subscribe