Main Content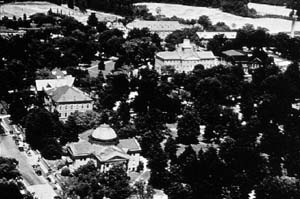 Wake Forest University alumni and students are preparing for a three-day visit to the town of Wake Forest, carrying into the 21st century a tradition of making pilgrimages to the historic campus where the university was founded two centuries ago.
The trek to the former campus is expected to draw yesterday's as well as today's Wake Forest students for a weekend-long celebration of the university's heritage March 31-April 2.
Founded in 1834, Wake Forest moved to its Winston-Salem campus in 1956. A Baptist seminary, unaffiliated with the university, occupies the university's former campus in the town of Wake Forest.
"We expect most of the alumni who attend the reunion to be those who studied on our old campus," said Betsy Chapman, director of Wake Forest alumni programs. "Many participated in our last visit in spring 1996."
"This event gives them an opportunity not only to visit that campus, but also to visit with those who shared that college experience," Chapman added. "It's a time for being with old friends and reliving good memories."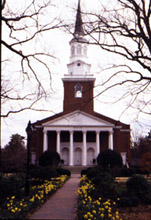 The activities in Wake Forest begin Friday, March 31, with a golf tournament and continue through Sunday afternoon, April 2.
Edwin G. Wilson, a 1943 graduate who has spent his career at Wake Forest as an English professor and senior administrator, will deliver an address titled, "Unrivaled by Any," at 5 p.m. Saturday, April 1, in Binkley Chapel.
Wilson sees the reunion as providing a rare opportunity both for "old campus" alumni who want to return to their college home and for "new campus" alumni who want to visit the place where their university started.
Other celebration highlights include "decade dinners" Friday night, March 31, for alumni of the 1950s, '40s, '30s and earlier, and tours throughout the weekend of the Calvin Jones House (where classes first met), the former campus, the town cemetery and the local historic district. Known as the birthplace of Wake Forest University, the Calvin Jones House is operated as a museum dedicated to preserving the university's history.
Current and retired faculty (including two '40s graduates) will offer special classes on Saturday afternoon, April 1. Bynum Shaw, professor emeritus of journalism and a 1948 graduate, will speak on the university's history. He is author of "The History of Wake Forest College, Volume IV." Carlton Mitchell, professor emeritus of religion and a 1943 graduate, will address "How Things Have Changed since 1940 in American Religion."
David Lubin, Charlotte C. Weber Professor of Art, will return to the '50s in a talk addressing the art, movies and culture of that decade. Lubin's books include a recent analysis of the film, "Titanic." Randal Hall, assistant director of admissions and a 1994 graduate, will speak on "The Life and Works of Dr. William Louis Poteat," an early 20th century Wake Forest president. Hall is the author of a book on Poteat to be published in the summer.
Alumni will be joined in the town Sunday morning, April 2, by a number of Wake Forest students, who will arrive in time for a 10:50 a.m. worship service at Wake Forest Baptist Church led by Bill J. Leonard, dean of the Wake Forest Divinity School. The students will travel to the town by bus, leaving the university's Winston-Salem campus early in the morning.
The day's remaining activities feature a 12:30 p.m. lunch in the Ledford Center (formerly Gore Gym) and tours of the old campus and town.
Anyone interested in attending the celebration may call Mark Aust, director of Wake Forest Clubs, at 336-758-4278 or e-mail him at austml@nullwfu.edu.
Information about the event can also be obtained by visiting the university's Web site at www.wfu.edu/alumni.
Categories: Events, Media Advisory, University Announcement
Subscribe
Sign up for weekly news highlights.
Subscribe