Main Content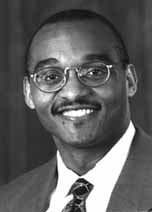 The Wake Forest University Divinity School has named a Baltimore Baptist minister as the Jessie Ball duPont Assistant Professor of Homiletics and Biblical Studies.
Brad R. Braxton will teach preaching courses, recruit students and develop relations with African-American churches. The professorship is sponsored by the Jessie Ball duPont Fund. His appointment begins next fall.
"We are thrilled to be able to recruit such superb teachers and scholars to our university," said Bill J. Leonard, dean of the Divinity School. "Braxton's appointment confirms and reinforces our commitment to be a leader in the fields of biblical and African-American studies."
"The great tradition of the African-American pulpit provides an important resource for shaping all Christian preaching," Leonard added. "All of our students, and the entire Wake Forest University community, will benefit from Braxton's appointment."
Currently senior pastor at Douglas Memorial Community Church in Baltimore, Braxton has also served as associate minister at Greater Piney Grove Baptist Church in Atlanta.
Braxton is a 1991 religious studies graduate of the University of Virginia. In 1993, he earned his master's degree in New Testament studies from the University of Oxford, England, where he was a Rhodes Scholar. He earned a doctorate from Emory University in 1999.
The Wake Forest Divinity School's faculty includes Leonard, dean and professor of church history; Phyllis Trible, professor of biblical studies; Frank Tupper, professor of theology; Samuel Weber, associate professor of early Christianity and spiritual formation; Alexandra R. Brown, visiting associate professor of biblical studies; and James M. Dunn, visiting professor of Christianity and public policy.
The Divinity School, which opened in August 1999 to 24 full-time students from a variety of denominational traditions, prepares individuals for ministry in the Christian church. The school's curriculum blends instruction in traditional seminary subjects with courses taught by faculty of the university's undergraduate, graduate and professional schools. The school offers the master of divinity degree.
Categories: Faculty, Media Advisory, University Announcement
Subscribe
Sign up for weekly news highlights.
Subscribe