Main Content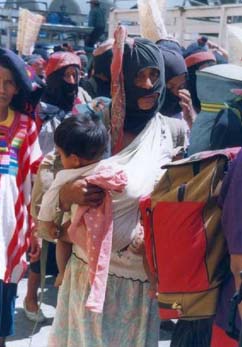 Intricately woven and embroidered Maya garments are the focus of a new exhibit opening April 10 at the Wake Forest University Museum of Anthropology.
"Images of the Maya" features textiles and photographs that provide a visual portrayal of the daily and ceremonial life of the Maya people of Mexico. The exhibit is on loan from the Florida Museum of Natural History and is touring nationally.
The exhibit runs through June 9. Admission is free.
Maya women have been weaving since Pre-Columbian times, creating intricate symbols on clothing and other garments that express their ancient history and culture. Over the centuries, their traditional dress has evolved as a result of contact with other cultures.
The exhibit illustrates the regional variation of garment styles and traces the influence of Classic Maya, Aztec and Spanish cultures on the textile styles of different localities. The exhibit also examines the weaving and dying process.
Photographs by Jeffrey J. Foxx, an internationally known ethnographic photographer, are included in the exhibit.
An open house will be held April 17 and 19 from 3-5 p.m. with Maya weaver, Rosalinda Santix Diaz of Chiapas, Mexico, who will demonstrate traditional and contemporary Maya weaving and answer questions.
During the open houses, visitors may try their skills at weaving the Maya way on back-strap looms. In addition, Maya textiles will be available for purchase at the museum shop. Videos on Maya weaving will be available for viewing during the presentations.
In conjunction with the exhibit, Museum Educator Kim Robertson will present "Story in a Maya Loom" on May 6. The free and public class, scheduled 10:30 – 11:30 a.m., will include a story with hands-on activities for parents and children.
The weavers' visit is co-sponsored by the Wake Forest departments of anthropology and politics, the Wake Forest Museum of Anthropology, the women's studies program, the international studies program and the Wake Forest Divinity School.
The museum is located adjacent to the tennis courts on the Wake Forest University campus. Museum hours are 10 a.m. to 4:30 p.m. Tuesday through Saturday. For information, call 336-758-5282.
Categories: Arts & Culture, Events
Subscribe
Sign up for weekly news highlights.
Subscribe