Main Content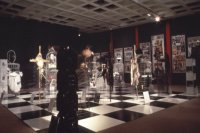 Pregnancy, power and reproductive freedom are the subjects of two exhibits opening at the Wake Forest University Fine Arts Gallery on Aug. 23.
Both exhibits run through Sept. 28.
"Wake Up Little Susie: Pregnancy and Power before Roe v. Wade" is a collaborative mixed-media installation by artists Kay Obering, Cathleen Meadows and Kathy Hutton. It explores contemporary issues regarding women, race, class, public policy, single pregnancy and reproductive rights.
The exhibit takes the form of a life-sized chess board on which the pieces represent various aspects of the abortion conflict.
The exhibition was created by the three Denver artists in 1992 and has since been exhibited across the country. It is based on the book, "Wake Up Little Susie: Single Pregnancy and Race before Roe v. Wade," by Rickie Solinger, visiting scholar in Women's Studies at the University of Colorado at Boulder, and an associate of the Rocky Mountain Women's Institute.
Solinger will give a public lecture titled "Pregnancy and Power in the United States: Women's Struggle Over Time" on the final day of the exhibit, Sept. 28, at 7 p.m. in Scales Fine Arts Gallery, Room 102.
The second exhibit is titled, "Warnings." It is an exhibition of computer-generated photomontages exploring issues of reproductive freedom by artist Lisa Link.
The exhibits are sponsored by the Wake Forest history and ethnic studies departments.
Wake Forest University Fine Arts Gallery is open weekdays from 10 a.m. to 5 p.m. and 1 p.m. to 5 p.m. weekends. Call 336-758-5585 for more information.
Categories: Arts & Culture, Events
Subscribe
Sign up for weekly news highlights.
Subscribe