Main Content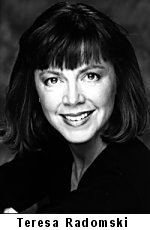 The Wake Forest University Department of Music will present Teresa Radomski, soprano, and Jacqui Carrasco, violinist, in concert Sept. 10 at 3 p.m. in Brendle Recital Hall, Scales Fine Arts Center.
The program will include works by Bach, Schubert, Vaughan Williams, Granados, Villa Lobos, Rachmaninoff, and Amy Beach. Thomas Turnbull, pianist, will accompany the recital.
Radomski, an associate professor of music at Wake Forest, appears widely as a recitalist and recently completed a CD recording, "Songs From the Early 20th Century," with pianist and Wake Forest Professor of Music Louis Goldstein.
Carrasco joined the Wake Forest music faculty in 1999. She has performed as a soloist and chamber musician throughout the world, including Japan and Europe. Her most recent performances have been at the International Prague Spring Festival and with the Mark Morris Dance Company.
Admission to the recital is free. Call 336-758-5026 for more information.
Categories: Arts & Culture, Events
Subscribe
Sign up for weekly news highlights.
Subscribe