Main Content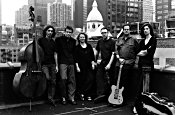 Bang on a Can All-Stars-part classical ensemble, part rock band, part jazz band-will perform at Wake Forest University on Nov. 9 as the third event of the Secrest Artists Series 2000-2001 season.
The concert begins at 8 p.m. in Wait Chapel.
The unusual instrumentation includes clarinet, electric guitar, cello, bass, keyboard and percussion. The group of new music pioneers met at the Bang on a Can Festival in 1987 and began performing as an ensemble in 1989.
Artistic directors Michael Gordon, David Lang and Julia Wolfe believe in "the communicative power of a wide range of musics from a new generation of composers and performers." Since it began, the ensemble has commissioned 50 or more pieces by young composers.
The Boston Globe called the Bang on a Can All-Stars "fabulous playersÖyoung, personable, exceedingly gifted, image conscious and versatile."
The Bang on a Can All-Stars includes Robert Black, bass; David Cossin, percussion; Michael Lowenstern, clarinet; Scott Kuney, electric guitar; Lisa Moore, piano and keyboards; Wendy Sutter, cello; and Andrew Cotton, sound engineer.
The group will perform Brian Eno's "Music for Airports," described as "a dreamy, amorphous pastiche of phrases and sonorous harmonies" by the Los Angeles Times. The Bang on a Can All-Stars' performance of the 1970s piece has been featured on CNN, MTV and NPR's "All Things Considered."
The concert will also feature "Cheating, Lying, Stealing" composed by Lang.
"In 'Cheating, Lying, Stealing,' although phrased in a comic way, I am trying to look at something dark," said Lang. "There is a swagger, but it is not trustworthy."
Five other works, including "Believing" by Wolfe, will complete the program.
The 1993-94 season marked the group's debut at Lincoln Center with two concerts in the Great Performances Series, which has continued to present the Bang on a Can All-Stars for the past six seasons. Their first CD, "Industry," was released on the Sony Classical label in 1995.
At 11 a.m. Nov. 9, Wake Forest will host "A Conversation and Demo with Players of Bang on a Can All-Stars" in Scales Fine Arts Center, Room M103. To attend, contact the Secrest Artists Series office at 336-758-5757.
Jacqui Carrasco, assistant professor of music at Wake Forest, will give a pre-concert lecture at 7:10 p.m.
Tickets are $18, $13 for senior citizens and non-Wake Forest students. They are available through the University Theater box office at 336-758-5295. The box office is open weekdays from noon-5 p.m.
Categories: Arts & Culture, Events
Subscribe
Sign up for weekly news highlights.
Subscribe