Main Content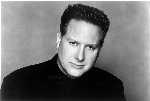 Best known for his impression of former President Bill Clinton, "Saturday Night Live" star Darrell Hammond will perform at Wake Forest University's Wait Chapel at 8 p.m. on April 24. The event is sponsored by the Wake Forest Student Union.
Tickets for the public go on sale April 7 through Ticketmaster. They are $12.50 in advance or $15 at the door. Wake Forest students can purchase tickets on campus.
Hammond is in his fifth season with "Saturday Night Live." His numerous impressions have been applauded by critics and viewers alike for their accuracy and range. His repertoire includes impressions of Ted Koppel, Jesse Jackson, Jay Leno and Phil Donahue among others.
Born and raised in Florida, Hammond began doing impressions as a child. After graduating from the University of Florida at Gainesville, Hammond lived in New York for several years and appeared in off-Broadway productions. He later returned to Florida and honed his skills as an impressionist, performing on local and national radio programs.
For more information, call 336-758-4869.
Note to media: To arrange an interview with Hammond, call the News Service.
Categories: Arts & Culture, Events
Subscribe
Sign up for weekly news highlights.
Subscribe