Main Content
STUDENT SAW YEAR OF ETHICS AND HONOR COME FULL CIRCLE
As a freshman at Wake Forest, Amanda Carlson wanted to create a plan that would help incorporate ethics and honor on the university's campus. As a member of the Student Government's committee on honor, she wrote a proposal for a theme year dedicated to these issues and presented it to the university administration. Her proposal was accepted and a committee was formed to develop the Year of Ethics and Honor, the university's 2000-2001 theme year. Carlson helped select the speakers and organize events for the year, which ends, appropriately, at the same time as Carlson graduates. "My college education has really come full circle," says Carlson, who served as Student Government president her senior year. She will work for Accenture in New York after graduation, a position she accepted in November. To arrange an interview with Carlson, contact the News Service.
RECRUITMENT GETS SERIOUS AS JOB MARKET TIGHTENS
Gone are the days of simple interviews and job offers for college graduates. Most of today's seniors go through a multi-level interview process before landing a job. "The recruitment process is much more serious and refined now," says Bill Currin, director of Wake Forest's Career Services. "Companies are doing behavioral interviews and asking applicants to present case studies to the company." In one of Erin O'Brien's interviews this spring, the interviewer asked whether she would buy a washer and dryer or go to a Laundromat for a year and why. American Airlines liked her answer and offered her a job in Dallas. Dana Irwin, a religion major, had to teach an English lesson to her peer group of applicants before AEON, a private Japanese company, offered her a job. She'll be teaching English to Japanese children in Kanazawa, Japan. To speak with these or other students about the job search, contact the News Service.
SENIOR DEBATERS LEAVE BEHIND BEST RECORD IN WFU DEBATE HISTORY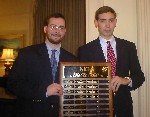 Seniors Jarrod Atchison and Wesley Lotz graduate having earned the best regular season record in the history of Wake Forest debate, a program with a nearly 100-year history. The two competed as a team all year, putting in an average of 60 hours of practice a week in the time leading up to their first competition. The duo was ranked number two in the nation going into the national tournament in March with a 56-5 record. They were also named the number two and three speakers in the country, respectively. Atchison, a communication major, will return to the university for graduate school and be an assistant coach for the team. Lotz, a political science major, will be attending law school with the help of a scholarship he received, in part, for his success on the debate team. To arrange an interview with Atchison or Lotz, contact the News Service.
STUDENT STORIES FOR COMMENCEMENT
Kyle Covington, a health and exercise science major from Mebane, has studied German in Austria, played trumpet in the university's pep band, developed a photographic essay on the patients in Brenner's Children Hospital and conducted research on how exercise influences balance. Covington, who will graduate with honors, will start classes in one of the country's top physical therapy programs after graduation. Classmate Jenny Everett, a business major with a 3.94 GPA, will use her degree at Arthur Andersen in Atlanta. Everett is a four-year field hockey letterman, was named to the All-American field hockey team twice and is a member of several honor societies. Covington and Everett will be among the approximately 881 undergraduates to receive degrees at the May 21 ceremony. To arrange interviews with these or other graduating students, contact the News Service.
TRANSFORMING THE QUAD FOR COMMENCEMENT
Ten thousand brown, gold and black chairs; nearly 4,000 square feet of carpeting; 40 yellow mums; two dozen ferns and three platforms 30 inches from the ground will transform University Plaza into a commencement stage on May 21. University facilities staff begins the construction of the platforms and tents at least one week before the ceremony. "It really takes a complete staff effort to pull this off every year," says Jim Coffey, superintendent of landscape services. This year's ceremony is Coffey's 15th at Wake Forest. To arrange an interview with Coffey or for more details on the physical preparations for commencement, contact the News Service.
Categories: Commencement, Events, University Announcement
Subscribe
Sign up for weekly news highlights.
Subscribe