Main Content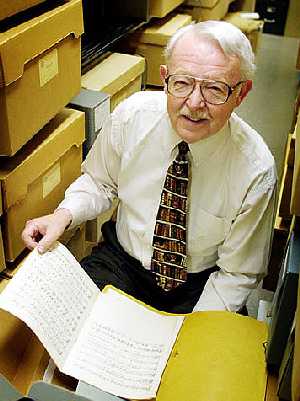 For 36 years, John R. Woodard looked forward to receiving visitors in his corner office at Wake Forest University's Z. Smith Reynolds Library. As head of the university archives and director of the library's North Carolina Baptist Historical Collection, he never knew whom, or what would come through the door.
Woodard officially retired at the end of June 2001, but will continue his work on an occasional freelance basis. After all, he says with a grin, after spending so many years wading through items in the university archive and the ever-expanding Baptist Historical Collection, he just may be the only person alive who knows where everything is.
That "everything" includes thousands of fragile historical documents like newspaper clippings that are more than 100 years old, Wake Forest memorabilia including footballs and the personal papers of generations of alumni. Also included are thousands of historical church documents that tell the stories of many of North Carolina's hundreds of Baptist congregations.
"As I've been cleaning my office in preparation for my retirement, I've found all these things that still need to be added to the collection," he said. "Even with all the technology we're blessed with, preserving history is a never-ending task. And quite often, it's a matter of knowing what's been flowing through this office for so many years to figure out where things should go."
A Conway, N.C., native, Woodard enrolled at Wake Forest in 1957 and worked as a student assistant in the library until he graduated in 1961. He went to work for the North Carolina State Department of Archives and History for three years, but returned to Wake Forest to oversee the university archives in 1964.
Woodard's judgment has developed over the years as he has gone through the things that end up in his care after years of being overlooked or improperly stored. In the faded papers jammed into milk crates in church basements, and the "junk" spilling from cardboard boxes, Woodard often found missing pieces of historical puzzles.
A recent "good find," Woodard said, was a box of 800 color slides that documented the construction of Wake Forest's new campus in the 1950s. The daughter of one of the architects had found the slides, and brought them to the university.
Once he determines which finds are "good," Woodard goes to work cataloging them. This complex process includes determining the proper way to store the item and indexing it in the records system he developed to track additions to the different collections. Items in the various collections Woodard supervised include a piece of a bell that cracked during a fire on Wake Forest's old campus, and a newspaper clipping announcing that classes would begin again because the Civil War had ended.
Some of the other notable items never left Woodard's office because he valued them too much to banish them to the library stacks and other storage areas. Those included the flute that Wake Forest founding father, Samuel Wait, played on campus every July 4, and a cornerstone box from when the university's original campus was built in the 1800s in the town of Wake Forest.
After 36 years of reading, sorting, indexing and archiving, Woodard has become the leading expert on Wake Forest's history and North Carolina Baptist history. He will continue to share that knowledge through his retirement during the workshops he leads for churches and other organizations.
Woodard is a past president and member of the Society of North Carolina Archivists and the secretary-treasurer for the North Carolina Baptist Historical Society. He has also been a lifelong member of the Society of American Archivists.
Woodard has also been published extensively. He has written chapters for numerous books including, "Encyclopedia of Religion in the South" and "Religion in the Southern States: An Introduction." He edited "Tar Heel Baptist Footprints," a bimonthly newsletter from 1972-1991. He turned that publication into a monthly column for The Biblical Recorder, the North Carolina Baptist newspaper, which he wrote between 1991 and 2000.
Woodard said he'll never stop working altogether because of his love for history and his innate curiosity. His new focus is researching North Carolina's role in the Civil War.
"I'm sure I'll always be reading something historical, learning about old things and speaking at churches," he said. "It's in my blood."
Categories: Staff, University Announcement
Subscribe
Sign up for weekly news highlights.
Subscribe