Main Content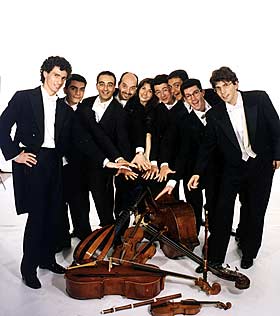 The Venetian early music chamber orchestra, Accademia di San Rocco, will open the 2001-2002 Secrest Artists Series season at Wake Forest University on Friday, Sept. 7.
The concert honoring the 30th anniversary of Wake Forest's residential study program in Venice will begin at 8 p.m. in Brendle Recital Hall.
The group performs 17th and 18th century music on authentic instruments of the period. Titled "Music from the Golden Age of Venice," the program will include music by Venetian composers such as Vivaldi, Carlo Farina, Tomaso Albinoni and Marco Uccellini.
The ensemble's name is taken from the "Scuolo Grande di San Rocco" in Venice, the Tintoretto-decorated hall where they often perform.
Peter Kairoff, professor of music at Wake Forest, will join the seven-member ensemble to play the harpsichord. Kairoff has performed in Venice as a soloist with the group several times.
"Unlike most orchestras in Venice these days, they use original instruments and have a historic and authentic approach," Kairoff said. "When they play Vivaldi, it makes you feel it is the way it must be played."
Kairoff performs frequently in Europe and North and South America as a pianist, harpsichordist and accompanist. He also directs Wake Forest's program in Venice.
Images of Venetian landscapes and art masterpieces will provide a backdrop for the performers. Ushers will wear Venetian masks and costumes. Edwin Wilson, professor of English and senior vice president at Wake Forest, will read a Robert Browning poem inspired by one of the Baldassare Galuppi pieces on the program.
A pre-concert lecture at 7:10 p.m. in Room 208 (adjacent to Brendle Recital Hall) will feature Stewart Carter, professor of music at Wake Forest.
Accademia di San Rocco's concerts in Europe, Japan, the Middle East and the United States have received enthusiastic responses for their spirited interpretations and scholarly re-creation of early performing traditions. The ensemble appeared at Lincoln Center on Aug. 16.
Tickets are $18 general admission and $13 for seniors/non-Wake Forest students. They are available by calling the Wake Forest University Box Office beginning Sept. 4 at 336-758-5295 or by calling the Secrest Series office at 336-758-5757. The box office is open from noon to 5:30 p.m.
Season tickets for the Secrest Artists Series are $97 and are available through the Secrest office by calling 336-758-5757.
For the complete Secrest Artists Series schedule, visit the Web site at www.wfu.edu/organizations/secrestartists.
Categories: Arts & Culture, Events
Subscribe
Sign up for weekly news highlights.
Subscribe