Main Content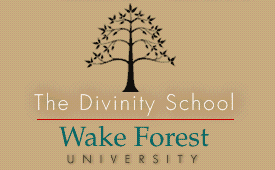 The public is invited to attend "Church and State in America: Issues of Freedom, Politics and Religion in a New Century" at Wake Forest University Divinity School on Oct. 15 from 8:30 a.m. until 3:30 p.m. Several Wake Forest faculty members will present their views on legal and societal issues raised by the controversial separation of church and state in this country.
Conference speakers will be James Dunn, Visiting Professor of Christianity and Public Policy; Katy Harriger, associate professor of political science; Michael Perry, University Distinguished Chair of Law; Elaine Swartzentruber, assistant professor of religion; and Earl Smith, chair of the sociology department.
Harriger will speak about the First Amendment and the legal aspects of religious liberty. Perry will also speak on legal issues. Swartzentruber will present, "The Church in the 21st Century: In the (Disney) World but Not of It?" Smith will speak about African-Americans and religion.
Dunn will moderate the lunch conversation. He is a past executive director for the Baptist Joint Committee on Public Affairs and still consults for the Washington-based organization, which represents nine Baptist conventions and conferences in the United States. A nationally renowned expert on religious liberty, he has written for several publications and co-authored, "Politics: A Guidebook for Christians, Endangered Species" and "An Approach to Christian Ethics." He has been a member of the Divinity School faculty since 1999.
Divinity School Dean Bill Leonard will present "Pluralism in America: the 'Religion of Civility'" to close the conference.
The conference costs $50, which includes a continental breakfast and lunch. The registration deadline is Oct. 11. It will take place in Benson University Center, Room 410, and is sponsored by the Divinity School's Vocational Development office.
For more information, call 336-758-3748.
Categories: Events, School of Divinity, Speakers
Subscribe
Sign up for weekly news highlights.
Subscribe