Main Content
SEPARATION OF CHURCH AND STATE
Wake Forest experts will share their views at a conference titled "Church and State in America: Issues of Freedom, Politics and Religion in a New Century" at Wake Forest Divinity School on Oct. 15 from 8:30 a.m. – 3:30 p.m. The conference will be in Benson University Center, Room 410, and is sponsored by the Divinity School's Vocational Development office. Registration for the event was required. Conference speakers are Wake Forest faculty members James Dunn, Visiting Professor of Christianity and Public Policy; Katy Harriger, associate professor of political science; Michael Perry, University Distinguished Chair of Law; Elaine Swartzentruber, assistant professor of religion; and Earl Smith, chair of the sociology department. To arrange an interview with one of the speakers, contact Vanessa Willis at willisv@nullwfu.edu or 758-5237.
WFU WOMEN'S STUDIES HAS UNIQUE TIE TO AFGHAN WOMEN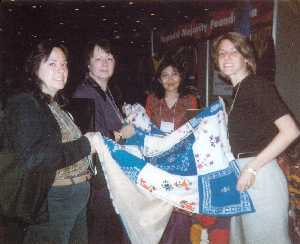 When the Taliban took over in Afghanistan, Afghan women were put under numerous restrictions, including being denied the opportunity to attend school. Wake Forest's women's studies department is reminded of that daily by a quilt hanging in the department's library in Tribble Hall. Afghan teen-age girls made the colorful quilt with Sanskrit and Arabic writings to memorialize their experience in the schools. "For us, it's a treasure, Wake Forest has a connection," says Susan Borwick, former director of the women's studies program who bought the quilt in April 2000. "Buying the quilt was a direct way to get money back to those women." Borwick, along with two other members of the department, bought the quilt from an Afghan woman at the Feminist Majority Foundation's Feminist Expo in Baltimore. For more information, contact Sarah Smith at smithsr@nullwfu.edu or 758-5237.
WFU GROUP HONORS DOMESTIC VIOLENCE AWARENESS MONTH
The rotunda of Wake Forest's Benson University Center will be strewn with T-shirts next week, but it's not because students have gotten sloppy. As a visual observance of October being domestic violence awareness month, the Women's Initiative for Support and Empowerment (WISE) at Wake Forest is sponsoring the Clothesline Project, a display of T-shirts decorated by victims of domestic violence or by someone who knows a victim. WISE is providing the T-shirts for students, faculty and staff to design. The display will be up all next week. To arrange coverage, contact Sarah Smith at smithsr@nullwfu.edu or 758-5237.
Categories: Arts & Culture, Community, Events, School of Divinity
Subscribe
Sign up for weekly news highlights.
Subscribe