Main Content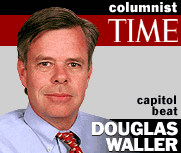 Time correspondent Doug Waller will speak about his contributions to the magazine's coverage of the Sept. 11 attacks on America at Wake Forest University on Feb. 25 at 8 p.m. in Benson University Center's Pugh Auditorium.
A Wake Forest graduate, Waller began his journalism career at Greensboro and Charlotte newspapers. He joined Time magazine in 1994, and has covered numerous issues including national security, Capitol Hill, diplomatic relations and defense. He is now the congressional correspondent for the magazine.
Waller's talk at Wake Forest is free and open to the public. It is part of the university's Year of Unity and Hope.
From 1988-1994, Waller was a defense and foreign policy correspondent for Newsweek where he covered military conflicts in Somalia and Haiti, and the Gulf War.
He is the author of six books, including "The Commandos: The Inside Story of America's Secret Soldiers," "Air Warriors: The Inside Story of the Making of a Navy Pilot," and "BIG RED: Three Months On Board A Trident Nuclear Submarine," which was published in 2001.
For more information, call 336-758-5229.
Categories: Events, University Announcement
Subscribe
Sign up for weekly news highlights.
Subscribe