Main Content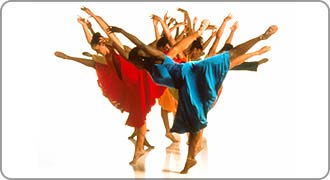 Philadanco, known for its adventurous modern-dance choreography, will perform as part of Wake Forest University's Secrest Artists Series on March 6.
The performance will begin at 8 p.m. in Brendle Recital Hall in Scales Fine Arts Center.
"The members of the Philadelphia Dance Company, better known as Philadanco, can do just about anything: leap like arrows in flight, spin, stretch, kick and melt like hot wax," said The Washington Post.
The dance company emphasizes innovative works by American composers and is known for its provocative modern dance repertory. Artistic director Joan Myers Brown founded the primarily African-American dance company 31 years ago.
One of America's foremost dance ensembles, Philadanco has performed at Lincoln Center, the Kennedy Center, Madison Square Garden, and other high-profile American venues. The group has made appearances in Europe and Asia, also.
The Los Angeles Times describes the company as "high speed wonders," and Dance Magazine calls Philadanco dancers "a miracle of skill and energy."
The program presented at Wake Forest will include excerpts from two of Philadanco's longer pieces. Excerpts from "Messages from the Heart," a work conceived by Joan Myers Brown to celebrate women in dance, will integrate modern dance and folk
traditions. The dancers will also present "Exotica," taken from the longer work, "Lessons."
"My Science" explores the relationship between imagination and science and incorporates music by Led Zeppelin.
Another piece is set to music by Zap Mama, an Afro-Euro a cappella women's ensemble.
Brown also founded the Philadelphia School of Dance Arts and organized the first International Conference on Black Dance Companies held in 1988.
Nina Lucas, associate professor and director of dance at Wake Forest, will present a pre-performance lecture at 7:10 p.m. in Room 208 next to Brendle Recital Hall.
The Philadanco performance is co-sponsored by the Secrest Artists Series and Wake Forest's dance program. Tickets are $20, $15 for non-Wake Forest students and senior citizens. Admission for Wake Forest students is free. Contact the University Theatre box office at 336-758-5295. The box office is open from noon to 5 p.m. on weekdays.
While visiting Wake Forest, Philadanco will also offer master classes for Wake Forest dance students at 1:30 p.m. March 6 and 12 p.m. March 7. The public is invited to observe the classes, but must reserve a space by calling Nina Lucas at 336-758-5393.
For information, call the Secrest Series Office at 336-758-5757.
Categories: Arts & Culture, Events
Subscribe
Sign up for weekly news highlights.
Subscribe