Main Content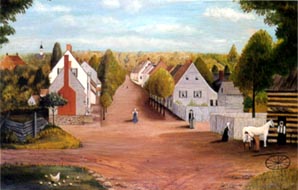 To commemorate the 250th anniversary of the Wachovia Settlement, the Wake Forest University history department is sponsoring a symposium on April 4-6 exploring the influence of German Moravians. The Moravians' Wachovia Settlement was located in what is now Forsyth County.
The symposium is free and open to the public. Most events will take place in Tribble Hall's DeTamble Auditorium.
The symposium, "German Moravians in the Atlantic World," will explore the religious roots of the Moravian community and address various aspects of Moravian culture and society. Scholars of early modern Germany will join scholars of colonial and revolutionary America to discuss Germans and Moravians.
"We hope this symposium will encourage American historians and Americans in general to re-think the influence of German-Americans in the Southeast," said Michele Gillespie, associate professor of history at Wake Forest and one of the organizers of the conference. "The event will bring much needed attention to German-Americans and their unique cultural identity and contributions in the North Carolina Piedmont."
Mack Walker, professor of history at Johns Hopkins University, will give the keynote address, "Imperial Communities," at 7 p.m. on April 5 in DeTamble Auditorium.
Historians from around the country will also make scholarly presentations. Topics will include "German Protestantism and the Making of the Moravian Movement," "Moravian Worship: the Whys of Moravian Music," and "Fashion Passion: the Battle Over Dress Within the Moravian Brethren." For a complete schedule of events, visit the symposium web site
The program will conclude with a lecture-recital called "Moravian Composers in Old Salem" at 8 p.m. April 6 at Home Moravian Church, Old Salem. The concert of traditional choral, chamber, and brass-band Moravian music will be conducted by Michael Westmoreland, a Wake Forest graduate and music director of Bethabara Moravian Church music.
Co-sponsors of the symposium include Wake Forest's Office of the Dean, the Office of the Senior Vice President, the women's studies department, and the Max Kade Foundation of New York.
For more information, call 336-758-4270.
Categories: Arts & Culture, Community, Events
Subscribe
Sign up for weekly news highlights.
Subscribe