Main Content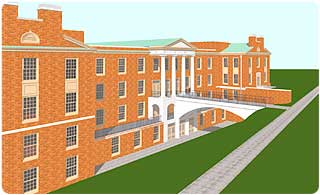 Wake Forest University announced March 26 a $500,000 contribution by three PepsiCo executives to support the university's Calloway School of Business and Accountancy. The gift will be used to support the F.M. Kirby Wing, a five-story addition to Calloway Hall.
Donald M. Kendall, PepsiCo's co-founder; Roger A. Enrico, former chairman of the board and chief executive officer; and Steven S. Reinemund, chairman of the board and chief executive officer, gave the money as a joint gift. It will create The Four Chairmen's Bridge, an arched bridge with wrought iron railing that will be the main entrance to the Calloway School. The bridge will be named for each of the three donors and the late Wayne Calloway, a 1959 Wake Forest graduate who was chairman and CEO of PepsiCo Inc.
"Everyone who knew Wayne understood the depth of his commitment to Wake Forest and PepsiCo," Reinemund said. "The idea behind The Four Chairmen's Bridge was to provide a symbol of Wayne's role as the connecting bridge in the careers of PepsiCo's three other chairmen. The bridge also provides an excellent way for us to show our support and appreciation for the business school bearing Wayne's name."
"The Four Chairmen's Bridge is an outstanding way to honor Wayne Calloway's memory and his devotion to this university," said Wake Forest President Thomas K. Hearn Jr. "I am grateful to these leaders, Wayne's close friends and peers at PepsiCo, for this generous gift."
Wake Forest named its school of business and accountancy in 1995 for Calloway, who chaired Wake Forest's board of trustees.
Construction of the school's 57,000-square-foot Kirby Wing began in February. It is scheduled to be complete by the fall of 2003. It will include classroom and office space, room for group meetings, a state-of-the-art technology hub and a center for undergraduate entrepreneurship.
To date, the university has raised approximately $12.3 million toward the $14 million needed for the renovation and expansion. Gifts to support the Kirby Wing are applied toward the university's capital campaign.
The Calloway School, the largest undergraduate program at Wake Forest, is ranked 30th among all undergraduate business programs by U.S. News & World Report and its finance and accounting programs are ranked among the top 25. More than 400 students are currently enrolled in the Calloway School, which offers four-year degrees in business, analytical finance, mathematical business and information systems and a five-year program to earn a bachelor's and master's degree in accountancy. The Calloway School also offers a master's degree in accountancy for students who have already earned an undergraduate degree.
Categories: School of Business, University Announcement
Subscribe
Sign up for weekly news highlights.
Subscribe