Main Content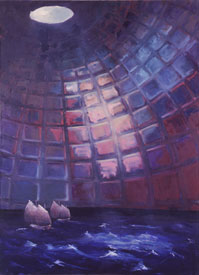 "Vision 1," an oil-on-canvas painting by senior art student Erica Grace, will be among the 70 student works on display in Wake Forest University's Charlotte and Philip Hanes Art Gallery from April 11 – May 20.
Photographs, sculpture, drawings, prints and digital media works are also part of the show.
An opening reception will be held from 4-6 p.m. on April 11. Admission to the gallery and reception are free. Wake Forest art faculty has judged the student artwork and cash prizes will be awarded at the opening reception.
Senior honors exhibitions will be presented in the upstairs gallery for three weeks beginning April 15. Each week, the work of one senior honors art student will be showcased.
The gallery is located in Scales Fine Arts Center. Gallery hours are weekdays 10 a.m.-5 p.m., weekends 1-5 p.m. For information, call 336-758-5585.
Categories: Arts & Culture, Events, Recognition, Student
Subscribe
Sign up for weekly news highlights.
Subscribe