Main Content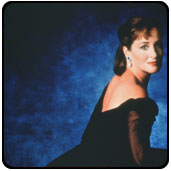 Metropolitan Opera star Frederica von Stade will highlight Wake Forest University's Secrest Artists Series four-concert 2002-2003 season.
Von Stade, described by The New York Times as "one of America's finest artists and singers," will perform Oct. 5 at 8 p.m. in Wait Chapel as part of the ArtsIgnite Festival 2002, in partnership with the Arts Council of Winston-Salem and Forsyth County.
Since her debut in 1970 with the Metropolitan Opera, she has performed with every leading American opera company and is a favorite soloist among most American orchestras. Von Stade's program will include selections from Offenbach, Ravel and Canteloube.
The Ahn Trio, three sisters from Seoul, will open the Secrest season with a concert on Sept. 5 at 8 p.m. in Brendle Recital Hall. Maria, Lucia and Angella will perform a spontaneous and eclectic program with pieces by Astor Piazzolla, Maurice Jarre, Jim Morrison and David Bowie. The trio performs on piano, violin and cello. The second half of the program will be a piece written for the Ahns by Kenji Bunch titled "Swing Shift: Music for Evening Hours 2002." The Juilliard-trained musicians, originally from South Korea, earned this praise from the Washington Post: "Their technique was impressive and they balanced unanimity and individuality in a spirit that is at the heart of chamber music."
On Feb. 22, the Eos Orchestra will bring "The Celluloid Copland" to Wait Chapel. The Eos Orchestra, a New York City chamber orchestra known for presenting music in creative and dramatic ways, will combine music and film. The orchestra will perform scores written by Aaron Copland for several short films. One of them, "The City (1939)," will be shown on screen during the musical performance. For the second half of the 8 p.m. concert, Eos will perform the original chamber orchestra version of "Appalachian Spring."
Red Priest, the British early music ensemble named after the flame-haired priest and composer Antonio Vivaldi, will conclude the Secrest Artists Series season with a concert on April 3 at 8 p.m. in Brendle Recital Hall. Formed in 1997, the group has developed a no-holds-barred approach to music of the 16th-18th centuries that includes creative stagecraft. The Los Angeles Times describes a Red Priest concert as a "high-energy baroque hoedown" and Classic CD magazine says it is like "crossing a Wigmore Hall recital with a Guinness-soaked folk session in an Irish bar." The four-member group performs on recorder, violin, cello and harpsichord. The performance is a signature event of the Conference of the Society for 17th Century Music, hosted by Wake Forest.
Season tickets for the Secrest Artists Series are $80 and are available through the Secrest office by calling 336-758-5757. Tickets for the Frederica von Stade concert will be $30 for adults and $20 for senior citizens and non-Wake Forest students. They can be purchased during the summer months from the Stevens Center Box Office by calling 336-721-1945. Individual tickets for the other events are $18 for adults, $13 for senior citizens and non-Wake Forest students.
Tickets may be purchased through the Wake Forest box office (336-758-5295) after Labor Day. Group discounts are available. Pre-concert lectures are scheduled in conjunction with each event and begin 45 minutes before each concert.
Categories: Arts & Culture, Events
Subscribe
Sign up for weekly news highlights.
Subscribe