Main Content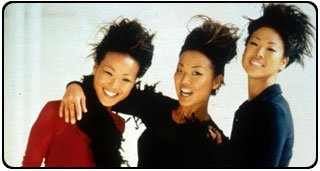 The Ahn Trio, three Juilliard-trained sisters originally from South Korea, will open the Secrest Artists Series season with a concert on Sept. 5 at 8 p.m. in Brendle Recital Hall.
Maria Ahn (violin), Lucia Ahn (piano) and Angella Ahn (cello) will perform "The New Ahn Plugged," an eclectic program using their classical instruments to perform contemporary music including some classic rock-and-roll.
Composer Michal Rataj transcribed The Doors' "Riders on the Storm" for the trio and Kenji Bunch created a version of David Bowie's "Ziggy Stardust."
Other highlights of the program will include music by Astor Piazzolla, Maurice Jarre and Erik Satie. The second half of the concert will be devoted to a piece written for the Ahns by Bunch titled "Swing Shift: Music for Evening Hours 2002."
The Ahn Trio first gained public attention in 1987 when they were featured in a Time magazine cover story titled, "Asian-American Whiz Kids." They have also been featured on NBC and PBS network programs and in the pages of the New York Times and Vogue magazine.
The musicians earned this praise from the Washington Post: "Their technique was impressive and they balanced unanimity and individuality in a spirit that is at the heart of chamber music."
An L.A. Times reviewer wrote, "A dominant musical gene has obviously left its imprint on the sisters Ahn."
The sisters tour throughout the world and have performed at Lincoln Center's Alice Tully Hall, Carnegie's Weill Hall, Moscow's Tschaikovsky Hall and the Seoul Arts Center. The Ahn Trio has produced three CDs, included one featuring the Ravel and Villa-Lobos Trios, one of Dvorak, Suk and Shostakovich Trios and one with more contemporary selections called "Ahn –Plugged."
Each season, the Ahns conduct many workshops and master classes for children and adults. In recognition of their contributions to music education, they won the Kentucky Colonels Award, a distinction given earlier to the late Bing Crosby and Red Skelton.
A pre-concert lecture will begin at 7:10 p.m. in Room 208 adjacent to Brendle Recital Hall.
Tickets for the concert are $18 general admission and $12 for senior citizens and non-Wake Forest students. Contact the Scales Fine Arts Center box office at 336-758-5295. The box office is open from noon to 5 p.m. on weekdays beginning Sept. 3. For information about the concert or to purchase tickets before Sept. 1, call the Secrest Series Office at 336-758-5757 or visit the Web site at http://www.wfu.edu/organizations/secrestartists/. Season tickets for the four-concert Secrest Artists Series are available for $80.
Editors' Note: High-resolution photos of the Ahn Trio are available by e-mail.
Categories: Arts & Culture, Events
Subscribe
Sign up for weekly news highlights.
Subscribe