Main Content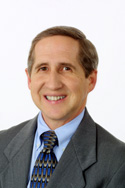 Samuel T. Gladding, associate provost at Wake Forest University, has been named interim director of Reynolda House, Museum of American Art.
He will continue to serve as associate provost and director of counselor education at Wake Forest. Earlier this year, Reynolda House became an affiliate of Wake Forest.
"I appreciate the power of the arts in peoples' lives," said Gladding, who is the author of the book "Counseling and the Creative Arts." "This staff and this institution have already done marvelous work and I am excited about furthering the museum's mission."
He has lectured and led demonstrations on the use of the creative arts in counseling at many American and foreign universities, including the University of Virginia, Vanderbilt and Johns Hopkins University.
Gladding has also written numerous counseling textbooks, including "Counseling: A Comprehensive Profession," used by counseling programs across the country and around the world.
He has served as president of the Association of Counselor Education and Supervision and held leadership positions with various other international, national and regional counseling organizations.
Gladding, who joined Wake Forest in 1990 as professor of counseling and assistant to the president for special projects, was appointed associate provost in 1997.
Before coming to Wake Forest, he was a professor with the counseling department at the University of Alabama at Birmingham and coordinated its marriage and family counseling program. He has been a faculty member at Fairfield University in Connecticut and the director of Children and Youth Services for the Rockingham County Mental Health Center in Wentworth.
Gladding earned a bachelor's degree in history and a master's degree in counselor education at Wake Forest. He also received a master's degree in religion from Yale University and a doctorate in family studies from the University of North Carolina at Greensboro.
Categories: Arts & Culture, University Announcement
Subscribe
Sign up for weekly news highlights.
Subscribe