Main Content
SOCIAL RAGE AND VIOLENCE—Sociologist Bonnie Berry, director of the Social Problems Research Group on Washington state, will discuss "Social Rage: New Forms of Violence in America" at 4 p.m. today in Tribble Hall's DeTamble Auditorium. The lecture is sponsored by Wake Forest's American Ethnic Studies program and is free and open to the public. To arrange an interview with Berry, contact Cheryl Walker at walkercv@nullwfu.edu or 336-758-5237.
TRIAD ARTIST LIVES THE LIFE HE CREATES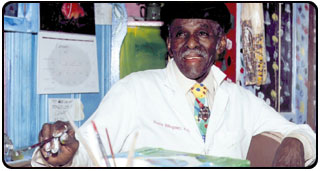 Mary Dalton, assistant professor of communication at Wake Forest and a documentary filmmaker, has made a local artist the focus of a 15-minute film that will air on UNC-TV Sept. 21 at 11 p.m. "Sam McMillan: The Dot Man" follows McMillan, the artist, through three short segments that reveal the passion behind the artwork he produces and the life he leads. "He constructs an ideal world in his art," says Dalton, who was a customer of McMillan before the film. "But he also lives out those priorities in his life." Dalton also produced "I'm Not My Brother's Keeper: Leadership and Civil Rights in Winston-Salem," which aired on UNC-TV last year. For more information, contact Sarah Mansell at manselss@nullwfu.edu or 336-758-5237.

WHEN CAN A DOCTOR SHARE CONFIDENTIAL INFORMATION? — The confidential information you tell your doctor may not be as confidential as you think. When—and should—a doctor share personal information about a patient? "There are exceptions to the confidentiality rule," says Terrance McConnell, an expert in biomedical ethics and the first speaker in Wake Forest's bioethics series, "Curing and Caring: The Present State and Future of Bioethics in America." McConnell, a philosophy professor at UNC-G, will discuss confidentiality issues in medicine Sept. 26 at 4 p.m. in Benson University Center's Pugh Auditorium. "As a society, we must decide what is reasonable to expect from our health care providers in areas of confidentiality," says McConnell. The event is open to the public. To arrange an interview in advance or coverage of the event, contact Sarah Mansell at manselss@nullwfu.edu or 336-758-5237.
WFU HELPS 'LITTLE' BROTHERS GET CONNECTED—WinstonNet, an information network affiliated with Wake Forest, is donating used desktop computers to Big Brothers/Big Sisters of Forsyth County. The computers will be distributed to 10 "little brothers" Sept 26 at 6 p.m. during an Internet training session at Wake Forest. The children will also be given an e-mail account and Internet access will be installed in their homes. "This donation will hopefully create another path of communication between 'bigs' and 'littles'," said Kriss Dinkins, director of technology outreach at Wake Forest. To arrange coverage, contact Sarah Mansell or Rachel Cook at 336-758-5237.
NATIONALLY-KNOWN EXPERT TO SIGN COPIES OF NEW BOOK— He's faced off with Bill O'Reilly, bantered with John Boy and Billy, and been quoted in newspapers all across the country. Charles Kimball, professor and chair of religion at Wake Forest and author of the recently published "When Religion Becomes Evil," will sign copies of his new book Sept. 24 from 11 a.m. – 1 p.m. at the College Book Store on campus. He will also have a book signing at the Barnes & Noble bookstore in Winston-Salem Sept. 20 at 7 p.m. The book outlines the five warning signs for corrupt religion and uses the terrorist attacks of Sept. 11 as an illustration. To arrange an interview with Kimball, contact Sarah Mansell at manselss@nullwfu.edu or 336-758-5237.
Categories: Arts & Culture, Events, Speakers, University Announcement
Subscribe
Sign up for weekly news highlights.
Subscribe