Main Content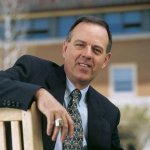 R. Charles Moyer will step down next August as dean of the Babcock Graduate School of Management at Wake Forest University. Moyer, appointed dean in 1997 after several months as acting dean, will return to the Babcock School's faculty.
Moyer told Babcock School faculty and staff of his plans to resume teaching and writing on a full-time basis during an afternoon meeting on Oct 3. Moyer joined the Babcock School's faculty in 1988, after serving on the faculty at several universities. While dean, he has maintained the faculty position of GMAC Chair in Finance.
Moyer has told members of the university community that the goals he set for the school have been largely achieved, and in some instances exceeded. For instance, during his tenure, the Babcock School has been ranked among the top business schools in each of the five major business school rankings—The Wall Street Journal, Forbes, Business Week, The Financial Times, and U.S. News and World Report.
Moyer added that his own observation of business schools is that it is healthy to re-energize a school with new leadership every five to eight years.
"The Babcock School is well positioned for a period of substantial future progress," Moyer said. "During the next five years, I see our greatest challenge and opportunity being recruiting a cadre of high profile teacher-scholars across all of our disciplines to provide increased national and international visibility and additional research leadership to complement and build upon the considerable talents of our current faculty."
Wake Forest Provost William C. Gordon will appoint a committee to conduct a national search for a new dean for the Babcock School. The committee will be chaired by Ken Middaugh, the Babcock School's associate dean for management education. The membership of the search committee will be announced within a few days and will include faculty, staff and student representatives, as well as representation from the broader community.
"All of us realize that Charlie will be very difficult to replace because of his leadership, vision and determination," Gordon said. "The goal of our search process will be to identify an exceptional pool of candidates who are capable of building significantly on the excellent foundation that Charlie has worked so hard to construct."
Wake Forest President Thomas K. Hearn Jr. recognized Moyer for his contributions to the university and the local business community.
"Charlie Moyer has done much to increase the Babcock School's profile, while launching a number of initiatives that have enhanced the school," Hearn said. "He has also led the school in fostering economic growth in the Triad."
Select highlights of Moyer's tenure as dean include:
A new, 17-month Fast-track Executive MBA program started in 2001.
A new, two-year Evening MBA program started in 2001.
The Babcock Scholars Program (10 full scholarships per year).
The Angell Center for Entrepreneurship, which has achieved a 22nd place national ranking by Success magazine three years after its establishment.
The Capital Markets Training Facility.
Three new international study programs.
New international partnerships with schools in Vienna, Austria; Moscow, Russia; Lyon, France; and Stuttgart and Koblenz, Germany.
More full-time faculty (increase from 26 to 40).
Four new endowed professorships.
Seventy-five percent increase in the budget for faculty small research grants.
Increases in endowment size and contributions to the school's Annual Fund. A graduating class gift campaign was also started.
On Wake Forest's Reynolda Campus, the Babcock School offers the Full-time MBA Program, the Fast-track Executive MBA Program, and the Evening MBA Program. The Babcock School also operates a Charlotte campus where an evening MBA program is offered.
Moyer came to Wake Forest in 1988 after serving on the faculty at Texas Tech University, the University of New Mexico, Lehigh University and the University of Houston. He has co-authored three books and written articles for numerous professional journals.
Locally, Moyer has served on various boards, including those for Reynolda House, Museum of American Art; the Deacon Club; and Forsyth Country Day School; as well as the Campaign Cabinet for United Way and the executive committee of the Winston-Salem Chamber of Commerce.
Categories: Faculty, School of Business, University Announcement
Subscribe
Sign up for weekly news highlights.
Subscribe