Main Content
An all-student cast at Wake Forest University will perform Anton Chekhov's "The Cherry Orchard" Nov. 6 – 10 in the Mainstage Theatre of the Scales Fine Arts Center. Show times are Nov. 6 – 9 at 7:30 p.m. and Nov. 10 at 2 p.m.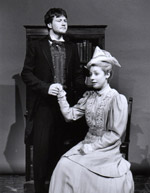 "The Cherry Orchard" is Chekhov's most famous play. It is a look at the effect of the social and economic upheaval in early 20th century Russia on class, responsibility, wealth and dignity.
John E.R. Friedenberg, director of theatre, will direct the production. The cast includes Melissa Jones, Emily Johnson, Meg McKee, Joey Picard, Matt Gutschick, Andy Rigsby, Matt Griffin, Moira Dennis, Zach Tysinger, Kate Lambert, Scotty Candler, Nick Ewen, Sean O'Brien, Mike Kelly, Ted Henson, Marla DuMont and Lauren Rico.
Tickets are $12, $5 for students and are available beginning Oct. 23. Call the theatre box office at 336-758-5295 for reservations or information. Tickets can also be purchased at the door.
Editor's note: Photographs will be available by e-mail on Oct. 30. Requests for photographs should be sent to cookrj@nullwfu.edu or walkercv@nullwfu.edu.
Categories: Arts & Culture, Events
Subscribe
Sign up for weekly news highlights.
Subscribe