Main Content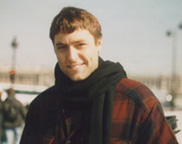 Sean D. Kelly, assistant professor of philosophy at Princeton University, will present a lecture titled "Time and Experience" at 4:30 p.m. on Nov. 22 in the Philosophy Library at Wake Forest University. The Philosophy Library is located in Room B-316 of Tribble Hall.
Kelly will focus his lecture on the individual experience of the passage of time. He will explore and debunk many explanations for how human beings experience time and its passing. Many philosophers assert that individuals "hear" extended chunks of time.
"The soprano hits her high note," Kelly says in an example. "The first thing you notice is how high it is. But then she holds the note. After a while it occurs to you that she's been singing that note for a very long time. What, exactly, are you noticing when you notice that the note has been going on for so long? It doesn't seem to be the kind of thing you noticed when it occurred to you that the note was very high. How can we experience the note to have gone on for any amount of time at all?"
The lecture is sponsored by the Thomas Jack Lynch Philosophy Fund and is free and open to the public. For more information, call 336-758-5359.
Subscribe
Sign up for weekly news highlights.
Subscribe