Main Content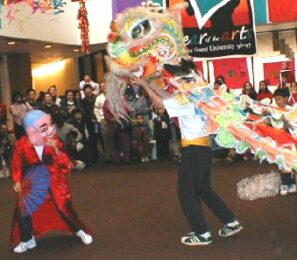 Wake Forest University will host a program to celebrate the Chinese New Year on Feb. 8 from 11:30 a.m. to 2:30 p.m. in the theatre lobby of the Scales Fine Arts Center. The program is free and open to the public.
The fourth-annual celebration will feature demonstrations and hands-on activities that highlight various aspects of Chinese culture. Some participants will also dress in historical Chinese costumes.
The campus festival originated in 2000 when Cristina Yu, a Wake Forest librarian, received a grant from the university. Students from organizations such as the Chinese Students Scholars Association and the Wake International Student Association have traditionally volunteered at the festival.
"I wanted to share Chinese culture with the community that I live in," said Yu. "I feel this is a way that I can contribute to the place that we live in and like so much. I get tremendous gratification because people do enjoy it and they appreciate the opportunity to experience Chinese culture."
A lion dance troupe from the Greensboro Chinese Association will begin the
performances at noon and again at 1:30 p.m. For the second year, Wake Forest junior David Lan of Charlotte will demonstrate martial arts and Chinese yo-yo. A University of North Carolina at Chapel Hill student will perform with a traditional Chinese spear from Beijing. Yu's 8 year-old child will play selections on a traditional pottery flute. A group of young girls will also perform a Chinese dance.
Children can try to master the tangram puzzle, an ancient Chinese puzzle composed of seven pieces. The object is to rearrange the pieces to form different figures such as a cat, a bird or people. At one table, children can have their photographs put on a festival passport, as if they were really traveling to China. They will be able to make a zodiac wheel and a paper sheep, learn to write with a Chinese brush, have their name translated into Chinese and make a dragon puppet.
Traditional Chinese food from Winston-Salem's Mandarin Malay restaurant at Loehman's Plaza on Reynolda Road will be available at a small charge.
The Chinese New Year starts with the first new moon of the new year and ends on the full moon 15 days later. This year's new moon marks the end of the year of the horse and the beginning of the year of the sheep.
For more information, call 336-758-5675.
Categories: Arts & Culture, Community, Events
Subscribe
Sign up for weekly news highlights.
Subscribe