Main Content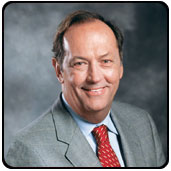 Former U.S. senator, best-selling author and Basketball Hall of Fame member Bill Bradley will deliver Wake Forest University's Founders' Day Convocation address Feb. 27 at 11 a.m. in Wait Chapel. Bradley's address is titled "America: The Path Ahead." The event is free and open to the public.
During the ceremony, the university will recognize the football team's Seattle Bowl victory; the field hockey team's NCAA Championship, and the women's cross country team's ACC Championship. The recipients of several university awards, including the Medallion of Merit, will also be announced.
Bradley, a Rhodes Scholar and former New York Knicks standout, received an honorary doctor of laws degree from Wake Forest in 1986, when he spoke at the university's Opening Convocation. Since then, he ran for the 2000 Democratic presidential nomination and has written several books including "Time Present, Time Past," a memoir, "The Journey from Here," his newest book, and the 1998 "Values of the Game," a collection of basketball-inspired essays. Following the convocation ceremony, Bradley will sign copies of "Values of the Game" at the College Book Store at 2 p.m.
When Bradley entered the Senate in 1979 at age 35, he represented New Jersey as the Senate's youngest member. He was re-elected in1984 and 1990, finishing his third and final term in 1996. His tax reform plan, the subject of his book "The Fair Tax," became the Tax Reform Act of 1986.
Bradley was a three-time All-American and 1965 Player of the Year as a student and basketball player at Princeton University. He was also captain of the 1964 Olympic basketball team, which won the gold medal.
Upon graduation in 1965, he received a Rhodes Scholarship to study at Oxford University. He later served six months active duty in the Air Force Reserves.
In 1967, Bradley joined the New York Knicks and led the team to national championships in 1970 and 1973. Bradley wrote "Life on the Run" in 1976, a best seller that chronicled three weeks in the life of a NBA team. He retired from the NBA in 1977.
Bradley is the managing director of Allen & Company Inc. and is the chair of the advisory board of McKinsey & Company's Institute for Management of Nonprofits. From 1997-1999 he was a senior advisor and vice chairman of the International Council of J. P. Morgan Co. Inc. During that time, he was also an essayist for CBS Evening News, and a visiting professor at Stanford University, Notre Dame University and the University of Maryland.
Categories: Events, Speakers, University Announcement
Subscribe
Sign up for weekly news highlights.
Subscribe