Main Content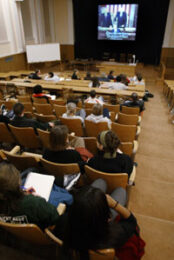 The typical college days of attending classes, studying and spending time with friends at Wake Forest University have been altered by the threat of a U.S. war on Iraq.
More and more students are gathering in campus classrooms and auditoriums to discuss the growing possibility of going to war and the questions raised by what some students call the most pressing issue of their lives. This trend was recently exemplified Jan. 28 when students gathered in groups on campus to watch and discuss the President's State of the Union Address, passing up the chance to watch the top-20 ranked men's basketball team defeat Atlantic Coast Conference foe Clemson University on television.
"People our ages are preparing to die for us and our country, so the least we can do is pay attention and discuss this issue," said Tyler Brooks, a Greensboro senior who attended a viewing of the State of the Union Address sponsored by Wake Forest College Republicans. "I think the issue of war has been on the minds of most students. It's a topic that has been hard to escape."
While Brooks and a group of about 40 students gathered in a room at Wake Forest's Benson University Center to watch President Bush's speech, another group of about 45 students, united under the name "WFU Students Against the War in Iraq," met to watch and discuss the speech in an auditorium across campus.
Forrest Sturgis, a senior from Rock Hill, S.C., helped organize the anti-war group in October, and he said his intention in creating the group was to create debate on campus. His group has signed up more than 100 students to an e-mail list, and they have collected 400 signatures from Wake Forest students opposed to the war. The group participated in a candlelight vigil and speakout Nov. 20 that drew almost 50 students to the steps of the university's Wait Chapel.
"I am against a war with Iraq because it is an offensive war," Sturgis said. "It undermines the idea of an international community. It has been imposed on us by fear of another September 11. I think the anti-war movement coming out of college campuses is important. It's up to us to reach out to all members of the community to get this debate started."
In addition to circulating a petition and hosting forums, about 20 members of the anti-war group went to Washington, D.C., for a protest Jan. 18.
For the anti-war group, the call to stop a possible military conflict is clear, but for some students the issue presents some serious questions about U.S. foreign policy and the rights of other nations.
Samantha Larkin, a sophomore from Long Valley, N.J., attended the College Republicans viewing and discussion about the State of the Union, and she said that she normally supports the president, but she is not sure war is the right thing at this time.
"I'm one of the members (of the College Republicans) that's not so much in support of war," she said. "I think this issue has grasped this campus more than anything I can recall. We had more people at the State of the Union than normal, and students really want to talk about the possibility of war."
While students have been setting up their own forums and group discussions, professors at Wake Forest have been busy creating lesson plans around the question of war with Iraq.
Jonathan Marks, an adjunct professor in the political science department, filled up a class this semester on terrorism and law, which deals with lawful reactions to acts of terrorism. Marks, an expert on international law who is also a practicing English barrister, has argued at several forums this year that the correct course of action for President Bush is to allow U.N. weapons inspectors to complete the job they have been given in Iraq.
Peter Furia, assistant professor of political science, said he had a long waiting list this semester for his course on contemporary American foreign policy, and although he deals with several topics besides the question of war with Iraq, he knows that when the topic comes up the week of Feb. 10, the discussion will be lively. He plans to ask the students to discuss how U.S. lawmakers should deal with Iraq, and what the goal should be once military action begins.
"Military issues can be very divisive and this one has the potential to really split the class," Furia said. "The interesting thing is that the class probably won't make its final recommendation on U.S. policy toward Iraq until after some form of resolution has been reached over the issue."
Debate about a possible war has not been limited to the university's political science department. Lisa Sternlieb, an assistant professor of English at Wake Forest, said many of her students thanked her after she brought up the subject in a class last semester.
"When I began trying to discuss Iraq with my students last semester, I got e-mails from some students thanking me for raising the issue," Sternlieb said. "Many of these students admitted they had been afraid of expressing their opinions in front of other students. Our students are hungry for conversation about issues that matter."
In an effort to encourage student discussion, a group of faculty organized a forum in October that drew about 100 people to the Benson University Center for discussion and expert input from professors in departments ranging from sociology and psychology to political science and history.
The Wake Forest College Democrats held a discussion on the war Jan. 30, and flyers go up almost daily announcing new forums on the question of war.
A professor-led panel discussion titled "Threatening War: A Forum on U.S. Policy Towards Iraq" has been organized for 7 p.m. Feb. 4 by the group "Faculty Raising Dialogue."
The event will be held in Pugh Auditorium at the Benson Center, and it features three professors and one member of the community who will each address three central issues including, under what conditions a war in Iraq would be justified, if those conditions exist, and if a war in Iraq would advance or hinder the fight against terrorism.
William Fleeson, associate professor of psychology and an organizer of the event, said the question of going to war is one of the most important things a society can debate. Students are not isolated from these events because they have friends and relatives in the military, and they are legitimately concerned, he said.
"This issue is on the minds of Wake Forest students," Fleeson said. "I have had several come up to me and ask about it, and they are looking for answers to questions that the media has been unable to give them. I think we have a responsibility to discuss this issue as a community."
Subscribe
Sign up for weekly news highlights.
Subscribe