Main Content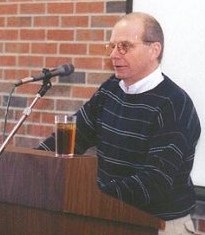 Riley Hollingsworth, special counsel to the Federal Communications Commission, will be honored by the Wake Forest University Amateur Radio Club on March 6. The program will be held at 7 p.m. in Wingate Hall, Room 302. The event is free and open to the public.
Formed in 2001, the club has recently created a chapter for alumni of Wake Forest. Hollingsworth will be the inaugural member of the chapter. After the presentation of a commemorative plaque, Hollingsworth will speak on the importance of amateur radio operators and their roles and responsibilities in the community.
"Riley Hollingsworth has become an icon within the amateur community because of his dedication to making amateur radio a service of which anyone can be proud to be a member," said Chris Plumblee, the club's president. "Mr. Hollingsworth deals with issues that are real and immediate to the average radio amateur."
Hollingsworth is a 1973 graduate of the Wake Forest University School of Law.
The club will also honor Henry Heidtmann, a 1985 Wake Forest graduate, at the event. He was instrumental in the formation of the Amateur Radio Club. He is also a member of the Forsyth County Amateur Radio Club and has helped to make their equipment available to Wake Forest students.
For more information, call the club's advisor, Ken Hoglund, at 336-758-5120. Hoglund is a professor of religion at Wake Forest.
Categories: Community, Recognition, Student
Subscribe
Sign up for weekly news highlights.
Subscribe