Main Content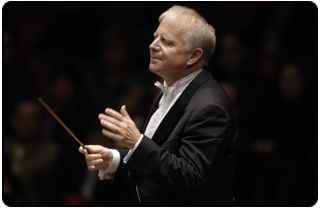 The National Symphony Orchestra with conductor Leonard Slatkin will highlight the 2003-2004 season of the Wake Forest University Secrest Artists Series.
The orchestra will perform Beethoven's "Eroica" and Dvorak's "Carnival Overture" on Feb. 19 in Wait Chapel.
Founded in 1931, the National Symphony Orchestra regularly performs at state occasions, presidential inaugurations and official holiday celebrations. Slatkin is in his seventh year as music director of the National Symphony Orchestra. Under his direction, the orchestra received a Grammy Award for Best Classical Recording.
"What a seamlessly virtuosic ensemble the National Symphony Orchestra has become," said the Washington Post. "Player for player, section for section, Washington has never known its like."
Twenty-one-year-old pianist Orion Weiss, who studies with Emanuel Ax at Juilliard, will perform on Sept. 4 at 8 p.m. in Brendle Recital Hall. While still a teenager, Weiss stepped in with less than a day's notice to replace Andre Watts in a Baltimore Symphony performance of Shostakovich's Piano Concerto No. 2. He has won numerous awards, including the prestigious Gilmore Young Artist Award.
"Every so often, a talent comes along that is so natural, genuine and exciting you can hardly believe your ears," said the Cincinnati Enquirer about Weiss.
On Oct.10, The American Brass Quintet will present an eclectic program including selections from their newest recording, "A Storm in the Land: Music of the 26th N.C. Regimental Band."
The American Brass Quintet is "the high priest of brass," according to Newsweek. The San Francisco Examiner said, "Describe the ideal in brass playing and you're talking about the kind of sound and ensemble produced by "The American Brass Quintet." The quintet will perform in Brendle Recital Hall at 8 p.m.
The St. Lawrence String Quartet featuring clarinetist Todd Palmer will perform on Nov. 6 at 8 p.m. in Brendle Recital Hall. The quartet is in residence at Stanford University and has earned a reputation for being exciting, expressive and entertainingly animated. Their program features "Dreams and Prayers of Isaac the Blind" by Osvaldo Golijov, a new composer who is, according to the Los Angeles Times, "a marvelous new voice for expressing the joy and sorrow of a boisterous multicultural world, while he traverses ethnic walls as if they didn't exist at all." The Grammy-nominated Brad Mehldau Jazz Trio, will perform on Jan. 23 at 8 p.m. in Brendle Recital Hall. Mehldau performed on the soundtracks for the films "Eyes Wide Shut" and "Midnight in the Garden of Good and Evil."
"Elegiac Cycle," Mehldau's exploration of the solo piano released in the 1999, inspired Time magazine to write, "Mehldau achieves an almost spiritual resonance, chords echoing like amens."
Four ensembles will explore the musical traditions of Mexico during the "Masters of Mexican Music" concert on March 26 at 8 p.m. in Wait Chapel. The event is presented in partnership with the ArtsIgnite Festival 2004 and the Arts Council of Forsyth County. Major support for the national tour is provided by the National Endowment for the Arts.
Master musicians from four regional traditions – the mariachi of Jalisco, the Veracruz harp ensemble, the accordion-based conjunto of the Texas-Mexican border area and the marimba of southern Mexico – will be featured. The performance will include traditional Mexican dance.
Season tickets for the Secrest Artists Series are $100 and are available through the Secrest office by calling 336-758-5757. Single tickets for events range in price from $15 to $20. Discounts for senior citizens and non-Wake Forest students are available. Tickets for all Secrest Artists Series events are available without charge to Wake Forest students, faculty and staff. Group discounts are available. Tickets may be purchased through the Wake Forest box office (336-758-5295) after Labor Day. Pre-concert lectures are scheduled in conjunction with each event and begin 45 minutes before each concert.
Categories: Arts & Culture, Events
Subscribe
Sign up for weekly news highlights.
Subscribe