Main Content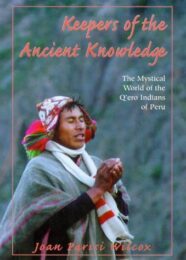 Joan Parisi Wilcox will present a lecture titled "The Shaman's Tools: Textiles and Natural Objects in the World of an Andean Shaman" at the Wake Forest University Museum of Anthropology at 7:30 p.m. June 19.
The lecture is free and open to the public.
Wilcox, author of "Keepers of the Ancient Knowledge: The Mystical World of the Qero Indians and Peru," will discuss her training with the shaman healers of Peru and how their sacred cosmology is reflected in their textiles and the natural objects they use in their "medicine bundles." She will sign copies of her book following the lecture.
For more information, contact the museum at 336-758-5282.
Categories: Arts & Culture, Events, Research, Speakers
Subscribe
Sign up for weekly news highlights.
Subscribe