Main Content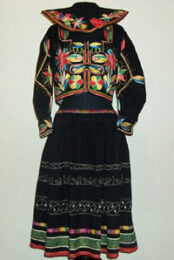 "Peruvian Textiles, Past & Present" runs through Sept. 20 at Wake Forest University's Museum of Anthropology. The exhibit features woven textiles, complete outfits of native clothing and weaving paraphernalia ranging from the second century B.C. to the 20th century, all on loan from local private collections.
Two special events will take place in conjunction with the exhibit.
On Aug. 16, the video "Traditional Peruvian Weaving: Spinning, Dying and Weaving around Cusco" will be shown at 11 a.m. and 3 p.m. Peruvian textile traditions dating back thousands of years are still being carried on today. The video shows traditional villages and documents textile production.
A public lecture titled "Camels, Cotton and Culture: Textile Traditions of the Ancient Andes" will be presented by Rebecca Stone-Miller, associate professor of art history at Emory University, on Sept. 18 at 7:30 p.m. Stone-Miller is also curator of "Art of the Ancient Americas" at the Michael C. Carlos Museum. She will talk about how the dynamic interplay of the Andean environments influenced the values and artistry of this important cultural center. To place into context the exhibition "Peruvian Textiles, Past & Present," the lecture will explore the ways in which the world around them influenced ancient Andean weavers to create transcendent artworks in fiber over the millennia.
Exhibit text and labels are in both English and Spanish.
Admission to the events and to the exhibit is free and open to the public. "Peruvian Textiles" and associated free programs are made possible in part through the corporate support of David Poythress Designs of Winston-Salem.
The museum is located behind Kentner Stadium on the Wake Forest campus. Regular museum hours are 10 a.m. – 4:30 p.m., Tuesday – Saturday. For more information, call 336-758-5282 or visit the Web site.
Categories: Arts & Culture, Events
Subscribe
Sign up for weekly news highlights.
Subscribe